Sania Mirza and Mahesh Bhupathi have decided to split as a pair, ending the speculation over their future as a mixed doubles team following the bitter selection row ahead of the London Olympics. 
The two players are playing with different partners at the US Open as Sania has teamed up with British doubles specialist Colin Fleming while Bhupathi is playing with Czech Andrea Hlavackova at the last Grand Slam of the season      "Our commitment was only upto the Olympics and we both thought we needed a break after all that has happened in the recent past," Sania told PTI from New York. 
The selection row had resulted in straining the friendship of Sania and Bhupathi as an angry Sania had alleged that she was used as a "bait" by AITA to pacify a disgruntled Leander Paes with whom both Bhupathi and Rohan Bopanna had refused to play at the Games. 
Paes was forced to play with lower-ranked Vishnu Vardhan and in compensation he was assured pairing with Sania in  the mixed doubles event.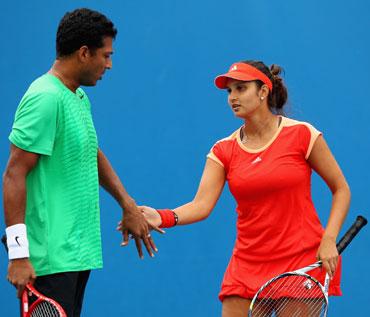 Sania's preferred partner was Bhupathi, with whom she won two Grand Slams, but she was not consulted by AITA who her preferred partner was. 
Bhupathi had stuck with Bopanna as partner and sacrificed his partnership with Sania. 
Sania had won Australian Open (2009) and French Open (2012) with Bhuapthi.
Sania, who was also managed by Bhupathi's company Globosport for some time, had become the first female player from India to win a Grand Slam when she won the 2009 Australian Open trophy with Bhupathi. 
This season, they won the French Open together.     
An emotional Sania had issued a hard-hitting statement after the selection row, targeting AITA and revealing that all the drama had affected her bond with Bhupathi. 
"Mahesh has firmly stood by his commitment to play with his men's doubles partner Bopanna as he genuinely believed it was good for India. However, in the process, he sacrificed the commitment he made to me to try and win an Olympic medal together for India," she had said. 
The decision of Sania to split with Bhupathi is the second big blow to Indian tennis after the acrimonious end of the Lee-Hesh partnership. 
After dominating world tennis in late 1990s, Paes and Bhupathi split for the first time in 1999 after winning three Grand Slams together. 
In 2011, Paes and Bhupathi re-united after 11 years with an aim to win an Olympic medal at the London Games. However at the start of the 2012 season, they broke the partnership again with Paes choosing Radek Stepanek and Bhupathi pairing with Bopanna.
© Copyright 2021 PTI. All rights reserved. Republication or redistribution of PTI content, including by framing or similar means, is expressly prohibited without the prior written consent.