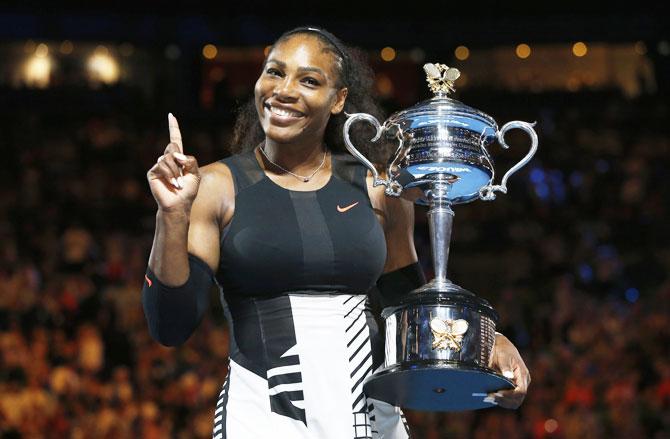 IMAGE: Serena Williams with her historic Australian Open title she won on January 28, 2017. Photograph: Issei Kato/Reuters
American tennis player Serena Williams is all set to make her comeback at the Australian Open, organisers confirmed.
Williams won this year's Australian Open, while pregnant and gave birth to a baby girl in September. She has not played any competition since then, raising questions over whether the 23-time Grand Slam winner would be able to defend her title next month.
Tournament director Craig Tiley is optimistic that she would return for a crack at her seventh Melbourne Park crown.
"She's got her visa, she's practising and she's probably just got to find a bit more space for a bigger entourage," Melbourne's Herald Sun quoted Tiley.
"There's no question that she will be ready in our view and she wants to break a record that is Margaret Court's. It would be a pretty significant accomplishment for her to be able to do that," Tiley added.
Tiley described the Australian Open, which will be held from January 15-28, as a 'family-friendly event'.
"We've had this before. Roger Federer travels with his four kids. We are a family-friendly event," he said, referring to Williams and her baby.
Earlier, the former world number one had begun her preparation by hitting the gym, which was revealed by her physical therapist, Ruben Mateu.
Mateu, however, admitted that he was not worried about Williams' prospects, knowing the kind of a person she is.
"When someone's muscles are so well-developed, it is easier for them to recover because muscles have a memory. It is easier to achieve results with that kind of person. The capacity for recovery will be faster for Serena than for any other sportswoman at her level," Mateu said.
The winner of the 2018 tournament will walk away with A$4 million, up from A$3.7 million last year. The total tournament purse has risen 10 percent to A$55 million.
Williams would be aiming to defend her title and win again, which will push her Grand Slam total to an all-time record of 24 titles.
Konta appoints Joyce as new coach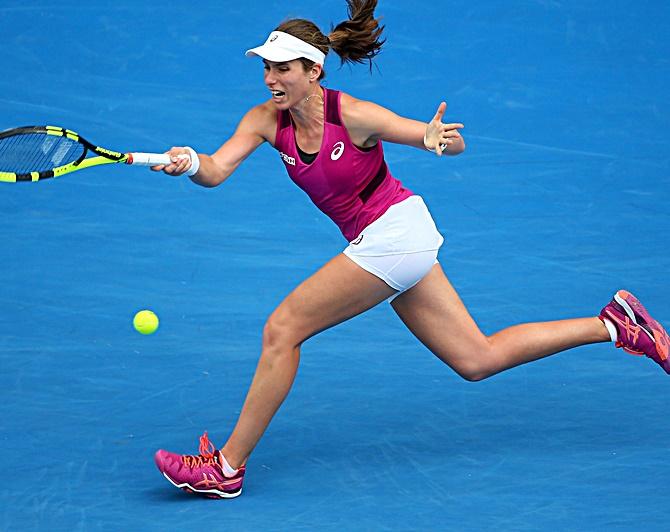 IMAGE: Great Britain's Johanna Konta plays a forehand. Photograph: Quinn Rooney/Getty Images
British world number nine Johanna Konta has named American Michael Joyce as her new coach for the 2018 season following her split from Belgian Wim Fisette in October.
The 26-year-old enjoyed a solid start to 2017, winning the Sydney International and Miami Open titles, and hit a career-high number four world ranking before injury and poor form saw her miss out on a WTA Finals berth.
The 44-year-old Joyce has previously worked with former number ones Maria Sharapova, whom he guided to two grand slam titles, and Victoria Azarenka, whose team he joined in early 2017 before leaving the Belarusian's coaching squad last week.
"I'm delighted to confirm that Michael Joyce will be joining my team for 2018," Konta said in a statement.
"Michael is a fantastic coach with a great pedigree and I'm really excited to work with him. 2017 has been amazing but I feel like there is so much more to come."
Konta will begin her 2018 season at the Brisbane International, which is scheduled to start on Dec. 31.
Elsewhere, Czech Barbora Strycova, who won the Linz Open in October, has named compatriot David Kotyza as her new coach after splitting with Tomas Krupa earlier this year.
Strycova, 31, will play her first competition under Kotyza at the season-opening ASB Classic in Auckland.