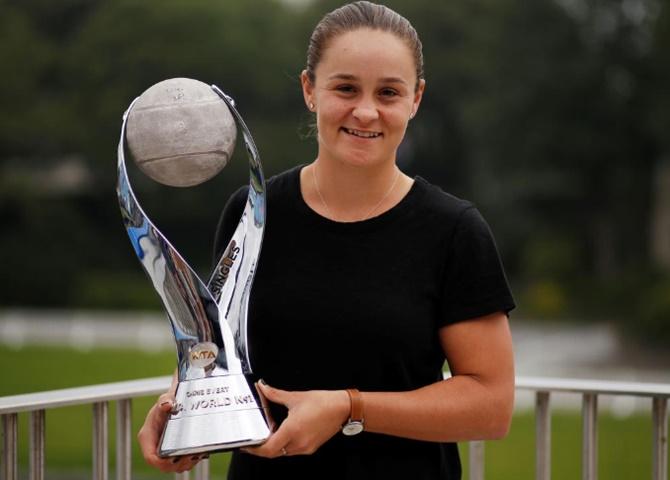 New world number one Ashleigh Barty has suffered a pre-Wimbledon injury scare, withdrawn from this week's Eastbourne grasscourt tournament with a recurrence of a right arm injury.
The 23-year-old became the first Australian woman to reach the top of the WTA rankings for 43 years on Sunday when she won the Birmingham Classic and will be top seed at Wimbledon.
"It's an injury I've had to manage since I was 16 years old," Barty told reporters at Devonshire Park on Monday.
"It happens when I have a spike in load, it's just a bone stress injury and I need to look after it."
Her coach Craig Tyzzer said Wimbledon might not have been "a viable option" had she played too much this week.
"It's just loads," he said. "We have to monitor how much she plays, so this makes sense."
Barty won the French Open earlier this month, the first Australian woman to do so in 46 years, and is on a 12-match winning streak heading to the All England Club.
She is optimistic she will be ready in time.
"I think it will be fine but we will have to make sure that we manage it carefully over the next three or four days and that I'm ready to go next week," she said.
"It's smarter to take time to let me body rest. It's just about monitoring how many balls I hit when I do get back on court, particularly the serve. Just need to let it settle."
Three years ago Barty arrived at Eastbourne to play her first tournament since returning to the game after walking away from it in 2014 and spending a year playing cricket.
Barty reached the semi-final then as a qualifier and her trajectory since has been spectacular.
She broke into the top 10 for the first time when she won the Miami Open this year and then stormed to the title on the Parisian clay despite it being her least favourite surface.
Her win over Julia Goerges on Sunday on the Birmingham grass meant she woke up on Monday as world number one.
"It's been a whirlwind, it's been the most incredible time of my life, it really has, it's come around so quickly but we've done so much work with my team and I," she said.
"It's been an incredible ride."
Gunneswaran enters 2nd round of Antalya Open; Ramanathan wins, Myneni loses in Wimbledon qualifiers
India's ace men's singles player Prajnesh Gunneswaran sailed into the second round of the Antalya Open ATP 250 tournament with a straight-set win over Janko Tipsarevic of Serbia in Antalya, Turkey on Monday.
Gunneswaran, ranked 94th in the ATP chart, easily got the better of 286-ranked Tipsarevic, 6-0 7-6 in the first round.
Gunneswaran's brilliant performance against Tipsarevic, once ranked eight in the world, would do his confidence a world of good ahead of the Indian's second round clash, in which he will meet the winner of the match between American qualifier JC Aragone and Roberto Carballes Baena of Spain.
Elsewhere, Ramakumar Ramanathan entered the second round of the men's singles qualifiers at the Wimbledon in London, but it was curtains for compatriot Saket Myneni.
Ramanathan took excatly an hour to quell the challenge of Lukas Lacko of Slovenia 6-3, 6-2 in his opening round match.
Ramanathan will face Kamil Majchrzak of Poland in the second round of the qualifiers on Tuesday.
However, Myneni fought hard for two hours and 22 minutes before going down 4-6, 6-4, 5-7 against Guillermo Garcia Lopez of Spain.
Halep will not play Fed Cup if format changes
Former world number one and Romanian stalwart Simona Halep says she loves the current format of the Fed Cup and would boycott the competition if the 'home and away' format changes.
The International Tennis Federation (ITF) will make a "major announcement" about the women's competition later this week with the likelihood that it could follow the revamped Davis Cup and become a multi-nation event hosted in one city.
If that happens it would rob Halep the chance of playing in front of her vociferous home support — something last year's French Open champion rarely gets to experience.
"I love the Fed Cup and I would never change that," Halep told reporters at the Eastbourne championships on Monday where she is preparing for Wimbledon.
"If Fed Cup changes I won't play any more. I like the format now so if they change, it will be tough because Fed Cup means to play home and away."
Halep, 27, has played 19 ties for Romania and took them to the semi-final this year, losing an epic tie against France. She said she has not been approached by the ITF for her view.
"If the ITF ask me, I will say my opinion," she said.
The Davis Cup has underdone a big revamp this year with home and away ties only in the first round. Eighteen nations will then compete in the week-long finals in Madrid in November.
While it would be logical to adopt a similar format for the Fed Cup, Halep says losing the unique nature of home ties would be wrong. "To play at home it's the best feeling," she said.
"I've played many years in Fed Cup and the best feeling is to be at home with all the people that come to support and also away you have to manage the emotions and the pressure."