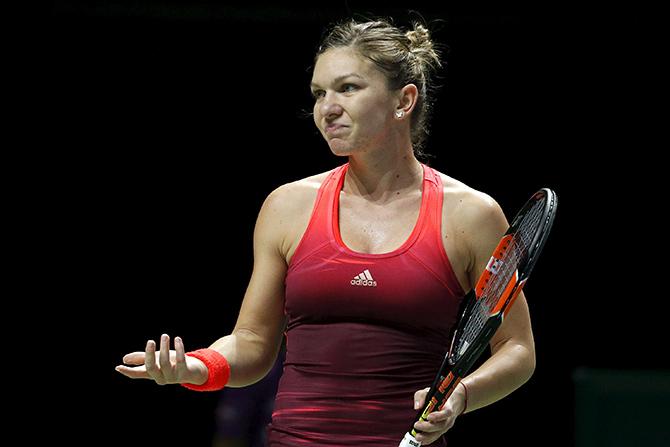 IMAGE: Simona Halep still reeling from the French Open final defeat. Photograph: Edgar Su/Reuters
Romania's Simona Halep said her bitter French Open final defeat by Jelena Ostapenko was still "killing her" as she looked forward to making amends at next week's Wimbledon.
"I still have, before going to sleep, some thoughts about that final," Halep, who will face Ying-Ying Duan of China at the Aegon International in Eastbourne on Tuesday in her first match since the Roland Garros final, told reporters.
Asked which thoughts, the world number two from Constanta said: "The only one, very tough thought is one set, 3-0 up, that I couldn't take that game.
"Now I'm thinking that I should have hit that ball, the return, the second serve, just go for it. But I didn't. So that one is killing me, actually."
Halep seemed poised to win her first grand slam title and become world number one when she led Latvian Ostapenko earlier this month, only to be buried under an avalanche of winners by the 20-year-old who claimed a shock 4-6 6-4 6-3 triumph.
Many tears were shed after that defeat, her second in a French Open final after she was runner-up in 2014, but Halep said some time on the beach in Greece had helped her recover.
"I had a few days home chilling, and then I have been on holiday four days. I came back and started to play tennis. I missed tennis," she said.
Halep certainly appeared to be in good spirits beside the English seaside on a warm sunny day and is already focusing on achieving the top ranking that just eluded her but which she could still claim before Wimbledon.
If the Romanian wins the Eastbourne title, or goes two rounds further than Germany's current world number one Angelique Kerber, that would seal the deal for Halep.
"Now that I'm so close, it's like it's coming more into my mind and into my soul," Eastbourne wildcard Halep said. "I really want to get there.
"But I'm close but still far. So I have just to take (it) match-by-match and do everything I can to be number one. It's going to be a big thing for me."
Asked if she would cope with the pressure better than Kerber, who is suffering a lean year, Halep had no doubt.
"I want to face that challenge," she said.
Ostapenko wins first match after French Open triumph
Latvia's Jelena Ostapenko, playing her first match since winning the French Open, survived a tough battle at the Aegon International on Monday, winning a topsy-turvy contest against Spain's Carla Suarez Navarro 6-3, 0-6, 6-4.
There was a shock, though, at Eastbourne's DevonshirePark as defending champion Dominika Cibulkova suffered a second-round knockout by British player Heather Watson.
Watson, whose ranking has slumped to 126 in the world, delighted the home crowd with a 7-5, 6-4 defeat of the fourth-seeded Slovakian.
Ostapenko, who shot up to 13th in the world after her stunning triumph in Paris, played with her usual mixture of clean winners and errors to overpower her opponent, despite a second set meltdown when her game misfired on the grass.
The 20-year-old Ostapenko, who got a first-round bye, will face either Britain's fifth-seeded Johanna Konta or Romanian Sorana Cirstea in round three.
World number nine Cibulkova saved three match points when Watson served at 5-3 in the second set but after breaking back she immediately dropped her own serve as her Wimbledon preparations were cut short.
Cibulkova has been bothered by a wrist injury this season but said that had not been a factor in her loss.
"It's more about to be more confident or to get some matches on my side, and it will be a different story," she told reporters. "Because right now it feels like the situations go against me in the match, and it just doesn't go my way."
There was also an early defeat for Canda's former Wimbledon runner-up Eugenie Bouchard who lost 6-3, 3-6, 6-2 to Czech Barbora Strycova.