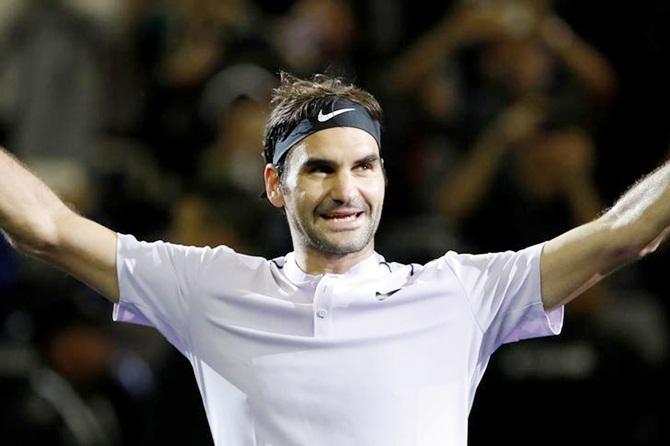 IMAGE: Roger Federer says finishing the year as World No 1 is a long shot. Photograph: Aly Song/Reuters
Roger Federer is eyeing a seventh ATP Finals crown and has not ruled out pinching the world number one ranking from Rafael Nadal if he maintains the form that won him his second Shanghai Masters trophy on Sunday.
The 19-time grand slam winner claimed his 94th title and sixth this year with an emphatic defeat of Nadal in the Shanghai final and is hungry for a first ATP Finals win since 2011.
"London is my priority now and I really want to win the World Tour Finals," the evergreen 36-year-old told Sky Sports.
"I am very excited to have had the year that I have had and everything that comes from here is a bonus.
"Finishing the year as world number one is a long shot, and I don't think it will happen but if I play like this, who knows? Maybe I will get close again."
Shangai was Federer's first tournament since the US Open and the confidence he gained from his opening matches helped him through a taxing schedule.
"It's been a tough week, five straight matches is always a test and a challenge for anybody's body, especially with the pressure rising," he said.
"I felt I was playing well all week and that settled my nerves because I was returning well from the (opening) match here against (Diego) Schwartzman.
"The serve only got better and I saved the best for last ... In a way, not surprising because I felt good all week -- I was ready."
The Swiss next headlines his home Basel International starting October 21.
Sharapova eyes strong finish to season after Tianjin title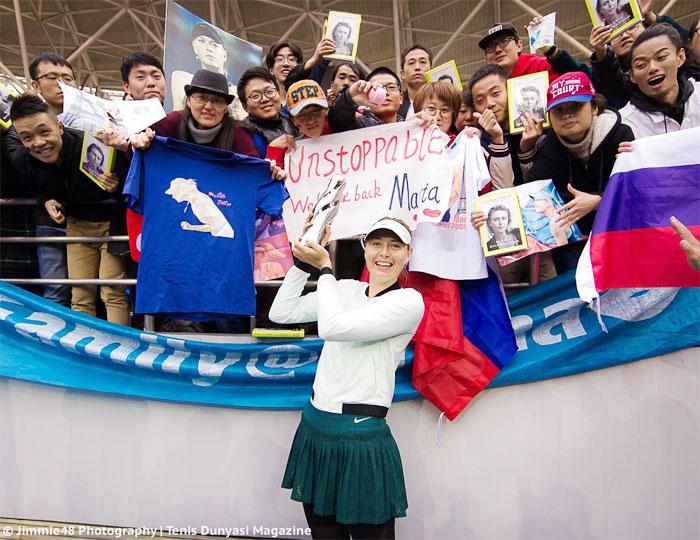 IMAGE: Maria Sharapova celebrates with fans after winning the Tianjin Open on Sunday. Photograph: Maria Sharapova/Twitter
Maria Sharapova is looking for a strong finish to a season that began with a doping ban and hit a high in China on Sunday when she won her first title in over two years.
The former world number one, who returned from the 15-month ban in April, defeated Belarusian teenager Aryna Sabalenka 7-5, 7-6(8) in the final of the Tianjin Open on Sunday.
Sharapova said she was looking forward to building on the success next week in Moscow at the Kremlin Cup, a tournament she has not appeared at since 2007.
"Obviously coming there with the title already means a lot, but I do really want to finish strong," said the Russian, who accepted a wild card for the event.
"I don't remember the last time that I played three events in a row. But I will give it everything I have got and I know I have so many amazing fans there."
The five-time grand slam champion said the Tianjin title, the 36th of her career, was special.
"It has been a couple of years since I have held the winner's trophy. It is a great feeling," she said.
"When you start all the way from the beginning of the tournament and then you end up playing the final in a full stadium with so much enthusiasm and energy and you are the one that wins the last point, just everything falls into place.
"You have to appreciate those moments, never take them for granted."
Sharapova takes on Slovakia's Magdalena Rybarikova in the opening round in Moscow.
Meanwhile, Sharapova has soared up in the latest WTA Rankings post her first title win in Tianjin since returning from a doping ban.
Sharapova has moved from 86 to 57, thus making a significant hike of 29 places.
However, there are no movers in the Top 10, although there is a bit of a shuffle in the Top 20, with Angelique Kerber, CoCo Vandeweghe and Sloane Stephens all moving up one place, and Agnieszka Radwanska and Elena Vesnina dropping one.
The top spot is with Simona Halep, followed by Garbine Muguruza and Kvitova Pliskova.
Pavlyuchenkova beats Gavrilova in Hong Kong final
Russian sixth seed Anastasia Pavlyuchenkova claimed her third title of the year by beating seventh-seeded Australian Daria Gavrilova in the final of the Hong Kong Tennis Open on Sunday.
Pavlyuchenkova prevailed 5-7, 6-3, 7-6(3) in a match heavily disrupted by the weather.
The final started later than scheduled due to a typhoon off the coast of Hong Kong and the players then had to endure a half-hour rain delay with the deciding set delicately poised at 5-5.
Pavlyuchenkova's victory followed wins in Monterrey in April and Rabat in May.
"It was not easy mentally as this morning we were not sure if we were going to play or not," the 26-year-old said.
"I just won a title so I'm extremely happy with that. It was a really, really tough match."