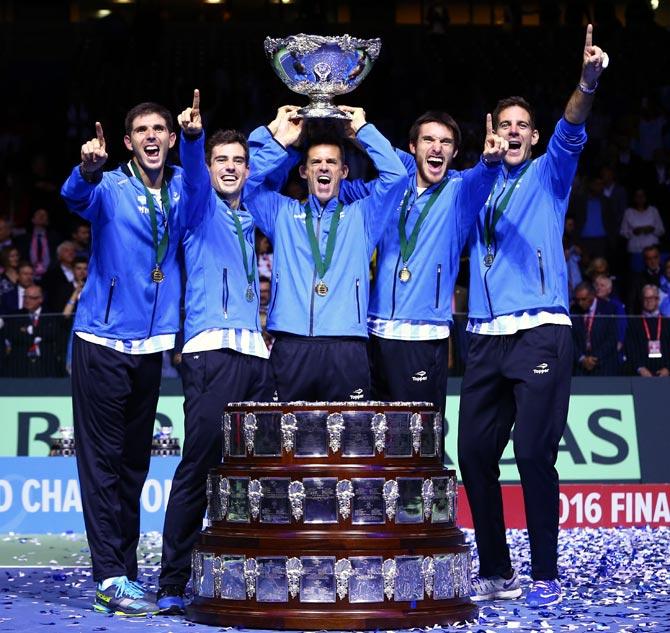 Davis Cup organisers are open to merging with the ATP over a unified event, tournament director Albert Costa has said while emphasising that the 118-year-old competition will remain the number one international tennis event.
The revamped Davis Cup, spearheaded by the Kosmos investment group founded by Barcelona footballer Gerard Pique and organised by the International Tennis Federation (ITF), begins in Madrid next November with a week-long event akin to a tennis World Cup.
However, it is likely to face stiff competition for players with the new ATP Cup, which is due to launch with a week-long tournament in Australia at the start of the season in January 2020, a mere six weeks after the Davis Cup.
The 2002 French Open winner Costa, former captain of Spain's Davis Cup team, said he saw no reason why the ATP, the governing body of the men's professional tennis circuits, could not become affiliated with the Davis Cup in the future.
"The big organisations are in contact about doing something together in the future, with men's and women's teams. It would still be the Davis Cup, with the ATP's participation, perhaps even with ranking points," Costa told Reuters in an exclusive interview on Wednesday.
"It would still be the Davis Cup, but the ATP could be involved too. Why not? The idea is there."
The emergence of the ATP Cup, a new version of the World Team Cup which took place in Duesseldorf from 1978-2012, has put the two main bodies of tennis on a collision course.
In the ATP Cup, 24 nations will qualify based on the ranking of their top player, who will be captain. Teams will be split into six groups, with eight emerging to compete in a knockout phase. Teams will comprise two to five players, with the format being two singles and one doubles rubber.
The ATP's new competition has been endorsed by several top players, including world number one Novak Djokovic and ATP Finals winner Alexander Zverev who along with Roger Federer are sceptical about the shake up of the Davis Cup.
The $15 million ATP Cup also offers 750 ranking points, while there are none on offer for playing in the Davis Cup.
But Costa is convinced heads will be turned once the new Davis Cup competition, which will feature 18 teams and boasts prize money of $20 million, is up and running.
"I'm sure, 100 percent, that the Davis Cup will continue to be the tournament where you represent your country at tennis. The essence of the Davis Cup is flags and colour," Costa said.
"There are many different collectives in tennis, they don't have everything visualised and haven't bought into it yet but when they see in the first year how exciting it will be and the impact it will have, their minds will be changed."
The Davis Cup has suffered in recent years because so many top players have opted out of the competition's three-day ties during the season.
Under the current format, 16 World Group nations take part in a knockout competition over three weekends in February, April and September before the November final.
The last final of the current format takes place this weekend in Lille between Croatia and France.
Costa, a Davis Cup winner as a player in 2000 and captain in 2009 and 2011, said the new format, where matches are best-of-three sets rather than five, was kinder to players.
He defended its timing amid heavy criticism from the likes of Germany's Zverev for coming at the end of a gruelling season.
"The date is the same as now so we've changed nothing there but we've changed a lot to make it easier for players. They won't be as tired because they will have two more free weeks. The calendar is much lighter now," he said.
"When I was a player and a captain people kept asking for changes but nothing changed. Then Gerard Pique came up with a fantastic idea, which will make the competition as exciting as before and mean we will have a similar atmosphere.
"It will be very attractive for spectators, for TV too. Croatia and France are very excited about the final, but are people in India excited about it? When you have all the countries in one place it will have much more impact."
Italian Bracciali banned for life, Starace for 10 years
Italian former world top-50 player Daniele Bracciali has been banned from tennis for life after being found guilty of match-fixing, the Tennis Integrity Unit (TIU) said on Wednesday.
Bracciali, 40, was found guilty by an Independent Anti-Corruption Hearing of match-fixing offences at the ATP 500 event in Barcelona on 2011. He was also fined $250,000.
Former Italian player Potito Starace was also handed a 10-year ban from any future involvement in tennis, and a $100,000 fine after being found guilty of match-fixing and associated offences at the same tournament.
Both men will have the right of appeal through the Court of Arbitration for Sport.
"In a decision announced today, which follows a disciplinary Hearing held in London on 18-19 September, Prof (Richard H) McLaren found (Bracciali) guilty of match-fixing offences relating to the ATP 500 World Tour tournament in Barcelona in April 2011," a TIU statement said.
"He was also found to have facilitated betting relating to the Barcelona match."
Bracciali is currently ranked 100 in the world in doubles. As a singles player he reached number 49 in 2006. Starace reached a career-high 27 in 2007.
Starace, whose case was heard by the same tribunal, will be prohibited from attending any sanctioned events organised or recognised by the governing bodies of the sport.
The TIU is an initiative of the sport's various governing bodies, the Grand Slam Board, the International Tennis Federation and the ATP and WTA Tours.