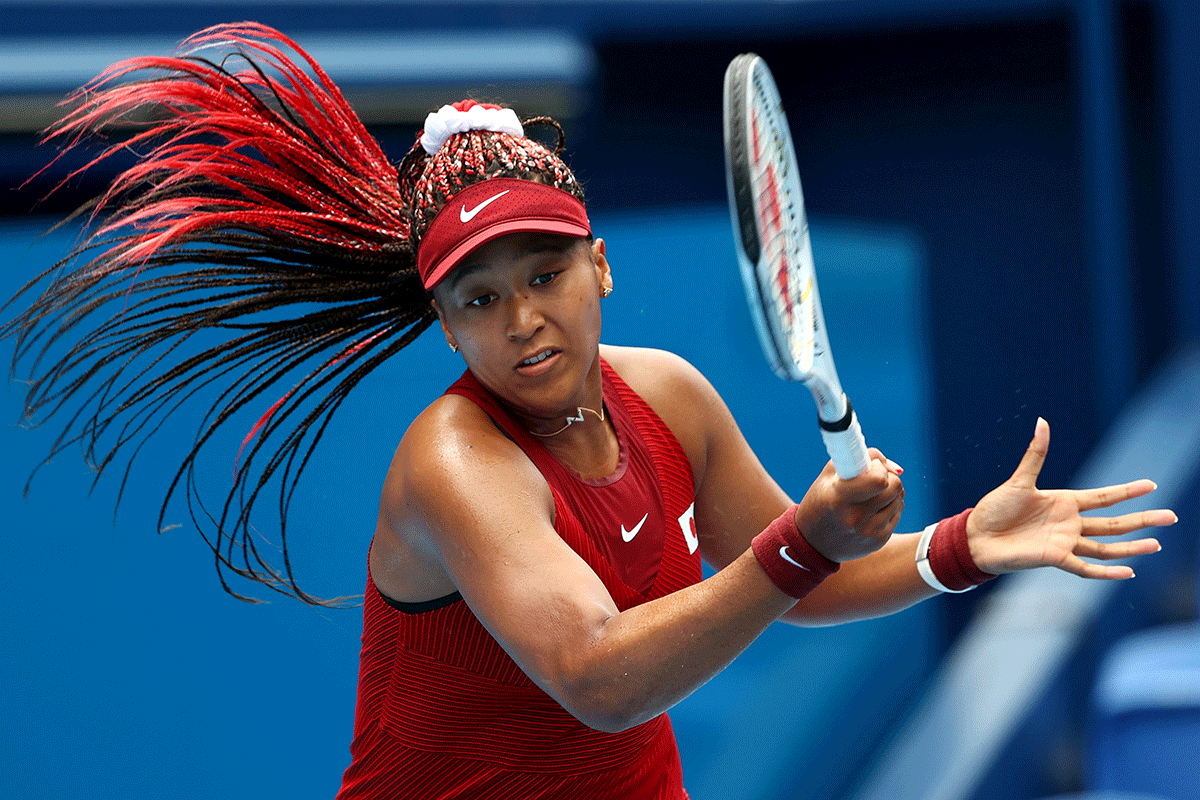 An error-prone Naomi Osaka was stunned 3-6, 6-3, 6-3 by Jil Teichmann in the Western & Southern Open third round in Cincinnati on Thursday but the world number two said she had tried her best and would not lose any sleep over the defeat.
Osaka cruised through the first set and looked like she would make short work of the Swiss wild card before Teichmann settled down and took the second.
Momentum swung firmly in the world number 76's direction in the fourth game of the decider when Osaka missed overhead smashes on back-to-back points, bringing a scream of frustration from the Japanese player.
The miscues continued to pile up for the four-times Grand Slam champion, who issued her 41st unforced error on match point when she sent a service return long as Teichmann advanced to the quarter-finals with the biggest win of her career.
"I'm shaking right now," Teichmann said.
"She's a very tough opponent, a Grand Slam champion, and I'm the underdog, which is a bit easier. But you've got to start somewhere."
Osaka said she struggled due to a lack of competitive matches, with the 23-year-old competing in her first event outside the Tokyo Olympics since withdrawing from the French Open in May citing mental health issues.
"I thought that for me I felt a bit hesitant, and normally I don't feel that way," she said.
"Of course I put myself in this position by choosing not to play that many tournaments, so, yeah, just feeling more comfortable with it, feeling more confident in myself, as well, because I feel like there were times where I was doubting myself."
Osaka said her third-round exit at the Tokyo Games had impacted her approach to the game on Thursday.
"I also thought that my performance in Tokyo was also lingering in my mind a bit, because I felt like I was overly aggressive there," she said.
"I felt like I learned a lot from this match today, and if anything to take away from this, I tried my best throughout the entire match so I can sleep at night."
Osaka will look to find her form ahead of the upcoming U.S. Open in New York, where she is a two-time champion.
Barty's big adventure takes her to last eight in Cincinnati
World number one Ashleigh Barty looked in impressive form as she stormed into the quarter-finals of the Western & Southern Open on Thursday, the Australian happy to play as much as possible on an unusually long stint away from home.
Barty continued her preparations for the US Open by rattling off the first 10 games on her way to crushing former world number one Victoria Azarenka 6-0, 6-2 in little more than an hour.
The 25-year-old Queenslander stayed at home in 2020 as COVID-19 spread around the world but this season elected to return to the peripatetic life of the tennis professional.
Australia's strict quarantine rules mean there is no chance of a quick trip home to recharge her batteries but Barty says she always knew she would have to embrace the challenge of life on the road.
"Yeah, it's a bit of a strange one. It is the grand adventure," she told reporters in Cincinnati.
"I think once we left Australia at the beginning of this year, that was very much the mindset that we used, this is going to be a year like no other.
"It is going to be an adventure, and we are going to have to find ways to not only enjoy it, but entertain ourselves at times."
Barty has certainly been having fun on court, winning four singles titles in 12 tournaments this year, including her second Grand Slam crown at Wimbledon.
"There have been times where I've felt like days have been long, everything is dragged out," said Barty, who next plays French Open champion Barbora Krejcikova for a place in the Cincinnati semi-finals.
"Fortunately, I have been busy playing a lot of matches, which has been the best distraction possible to pass time ...
"We are just trying to play each match and kind of live each day as best we can, make sure we laugh, make sure we smile, have a good time, and the rest will take care of itself."
Murray accepts wildcard for final US Open tune-up event
Britain's Andy Murray has been handed a wildcard for next week's Winston-Salem Open, the final tournament before the start of the US Open Grand Slam, organisers said.
Murray, who lost to Hubert Hurkacz in the second round of the Western & Southern Open in Cincinnati on Wednesday, was added to the main draw of the U.S. Open following the withdrawal of Switzerland's Stan Wawrinka.
The three-time Grand Slam champion, who had hip surgeries in 2018 and 2019, has played only a handful of ATP Tour-level events this year having missed the Australian Open because of a positive COVID-19 test and opting out of competing at the French Open.
Murray, who won his first Grand Slam at the 2012 US Open, reached the third round at Wimbledon but withdrew from the singles at the Tokyo Games on the advice of his medical team, dashing his hopes of a third straight Olympic title.
The 34-year-old played in the men's doubles in Tokyo, losing in the quarter-finals.
The US Open runs from August 30-September 12.
Opelka, Kyrgios included in Team World for Laver Cup
American duo Reilly Opelka and John Isner along with Australia's Nick Kyrgios have been picked as the final players to represent Team World at next month's Laver Cup, tournament organisers said on Thursday.
The trio join Canada's Denis Shapovalov and Felix Auger-Aliassime, alongside Argentine Diego Schwartzman.
"Reilly had a great run last week in Toronto to reach the finals and I've been really impressed with his recent form," said Team World captain John McEnroe.
Isner won the Atlanta Open last month and reached the semi-finals in Toronto.
"To be on a team with guys we're normally competing against is so different and so much fun. We come together so well as a group, the chemistry is awesome and it's such a great environment to be part of," said Isner.
The Laver Cup pits six players from Team Europe against six from Team World, with four matches played each day (three singles and a doubles). Team Europe have won all the three editions so far.
This year's event will take place in Boston from September 24-26.