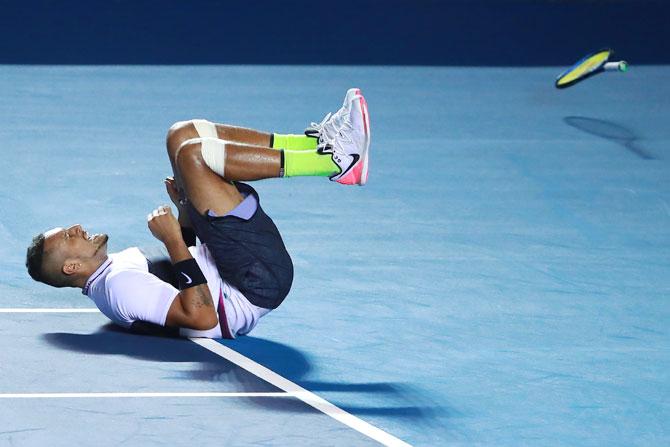 Nick Kyrgios overcame a bout of nausea, a stiff back and saved three match points on the way to stunning top seed Rafael Nadal 3-6, 7-6(2), 7-6(6) in the second round of the Acapulco International in Mexico on Wednesday.
The Australian fell to the floor in celebration after clinching the victory, before sticking a finger behind his ear and asking the raucous crowd to cheer louder.
Spaniard Nadal, who has won the tournament twice, took only one of his 10 break point chances and failed to put the match away despite leading 6-3 in the final set tiebreak before Kyrgios reeled off five straight points.
World No 72 Kyrgios improved his career record against Nadal to 3-3.
After dropping the first set, Kyrgios called for the trainer and said that he felt sick but would play on as he feared the media would "blow it up".
He returned to the court for the second set and immediately looked a different player.
At one stage a frustrated Nadal called for the crowd to quieten down, a request that received backing from Kyrgios, who screamed "shut up" together with an expletive, an outburst that brought him a warning from the umpire.
After calling for the trainer again between the second and third sets due to a sore back, Kyrgios then saved five break points in the sixth game of the final set.
He got out of jail again in the deciding tiebreak, particularly on the second match point when his volley caught the tape but toppled over and landed on the line.
Next up for Kyrgios is Swiss Stan Wawrinka, who defeated American Steve Johnson 7-6(5), 6-4.
Also on Wednesday, Mackenzie McDonald continued his recent strong form with a 6-7(7), 7-5, 6-3 upset of fellow American Frances Tiafoe.
McDonald last week made it to the semi-finals of the Delray Beach Open, where he lost to eventual champion Radu Albot.
Third seed Isner posted the 400th win of his career, 6-4, 6-4 over fellow American Sam Querrey.
Osaka adds American Jenkins to team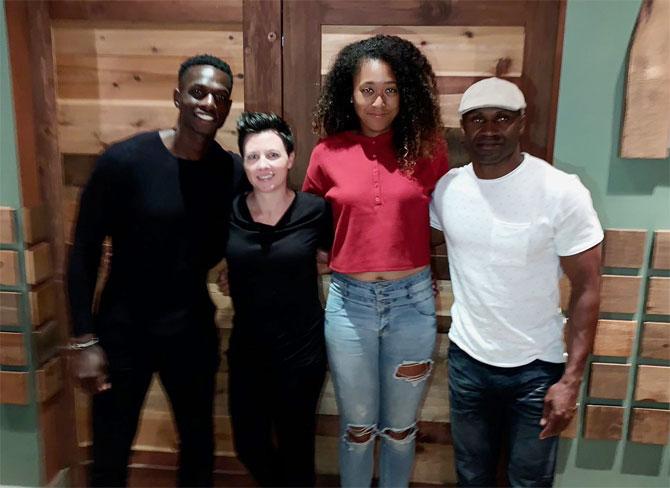 Naomi Osaka has added American Jermaine Jenkins to her support team, the World No 1 said on Thursday.
The Australian Open champion, who split with former coach Sascha Bajin earlier this month, made the announcement on social media but did not elaborate on Jenkins' exact role.
"Had a great dinner with the team. Also taking this moment to thank Jermaine for joining us and coming on board," she wrote, alongside a photograph of herself with Jenkins and other members of her team.
Jenkins, who was recently appointed as the United States Tennis Association women's national coach, was formerly the hitting partner of Venus Williams.
Osaka split with Bajin after winning the Australian Open last month.
The 21-year-old enjoyed a spectacular rise during the time they worked together, becoming the first Japanese player to win a grand slam when she beat Serena Williams in the US Open final in September.
Injured Del Potro's to miss Indian Wells
Juan Martin del Potro will not defend his BNP Paribas Open title in Indian Wells after doctors told him he needs more time to recover from a fractured right kneecap, the Argentine said on Wednesday.
Del Potro returned to competition after a four-month absence at the Delray Beach Open last week but, with his knee heavily strapped, looked unable to move around freely and lost in the quarter-finals to American Mackenzie McDonald.
He subsequently withdrew from this week's Acapulco Open.
"I am truly disappointed that I will not be able to return ... to defend my title," Del Potro said of the Masters 1000 event that starts on March 7.
"It is one of my favourite tournaments, and I have incredible memories from last year, but my doctors have advised me to rest. I hope to be back on court soon."
The Argentine saved three championship points on the way to upsetting Roger Federer in last year's final.
Small shoulder procedure to delay Sharapova return
Maria Sharapova has undergone a small surgical procedure on her right shoulder and will miss next month's Miami Open in Florida, she said on Wednesday.
Sharapova has not played since the St Petersburg Trophy four weeks ago when she withdrew before a second-round match.
The 31-year-old former world number one has already said she would not play in the March 6-17 BNP Paribas Open at Indian Wells, California.
The Miami Open starts on March 19.
"I have struggled with shoulder pain since last summer," Sharapova wrote on her Instagram page.
"For 10 weeks post US Open, I focused on getting my rotator cuff and scapula strong to support a surgically repaired fraying tendon and a small labrum tear. Although my shoulder got strong, it didn't help the pain on impact.
"After a few different opinions in a few different countries, last week I had a small procedure done which will take a few weeks to heal."
Sharapova, who beat defending Australian Open champion Caroline Wozniacki before losing in the fourth round at Melbourne Park in January, added that she was "incredibly committed" to returning to competition.