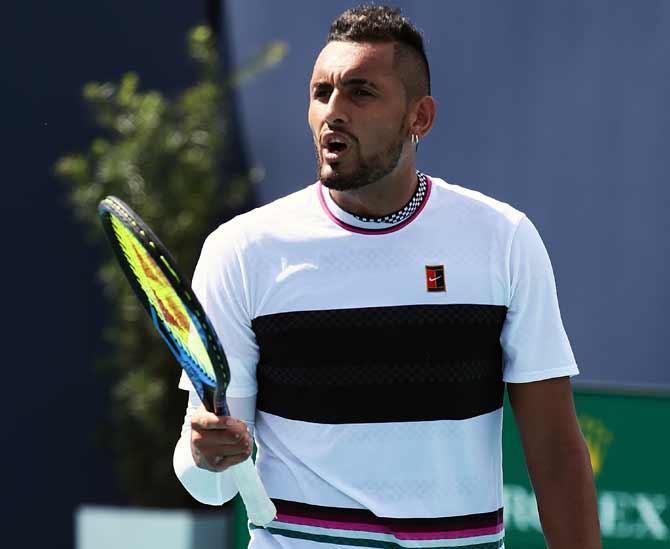 Nick Kyrgios hit back at Borna Coric on Wednesday after the Croat said he was not bothered by criticism of Novak Djokovic's Adria Tour exhibition where several players tested positive for COVID-19.
Djokovic, Coric, Grigor Dimitrov and Viktor Troicki all tested positive during the event in Serbia and Croatia, which was later abandoned.
"I read what he wrote, but I simply don't care because he likes to be a general after a battle," Coric told Croatia's Jutarnji List newspaper.
"If someone else was teaching lessons I would have understood, but Kyrgios ... it's somehow not realistic."
Kyrgios had also criticized Alexander Zverev after a video of the German player dancing at a crowded club emerged online despite the world number seven pledging he would self-isolate following his appearance at the Adria Tour.
"I agree that was not good, Zverev acted badly," said Coric.
"But I don't see the need to criticise fellow players in such a way. I wouldn't do it, but again — it's Kyrgios."
Kyrgios shot back at Coric, saying he "should care" about his comments.
"Do you have rocks in your head?" Kyrgios said on Twitter.
"Again, you can stand up for your mates, I'm just trying to hold them accountable. They are tennis players, they aren't special."
Fiery Evans warns Edmund over 'belting' racket in Battle of Brits
Handshakes across the net have been replaced by the tapping of rackets amid the COVID-19 pandemic, but a fired-up Dan Evans took umbrage at Kyle Edmund "belting" his frame after their Battle of the Brits match on Tuesday.
Evans, ranked 28, defeated the 44th-ranked Edmund 6-4, 6-4 in a high-quality encounter between Britain's top two players.
However, Evans's fist-pumping celebrations after sealing the win were followed by an encounter at the net that saw Edmund strike the frame of Evans's racket with what the latter said was undue force, triggering an angry response.
"Be very careful, Kyle. Be very careful mate," Evans said.
"Did you see what he did to my racket? He just teed my racket," the 30-year-old told teammates sitting courtside.
"When I put my racket there, he just absolutely belted it."
However, Edmund said he later approached Evans to smooth things over.
"Dan said he misinterpreted it," the 25-year-old Edmund said.
"A racket touch is not that big a deal, to be honest."