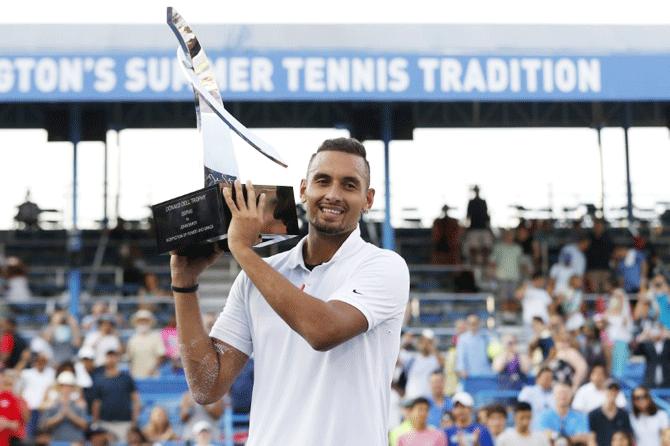 Nick Kyrgios overcame early back spasms to get the better of Russia's Daniil Medvedev in a pair of tiebreakers and win the Citi Open in Washington on Sunday.
The Australian won 7-6(6), 7-6(4) over a frustrated World No 9 Medvedev for his sixth career ATP Tour victory. Kyrgios did not face a single break point and hit 18 aces, including two to close out the final.
"It's great to get the win, but I proved to myself and a lot of people backing me that I still have it and can produce at the highest level," said Kyrgios, who defeated the tournament's number one seed Stefanos Tsitsipas in Saturday's semi-final.
"This week is probably one of the best weeks of my life in tennis," the 24-year-old said.
Kyrgios, mixing baseline rallies with drop shots, came from 4-1 down in the opening tiebreak to win it and took a medical time-out after the set, which seemed to help relieve the back spasms that had him stretching on the court during changeovers.
"I had some back spasms on the right side of my back," the Australian said.
"I haven't played that much tennis in the last couple of months so this week the load has been pretty stressful."
The tension of the match no doubt added to the stress.
"We got very lucky to get out of the first set," Kyrgios said.
"It was 5-2 and I got pretty lucky on some of those points. It could have easily him standing in this position."
He still had trouble with Medvedev's serve, the Russian winning 80% of his service points for the match.
Kyrgios eventually tied the second set at 6-6 and claimed the victory, his second of the year, in another tiebreak.
Before serving for the win, the Australian, as he had done twice previously in the match, went to a spectator to consult on where to serve.
Kyrgios then delivered a rocket for the win and fell on his back in relief.
Zheng wins first WTA title at Silicon Valley Classic
China's Zheng Saisai beat Aryna Sabalenka of Belarus 6-3, 7-6(3) Sunday to capture the Silicon Valley Classic and win hermaiden WTA title.
Unseeded Zheng powered through the draw with several upset triumphs before finishing it off by defeating second seed Sabalenka.
"Five years ago was the first time I won my first WTA match here. Now I win my first WTA title -- it's just amazing," Zheng said.
"I'm very excited about how I played here all week. It's just been an amazing week for me."
Zheng prevailed on the back of a strong serve and converting all five of her break opportunities.
After Zheng took the first set, Sabalenka mounted a brief rally by winning three straight games to take a 3-2 lead but the world number 10 could not hold the advantage.
Pegula breezes past Giorgi for first WTA title
Home favourite Jessica Pegula made quick work of Italy's Camila Giorgi to win her maiden WTA title at the Citi Open in Washington on Sunday.
The 25-year-old American breezed to a 6-2, 6-2 win over the outplayed Italian in just 59 minutes, claiming the first two games in both sets to set the tone.
Giorgi fought back to 3-2 in the first set but Pegula took the next three games as the Italian's errors mounted.
The second set was even more one-sided as Pegula marched to a 5-1 advantage before Giorgi, on the comeback trail after wrist and ankle injuries, won a second game.
Pegula, the daughter of the owners of the National Football League's Buffalo Bills and National Hockey League's Buffalo Sabres, closed out the match with a stunning service winner and sank to her knees in celebration.
"I've always played so well here," Pegula said afterward.
"So I'm so happy I can get my first title here."
She is the first American to win the women's tournament since Sloane Stephens in 2015.
The hard-hitting player won 81% of her first serves and saved the only break point she faced against the former Wimbledon quarter-finalist.
Pegula, who has won three of her four meetings with Giorgi, was playing in her second WTA final, having lost in Quebec City last September.
Ranked world number 79, she broke Giorgi in the opening game of the match. Her service returns enabled Pegula to reach triple break point at 4-2. She then obtained a second break after another miscue from Giorgi, polishing off the set with a forehand winner.
The Italian opened the second set with a blistering winner, but remained inconsistent and lost the next four points in a row. Giorgi had her only break point in the next game, but squandered it after another wide backhand error, and Pegula responded with fiery forehands to go up 2-0.
At 5-2, Pegula used a strong forehand to force another error and get to double match point, which she converted immediately with a service winner.