'I am very content with what I have achieved. To represent India in four Olympics has been so so amazing.'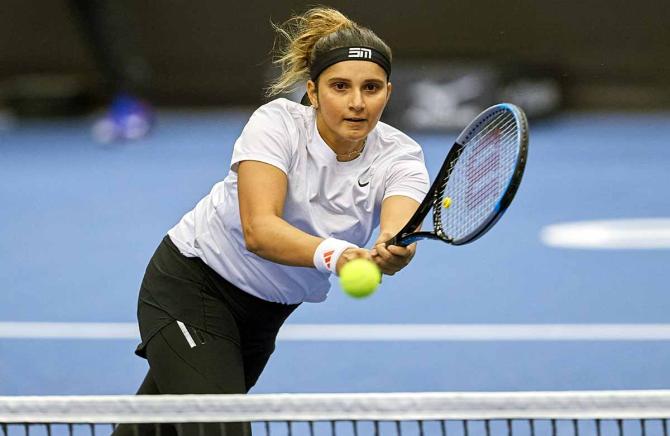 Tennis is and will remain a significant aspect of Sania Mirza's life but the legendary player says that not treating the sport as the be-all and end-all gave her the freedom to unleash her aggressive game every time she stepped on court.
Sania, who is bidding adieu to the game, says she never had the fear of losing in her heart because it makes a player defensive.

The 36-year-old conjured up wins against one the best players of her era -- then US Open champion Svetlana Kuznetsova, Swiss legend Martina Hingis, Nadia Petrova, and Flavia Penneta.

Although she lost her singles matches to the legends of the game -- Serena Williams and Venus Williams -- she put up a decent fight when she was pitted against the American sisters.

"What made me that aggressive and that mindset was of actually not having the fear of losing," Sania told PTI.

"For me, tennis was always and is always going to be a very, very large and big and important part of my life, but it is not my entire life. And that is the mindset I went with, even as a young girl and as a professional athlete. The worst that can happen is that you can lose a tennis match and then come back and try again.

"So, the fear of losing was not there. And I think a lot of people become defensive because they have the fear of losing. They think 'oh if we push the ball or put the ball inside the court, maybe we won't lose'. But, in the long run, that doesn't work to become a top athlete."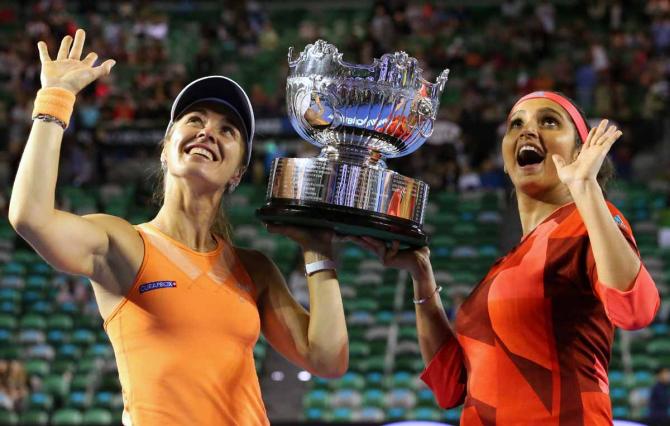 As an athlete you work to get as many wins under your belt as possible and such a risky style would not let you do that.

Since she was always prepared to lose matches, did the defeats affect Sania?

"No, they affected me. But I knew I could try again next week. They affected me in the moment, some defeats more than the others. But I always knew that was not the end of the world. It was just losing a tennis match."

The Indian ripped forehands from impossible-looking angles, a game style that brought much success in her almost two-decade long career in which she won three women's doubles Grand Slam trophies and as many mixed doubles titles.

So did it come naturally or she had to work to develop such a shot?

"I think it was a bit of both. I think I was gifted with the timing. I was gifted with the way I struck the ball. But I think there was a lot of work that went into my grip. There was a lot of effort that went in to bringing variation into the shot.

"That was just repetition, there was a lot of work that went into making the shot deceptive, where people are not able to read it. I think it was a mix of both. Repetitions, I think that is what I can tell you and working different angles of the court.

Sania began with a western grip but, on the advise of coaches, she modified it to a semi-western grip. It was the 'Indian' wrist that allowed her to create those tough angles. But was it also a reason for her getting a career-threatening wrist injury which later forced her to quit singles?

"I actually don't know. I mean the thing is I have a very hyper-mobile joint structure. So, I don't know if the injury would have happened with the western grip also, if it would not have happened with the continental grip.

"I can't really get into a hypothetical situation. I mean I had a wrist injury and that was it. So, you had to just deal with it."

But there is also a view that she chose the easy route by quitting singles.

"I don't react to it, I don't really care what people say."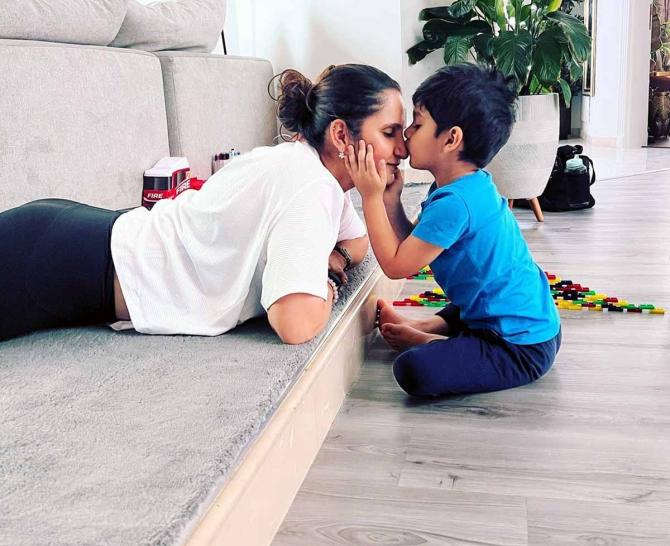 The doubles format is considered by many a side show as against the singles, which tests all aspects of your game -- fitness, movement, ground-strokes, stamina and mental fortitude.

In the fast-paced doubles, the reflexes and reactions become much more important as you cover just half the court.

Sania said her singles success gets overshadowed because of her doubles exploits.

"I got a lot of respect (because of doubles). I am very grateful for that. I had a great singles career.

"I was not number one but I was top-30 which has not happened from our side of the world in a very long time. Never happened for women and even for men, the last person was Vijay (Amritraj) or Ramesh (Krishnan), it was a long haul, we had someone playing as top-30 singles player and I had good success.

"Then I moved on to the doubles because my body was not able to take it after three surgeries and it was a right call. Being number one in the world at whatever you do is amazing.

"It does not really matter what people say. It (success) looks much more in doubles because I was number one in doubles. In the fraternity there is lot of respect for each other."

She is combative by nature but there would be moments, like in any athlete's life, where you feel vulnerable. When did Sania feel the strongest?

"The weakest I felt was when I had a really bad wrist injury during the 2008 Olympics. I would say that probably was the time when I went through a lot of mental health issues, when I had depression.

"Being at the peak of my career not knowing if I would be able to play again or if I would be able to comb my hair. I would say I had where I felt very weak.

"And where I felt the strongest, I would say there were many times where I felt very strong, but probably the most invincible was during the middle of 2014-end till the middle of 2016. Those almost two years of my playing life were incredible.

"There are not many athletes who get to go on the court and feel like you are not going to lose a tennis match, or any match.

"You feel like you are stepping on the court and you've almost half won the match just by stepping on the court. That was the feeling that used to happen when Martina (Hingis) and I were stepping on the court for that period of time."

Sania and Hingis won the Wimbledon (2015), US Open (2015) and the Australian Open (2016) in an incredible run.

She has medals from many multi-sport big-ticket events like the CWG and the Asian Games but an Olympic medal eluded her. She came closest in 2016, when she and Rohan Bopanna competed in the bronze medal play-off, but lost to the Czech pair of Radek Stepanek and Lucie Hradceka.

"I am very content with what I have achieved. To represent India in four Olympics has been so so amazing. If I could have one moment back it would be that bronze medal match, or the match before that, when we played the semi-finals."
© Copyright 2023 PTI. All rights reserved. Republication or redistribution of PTI content, including by framing or similar means, is expressly prohibited without the prior written consent.