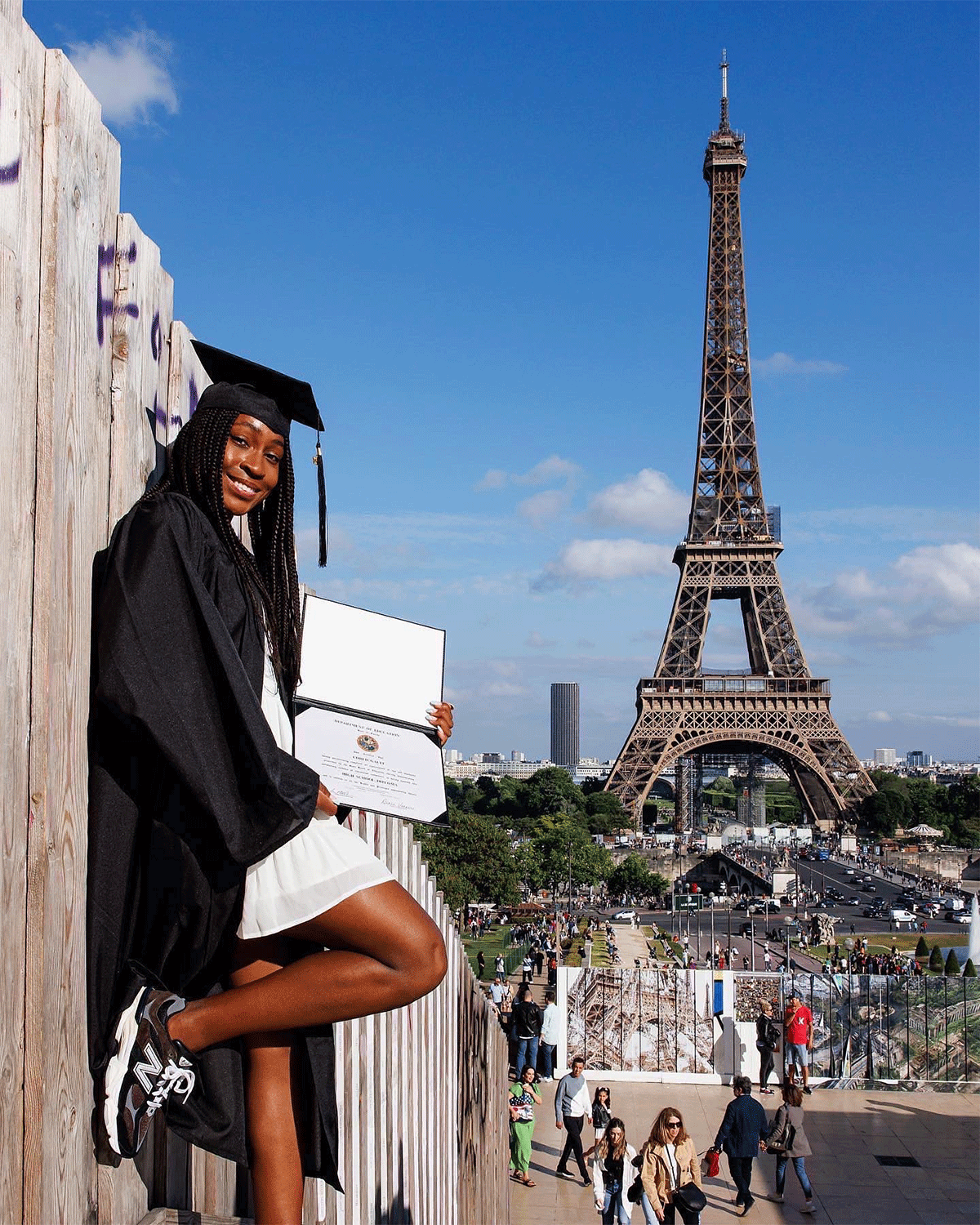 American Coco Gauff urged fans at the Washington Open to take cardiopulmonary resuscitation (CPR) courses that can help save lives and said she would have been ready to jump in if needed after a spectator fell ill during her match on Friday.
Play in the quarter-final clash between world number seven Gauff and Swiss Belinda Bencic was stopped briefly when a fan in the stadium was in distress but paramedical staff stepped in to address the issue and the match resumed.
"At first I was just making sure that it wasn't something cardiac," Gauff said immediately after her 6-1, 6-2 victory. "I just took a CPR class, so if they needed me to jump in I was ready. I have my certification.
"I did ask the ref if it was cardiac. I'm sure there are more professional people out here, but she said it wasn't... that's when I realised the person will probably be OK.
"But yeah, everybody in the stadium should take the class. It took 90 minutes. I booked it on the flight from Wimbledon... it's really informative."
The 19-year-old later told reporters that the course was something she had wanted to take after watching her dad perform CPR on a person who did not survive.
World number four Jessica Pegula's sister Kelly performed CPR on their mother last year and Gauff said that was another reason she wanted to get certified.
"I was like, 'OK, I need to do it' ... I learned so much," she added. "I was hoping I wouldn't have to do anything today, but if it came to that point, at least I learned that."
Fritz wins twice in one day to reach semis in Washington
American Taylor Fritz backed up a three-hour, 6-7(2), 6-3, 6-4 win over Andy Murray in their rain-postponed match with a 6-3, 6-3 dismantling of Jordan Thompson in the evening session to reach the Washington Open semis on Friday.
Murray overcame an early break of serve in the marathon first set to force a tiebreak that was dominated by the veteran three-time major champion from Scotland.
The American top seed Fritz broke again early in the second set, which was enough to seal the set and stretch the contest into a decider.
In the tight third set, Fritz took advantage of a sloppy service game from Murray to arrive on the doorstep of victory at 5-4.
But Murray was not done and threatened to level when he jumped ahead 0-40 in the next game.
Fritz, who crushed 17 aces, managed to serve his way out of trouble and hit a lovely lunging volley to set up match point, which he converted with a cross-court forehand winner.
The match showcased not only both players' raw power but also their versatility, with each deploying deft drop shots at critical times, often leading to entertaining rallies on a hot and humid day.
Play was halted at one point by climate change protesters who threw large tennis balls with flames printed on them onto the court and unfurled banners calling on tournament sponsors Mubadala and Citi to stop funding the fossil fuel industry.
Fritz then capped a four-hour and 20-minute workday with a stress-free straight sets win over the Australian Thompson under the lights.
He will face Tallon Griekspoor for the place in the final after the Dutchman overwhelmed American J.J. Wolf 7-5, 6-4 in the afternoon session.
Hometown hero Frances Tiafoe was unable to manage two wins during his double shift on Friday.
Tiafoe rifled a forehand passing shot on match point to dispatch 18-year-old qualifier Shang Juncheng 6-2, 6-3 in their postponed round of 16 tie, before running into a buzzsaw in the form of Briton Dan Evans, who cruised to a 6-4, 7-5 triumph.
In the semis, Evans will take on Bulgarian Grigor Dimitrov, who reached the semi-finals without hitting a ball after he was handed a walkover by Frenchman Ugo Humbert.
Pegula rallies past Svitolina to reach semis in Washington
Top seed Jessica Pegula came from behind on Friday to beat Ukrainian Elina Svitolina 4-6, 6-3, 6-4 to reach the semi-finals of the Citi Open in Washington DC, where she will play Greece's Maria Sakkari.
The American fired a serve up the T that Svitolina could not handle to end the high-quality contest and its riveting 54-minute third set.
Svitolina, who returned from maternity break in April and made the semi-finals of Wimbledon last month, dug deep to fend off two match points in her final service game but was unable to convert her break point opportunities in the deciding set.
Svitolina has produced stunning results including a win over world number one Iga Swiatek at the All England Club in July despite the turmoil caused by Russia's invasion of Ukraine.
"I have tons of respect for her," Pegula said in an on-court interview.
"She just had a baby, and with everything she is going through with her country, I told her I feel like she came back as a new person. I can see the competitiveness in her and I've always really respected that."
Pegula, who won the WTA 500 event in 2019, improved to 3-1 lifetime against wildcard Svitolina.
Sakkari beat Madison Keys 6-3, 6-3 for her second win of the day after she defeated Canada's Leylah Fernandez 7-5, 6-2 in their rain-delayed last 16 match.
The fourth seeded Sakkari served extremely well, winning 83% of her first serve points while double faulting just once, to dispatch Keys, who struggled to find her rhythm throughout the contest.
American Coco Gauff played a nearly flawless match to dispatch the dangerous Belinda Bencic 6-1, 6-2 in their quarter-final, a solid response after the 19-year-old's disappointing first round exit from Wimbledon last month.
Gauff's speed, serving and defense proved too much for the Swiss player under the lights on Friday night.
"I put a lot of hours in after Wimbledon and I was eager to bounce back," Gauff said.
"I hope I can play even better and I know if I continue to put in the work, I can."
Next up for Gauff is a semi-final clash with defending champion Liudmila Samsonova after the Russian beat Ukrainian Marta Kostyuk 6-4, 6-2 earlier in the day.