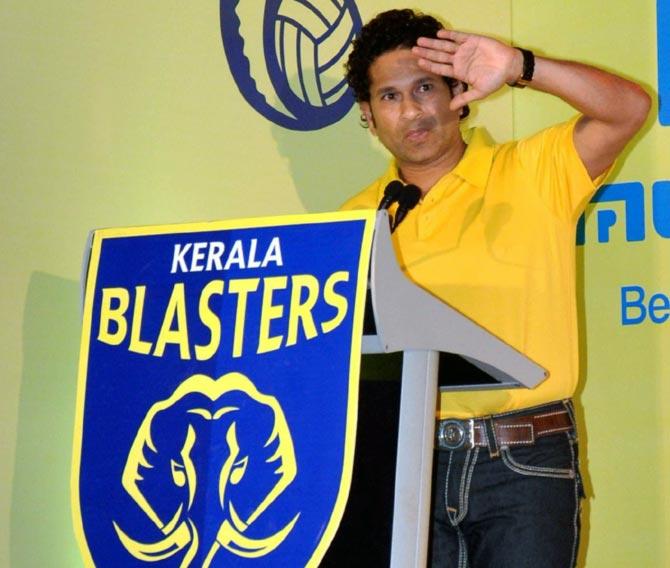 Kerala Blasters and Sachin Tendulkar may have parted ways but the cricket legend will always remain an intrinsic part of the club, coach David James said on Friday.
The Master Blaster had sold off his 20 per cent stake with the club in the build-up to the fifth season of the Indian Super League, and described that his 'heart will always beat for the clu'.
"His name will always be linked with Kerala Blasters because this Blasters is essentially his nickname. Even down to the colours, we are wearing his choices. He will always be an intrinsic part of Kerala Blasters," James said.
Terming Tendulkar one of the most wonderful men he met, James said it's bit of a 'shame' that the cricket legend has left the club.
"I've had conversations with him since he departed. I've had very good terms and wish him all the best. In some sense, of course it's a shame because you want everything to remain the same. Evolution does take place, people will go but football club will always survive," James told reporters on the eve of the ISL-V opener against ATK in Kolkata.
The former England goalkeeper, who was signed midway into the last season after Rene Meulensteen was sacked, remembers meeting him in London before signing a three-year contract.
"He is one of the most wonderful men I've met in sport when I was asked to be the manager in London. We had a very honest conversation about principle and philosophies, human factor rather than just football," the former Liverpool custodian said.
After James took over last season, there were some glimpses of resurgence but it was a little too late to make the playoffs, as they ended up sixth.
"I'm heavily involved in making of this squad having watched hours and hours of videos of about 100 players that we saw. It's a long term strategy -- of not just winning the ISL but building a team for the future. We have one of the youngest squads in the ISL," he said.
James served as a player-manager at Kerala Blasters in the first season of Indian Super League and helped his team reach the final.
ATK boast of a five-one win-loss record against Kerala from 10 exchanges and James pointed out he was the manager when they had beaten the Kolkata franchise way back in 2014.
"Strategy is not about winning every game. Bengaluru were by far were the most consistent side in the ISL last season but they did not win the title. The season isn't decided tomorrow either."
Showing solidarity with the flood victims and families affected in the devastating Kerala floods, James said: "We are very conscious of what happened as a football club. We willbe showing our thanks to individuals and groups, we are not allowed to declare what it will be here. There will be some evidence beyond people turning out for football matches.
"I have loved India as a whole but being positioned in Kerala, the spirit of the state and fans is important," he said.
Kerala captain Sandesh Jhingan congratulated India Under-16 team for making the quarterfinals for the first time since 2002.
Indians played out a 0-0 draw against Indonesia to seal their berth in the last-eight stage.
With the top four teams in this tournament qualifying directly for the 2019 FIFA U-17 World Cup -- to be held in Peru, India is a step away from sealing its spot.
Jhingan also said that ISL has helped him grow as a player as he's looking forward to defending against Socceroos legend Tim Cahill when they take on Jamshedpur FC in the course of the tournament.
"I was an unknown figure back them. Individually it has helped me grow as a player. Seeing a player like Cahill, I'm looking forward to defend against him," he said.