Batting maestro Sachin Tendulkar on Thursay expressed concern over the high prevalence of obesity among the population in the country and exhorted the youth to take to sporting activity to stay healthy.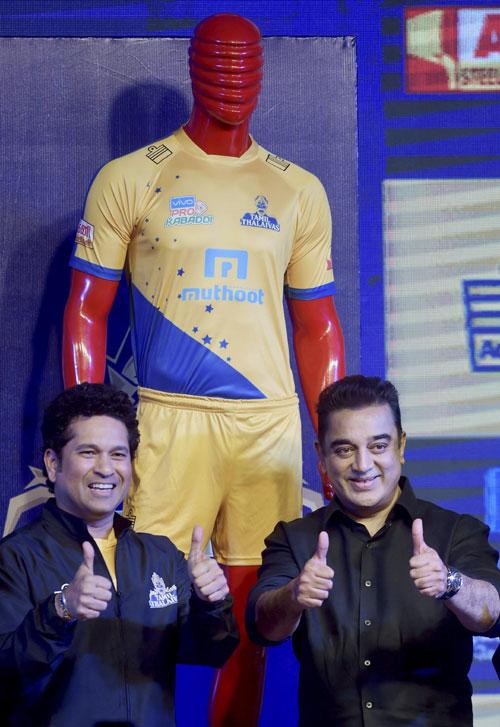 "It is important for people to stay healthy and there is no better way than taking up some sporting activity," he said at a function here to unveil the jersey of "Chennai Thalaivas" which is making its debut in Pro Kabaddi League this season.
"By 2020 India is set to be the youngest nation by population. But in obesity we are number three. A young and unhealthy population is a perfect recipe for disaster. What India needs is more participation in sporting activities," he added.
On Pro Kabaddi League, Tendulkar said, "I am here to support not only kabaddi, but sports in general."
He also spoke about his love for the sport and said, "at some stage in our life we all would have played kabaddi. When I went to watch a match some time ago, the kind of energy I felt was incredible. I have since loved the game."
Tendulkar also had a word of advice for the team, which he co-owns: "Go out and win the hearts of your fans."
Asked whom he would pick in a "dream team" to play for him, the answer was: "Certainly M S Dhoni as a defender and singer-composer Shankar Mahadevan as raider."
Tendulkar also thanked Tamil film actor Kamal Haasan, who was present, for supporting kabaddi and Tamil Thalaivas, as its brand ambassador.
The actor on his part, said he was happy to be associated with 'Thalaivas' and hoped to see the team play the finals in Chennai.
"I am delighted to see a cricket legend (Tendulkar) throw his weight behind kabaddi and get involved with a team," Haasan said.
Image: Cricketer and co-owner of Tamil Thalaivas Sachin Tendulkar and Ambassador of the team actor Kamal Haasan during the unveiling of the jersey for the Pro Kabaddi League 2017 in Chennai on Thursday
Photograph: R Senthil Kumar/PTI