2016 is at the halfway stage and the year has already seen some stunning wins, underdogs emerging triumphant on the biggest stages of them all.
Rediff.com presents the most astonishing sporting surprises so far.
There is a great thrill and delight watching the underdog triumph. Sports fans love watching the athlete who prevails against all odds.
Who can forget India's famous World Cup victory in 1983, when Kapil Dev's team outclassed the mighty West Indies?
Clive Lloyd's team had won the previous two World Cups and was the best team in the world by a long shot before India denied the Windies a hat-trick of world titles with a shock upset at Lord's on June 25, 1983 despite scoring just 183 runs.

Goran Ivanisevic's Wimbledon win in 2001 was another surprise. The world loved it as the Croatian seemed to have gone past his best years and only made it to SW19 after he was given a wild card.

Muhammad Ali's victory over George Foreman in 1974, 17-year-old Boris Becker's Wimbledon triumph in 1985 and New Zealand's gold medal in men's hockey in the 1976 Olympic Games in Montreal are victories which many sports fans still savour.
2016 is at the halfway stage, but the year has already witnessed a few shock wins, the underdog emerging triumphant on the biggest stages of them all.

On Sunday, July 10, Portugal triumphed against favourites France to claim its first Euro title.

A few weeks earlier, Leicester City become world famous after its English Premier League triumph, stealing a march over the much-fancied Manchester clubs.
Last week, the little known Sam Querrey, seeded 28, changed the script at Wimbledon by beating the World No 1 Novak Djokovic in the third round.

Sunrisers Hyderabad did likewise by winning IPL 2016, stunning star-studded Royal Challengers Bangalore in the final.

Check out the top 10 surprises in sport so far in 2016:

1. Leicester City's maiden EPL title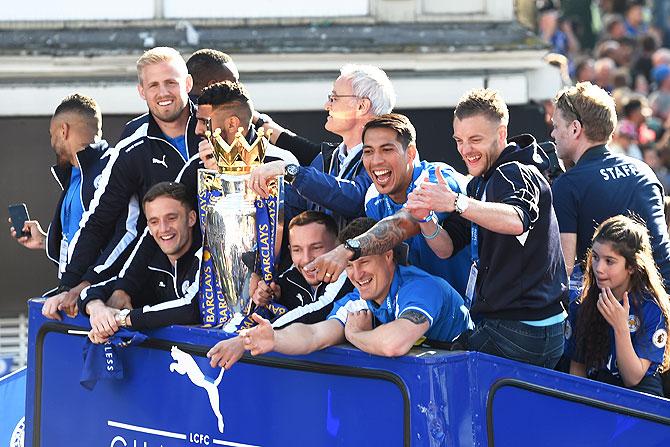 IMAGE: Leicester City players enjoy the bus parade in Leicester after winning the English Premier League title in May. Photograph: Michael Regan/Getty Images
At the start of the English football season last August, bookmakers in Britain offered odds of 5,000-1 against Leicester City winning the Premier League.

The bookies offered odds 10 times more generous that the Loch Ness Monster would be discovered. Or more than twice as generous that Kim Kardashian would become America's president.

Leicester City won the English Premier League for the first time in the club's 132-year history after nearest challengers Tottenham Hotspur were held 2-2 draw by Chelsea.

Tottenham's failure to beat Chelsea gave Leicester an unassailable seven-point lead at the top of the EPL table, with only a maximum of six available to Tottenham from their final two league games.

Unfashionable and overlooked in the East Midlands, Leicester were overshadowed by the city's Europe-conquering rugby team.

Yet, fantastically, Claudio Ranieri's motley crew triumphed against the might and money of Manchester United and City, Chelsea and Arsenal, the quartet who had carved up the Premier League title for the last 20 years.

Which other sports teams defied such odds month after month over an entire season?
2. Portugal's maiden Euro triumph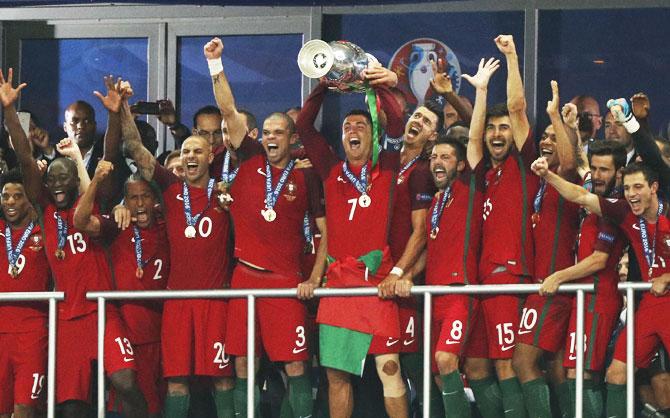 IMAGE: Portuguese players celebrate winning Euro 2016 at the Stade de France, Paris, July 10, 2016. Photograph: John Sibley/Livepic/Reuters
Portugal won its first European football championship title, edging past hosts France 1-0, courtesy of a thunderous finish from substitute Eder deep into extra time.

The victory was more special because captain and star Cristiano Ronaldo left the pitch in tears just 24 minutes into the final because of an injury.

Ronaldo chipped in with tips from the sidelines, with many referring him to as the 'second coach,' before Eder picked the perfect time to score his first competitive goal for his country, marauding forward and letting fly with a bullet shot from 25 metres in the 109th minute.

It was a magic moment for the 28 year old who plays for the French club Lille.
It was a cruel outcome for France who had dominated the game and squandered a number of chances in front of devastated supporters who had arrived at the Stade de France hoping to celebrate a third European crown.

So much of the build-up to Euro 2016 had focused on Ronaldo and his hopes of crowning a glittering career with the only achievement missing from his CV, a piece of international silverware.

The script had been written for him to produce a performance to match his status as one of the game's greats, but he had to settle for a back-stage role after Dimitri Payet's challenge left him in a heap on the grass.

It was not how he would have envisaged his evening panning out, but having been part of the Portuguese side that were stunned in the final by Greece in 2004, he celebrated wildly with team mates as ticker tape rained down from the rafters.

3. Sunrisers Hyderabad's upset
IMAGE: Sunrisers Hyderabad after winning IPL 9. Photograph: BCCI
Not many had bet against the star-studded Royal Challengers Bangalore in the Indian Premier League, but Sunrisers Hyderabad produced a mighty upset in the final to win its first title in the T20 league.

Sunrisers bowlers posted an incredible performance to ruin Virat Kohli's fairytale season, beating RCB by 8 runs.

In a battle between IPL's best batting and bowling line-ups, the Orange Army came up trumps despite Chris Gayle and Kohli's initial blitzkrieg while defending 208/7.
RCB were restricted to 200/7.

Skipper David Warner's batting and astute captaincy were complemented by inspirational death overs bowling by Bangladesh pacer Mustafizur Rahaman (1/37 in 4 overs) and Bhuvneshwar Kumar (0/25 in 4 overs).

Warner, who hit 68 in the final, finished second in the run-getters' list with 848 runs.

4. Kerber, Muguruza upset Serena in Grand Slams finals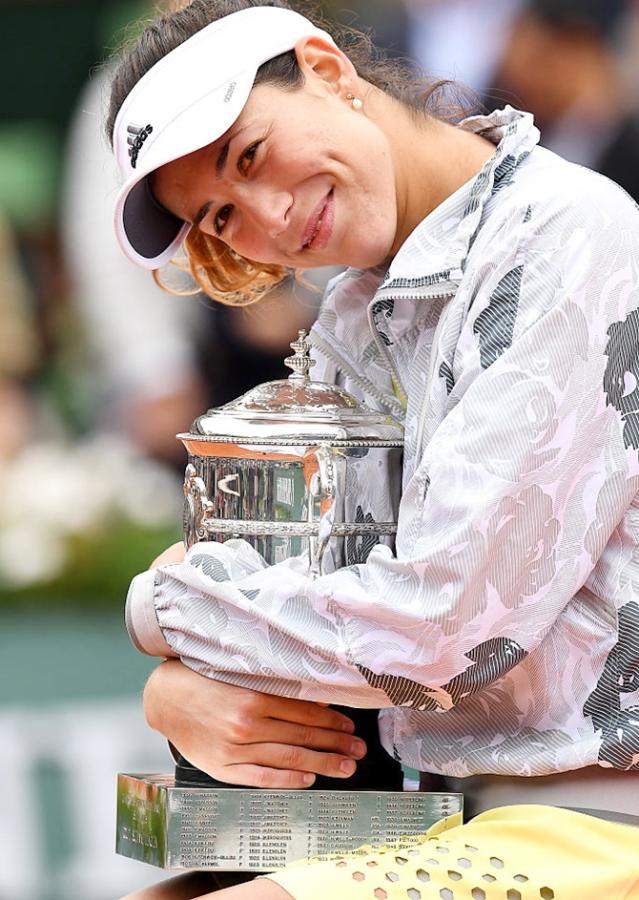 IMAGE: Garbine Muguruza with the French Open trophy after beating Serena Williams in the final at Roland Garros, Paris, June 4, 2016. Photograph: Dennis Grombkowski/Getty Images
Serena Williams lost in successive Grand Slam finals. Had it not been for defeats by Germany's Angelique Kerber in the Australian Open final and Garbine Muguruza in the French Open final, Serena would have passed Steffi Graf and tied Margaret Court's all-time record of 24 Grand Slam titles.

Kerber became the first German to win a Grand Slam title since her childhood idol Steffi Graf in 1999 when she upset World No 1 Serena 6-4, 3-6, 6-4 to clinch the Australian Open.

Muguruza overpowered Serena 7-5, 6-4 to claim her maiden Grand Slam title.

The 22-year-old fourth seed, who lost to Serena in last year's Wimbledon final, became the first Spaniard to lift the Suzanne Lenglen Cup since Arantxa Sanchez Vicario in 1998.

Serena got one back, beating Kerber in straight sets in the Wimbledon final to win her 22nd Grand Slam singles title and equal Graf's record.

5. Querrey packs off Djokovic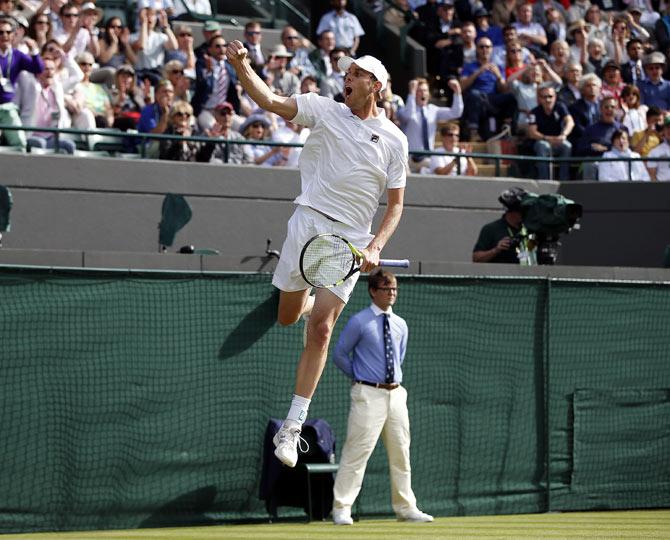 IMAGE: Sam Querrey leaps into the air after shocking the World No 1 at Wimbledon. Photograph: Paul Childs/Reuters
American powerhouse Sam Querrey proved that Novak Djokovic is fallible after all, stopping the Serb's seemingly unstoppable charge towards a calendar year Grand Slam at Wimbledon.

The 28th seed boomed down 31 aces and repelled an attempted Djokovic comeback to win a third-round rain-hit match that began the previous evening 7-6(6), 6-1, 3-6, 7-6(5).

Top seed and defending champion Djokovic had trailed by two sets overnight after the Court One clash was stopped by rain.

On resumption, the Serb halved the deficit and served for the fourth set at 5-4, only for Querrey to break back.

When yet another rain delay sent the players off court for an hour, Djoko returned to hold serve but never looked comfortable in the tie-break as Querrey went 6-4 ahead.

One match point was saved but when Djoko shanked a forehand into the tramlines, his 30-match winning streak in Grand Slam play -- a run that meant he arrived at Wimbledon holding all four major titles -- came to an end.

The defeat scuppered his hopes of becoming the first man to win all four majors in a year since Rod Laver in 1969 and was his first loss before the quarter-final of a major since the 2009 French Open when he also bowed out in the third round.

6. Iceland's shock win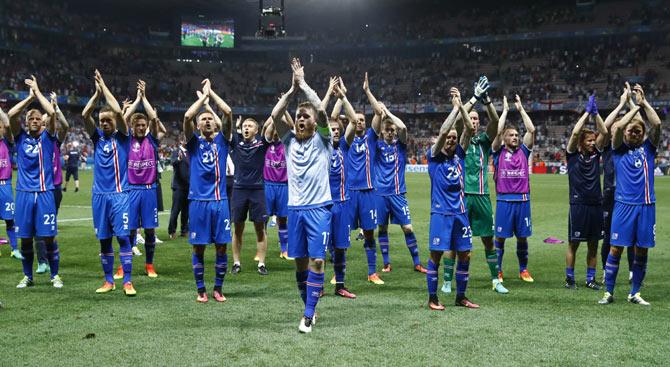 IMAGE: The Icelanders acknowledge the crowd after winning the game against England. Photograph: Michael Dalder/Reuters
Iceland's fairytale progress to the quarter-finals of the European Championship is a model for smaller nations to realise their dreams.

The smallest country ever to compete at the Euro surprised soccer fans around the world after comfortably knocking out England, the overwhelming favourites, in a last 16 game with a 2-1 victory.

England got off to a dream start when Raheem Sterling was brought down by goalkeeper Hannes Halldorsson and Wayne Rooney confidently thumped home the penalty in the fourth minute.

Ragnar Sigurdsson equalised within two minutes for Iceland, turning the ball in at the far post after Aron Gunnarson's massive throw-in was headed into his path by Kari Arnason.

Iceland then went ahead in the 18th minute when an intricate exchange of passes on the edge of the area ended with Kolbeinn Sigthorsson scoring with a low shot that goalkeeper Joe Hart got a hand to but could not stop from rolling into the net.

Shell-shocked England never recovered and slumped to one of the most embarrassing defeats in its soccer history.

Before the win over England, Iceland drew their games with Portugal and Hungary and beat Austria in the group stage.

None of those results were a fluke for a young team which was solid and organised throughout.

In addition to a strong defence, Iceland showed they also had a killer instinct as their eight goals in five games highlighted.

Having exceeded expectations, the Nordic island, known for its volcanoes and pioneering geothermal power, took on France in much the same way as they did England in the quarter-final, but that game ended with a 2-5 defeat.

7. Cleveland Cavaliers win first NBA title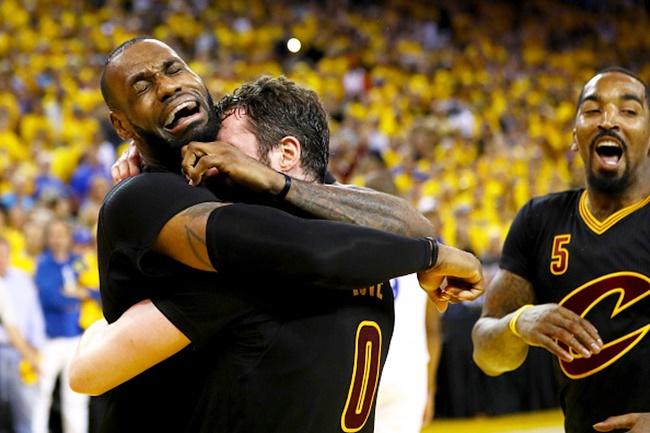 IMAGE: LeBron James, left, and Kevin Love of the Cleveland Cavaliers after defeating the Golden State Warriors in Game 7 of the NBA final. Photograph: Ezra Shaw/Getty Images
LeBron James powered the Cleveland Cavaliers to a 93-89 victory over the Golden State Warriors in an electrifying Game Seven to complete an improbable comeback unlike any seen before and capture its first NBA championship.

With the victory over the top-seeded Warriors, who beat Cleveland in last year's championship, the Cavaliers became the first team to rally from a 3-1 series deficit in the best-of-seven NBA finals and win the title.

LeBron, who returned to the Cavaliers in 2014 after a four-year stint with Miami that included a pair of NBA championships, led Cleveland with a triple-double, scoring 27 points to go along with 11 rebounds and 11 assists en route to being named the Most Valuable Player of the NBA finals.

The triumph ended decades of heartbreak for Cleveland, Ohio, which had not won a professional sports championship since the Cleveland Browns won the NFL (National Football League) in 1964.

For LeBron, the win marked his third NBA title, the single greatest achievement of his magnificent career and fulfilled his promise to deliver a title to his home state of Ohio.

9. Denmark first European nation to win Thomas Cup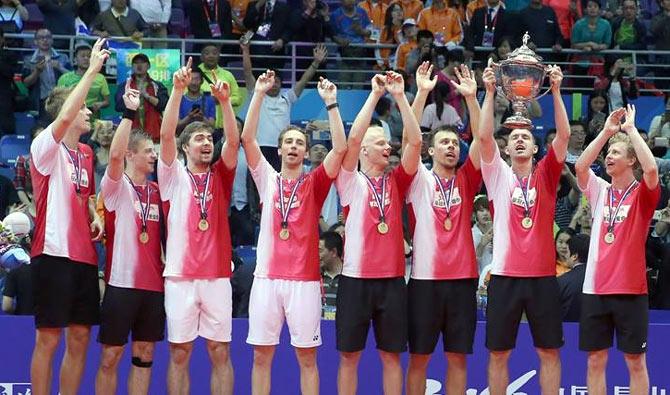 IMAGE: The Danes celebrate winning the Thomas Cup. Photograph: Badminton World Federation/Facebook
It took nine attempts but Denmark finally won the Thomas Cup.

And they did it in style, beating Indonesia, the most successful nation in the competition.

Denmark beat Indonesia 3-2 in the final in May, making the Scandinavian country the first European team to win one of badminton's greatestprizes.

Hans-Kristian Vittinghus led the Danes to victory in the fifth and final match after fourth-ranked Viktor Axelsen and World number 5 Jan Jorgensen won their respective matches.

10. Max Verstappen, 18, makes F1 history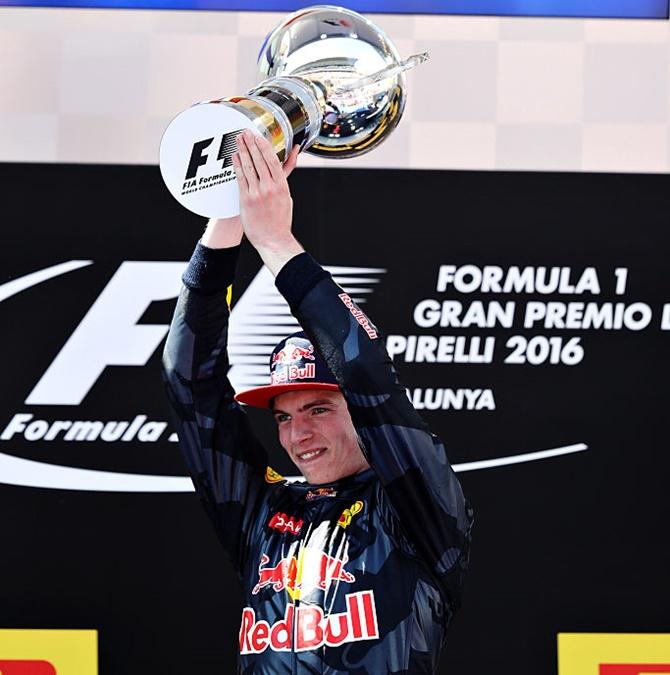 IMAGE: Max Verstappen of Red Bull Racing after winning the Spanish F1 Grand Prix. Photograph: Dan Istitene/Getty Images
Dutch teenager Max Verstappen made Formula One history as the youngest race winner in a sensational Spanish Grand Prix in May that saw dominant Mercedes drivers Lewis Hamilton and Nico Rosberg collide and crash out on the opening lap.

Max, only 18 and making his debut for the former World champions after being promoted from junior team Toro Rosso a week earlier, beat Ferrari's Kimi Raikkonen -- at 36 twice his age -- by 0.616 seconds.

Max was also the youngest driver to stand on the podium and the first Dutch race winner since the championship started in 1950.

His proud father Jos, who was twice on the podium with Benetton as Michael Schumacher's team mate in 1994 and raced against Raikkonen later in his career, declared it the best day of his life.

'This is really something unbelievably special,' Papa Verstappen told reporters.

Four-time World champion Sebastian Vettel, the previous youngest race winner (2008 Italian Grand Prix, for Toro Rosso, at the age of 21), finished third for Ferrari.