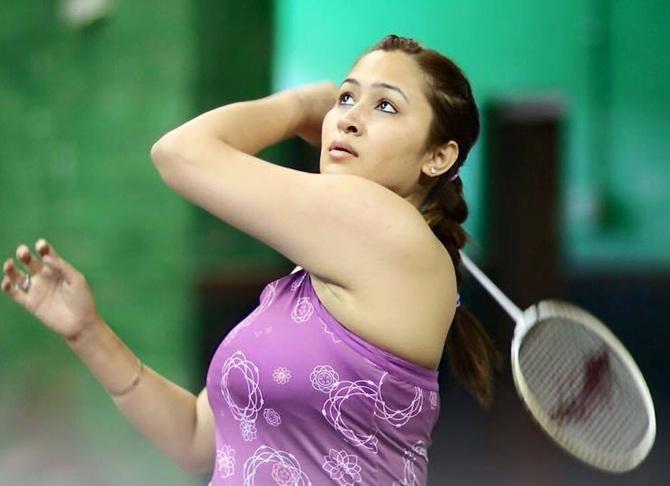 Former badminton doubles champion Jwala Gutta is an angry young woman.
The 35-year-old Hyderabadi has not been able to cast her vote in the Telangana Assembly elections on Friday after her name was not on voters' list.
And she made her disappoint known.
"Surprised to see my name disappear from the voting list after checking online!! #whereismyvote" she tweeted in the morning.
"How's the election fair...when names r mysteriously disappearing from the list!!," she further added.
WATCH: Jwala Gutta on her name missing from voters' list. Video: Kind courtesy, Jwala Gutta/Twitter
Her tweets garnered many replies and most people identified with her.
One DivyaSree Padupalli wrote in reply to Jwala's tweet: "@Guttajwala
Massive vote gayab in this elections. Jwala, Can you please request people to trend with #whereismyvote #AssemblyElections2018."
Later in the afternoon she posted a video stating: "I have been living in the same residence for the last 12 years. Why have the names been deleted? If they are deleted we should be informed. We are a family of four -- my father, my sister and I could not vote. Only my mom could vote. I checked three weeks back, did all the formalities and then went to the polling booth today and then my name was missing. I'm not doing this to join any political party. I don't have to do this to join a political party," she said in a 100 second-long video.
According to ANI, in Telangana, the polling commenced at 7 am and will conclude at 5 pm. As many as 2.8 crore electors including 4.6 lakh differently-abled voters are eligible to vote at 32, 815 polling stations. A total of 1821 candidates including 139 women are in the fray.
Telangana Rashtra Samithi is contesting in all 119 seats while the Bharatiya Janata Party is battling for 118 seats. The Congress led by its president Rahul Gandhi is contesting in 99 seats, Telugu Desam Party in 13, Telangana Jana Samithi in eight and Communist Party of India in three seats respectively.