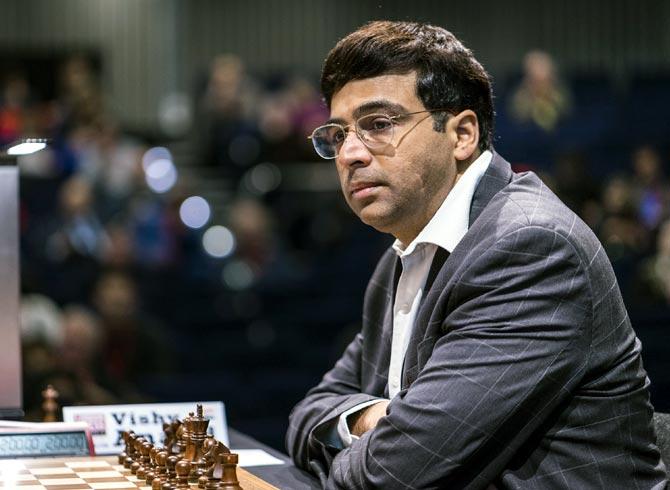 Speed chess superstar Hikaru Nakamura of United States stamped his class with three wins on the trot to jump to joint lead with Levon Aronian on the penultimate day of the Tata Steel India 2018 rapid tournament in Kolkata on Saturday.
Reigning world rapid champion Viswanathan Anand drew his sixth straight game of the tournament to stay undefeated and have a mid-table placing at number four with three points.
With three rounds to go on the final day of the rapid meet, Nakamura and Aronian lead the table with 4.5 points apiece out of a maximum six points.
One point adrift is overnight joint leader Pentala Harikrishna who drew American Wesley So with the white pieces of the Berlin defence in round six to slip to third place.
Anand looked promising with the Black pieces but Shakhriyar Mamedyarov of Azerbaijan had a strong initiative to force a draw.
Local challenger Surya Shekhar Ganguly had a disappointing day at office as he managed to score only 0.5/3 and went down to Aronian in his last game of the day with the white pieces in the Italian opening.
World Cup champion Aronian looked in some kind of trouble initially but the Armenian star said it was his strategy to deceive Ganguly.
"That's generally my strategy for the game. I tried to create imbalance position just to press Surya on the clock. He is a very solid player. So I thought to create some imbalance and I think I managed to get him excited," Aronian, a winner of the 2017 St Louis rapid and blitz title, said.
"At the very last moment, he could still make a draw but I think he thought it's a good moment to have his first win and he lost his way."
Nakamura, world number two in rapid, started the day on a rousing note when he defeated overnight leader Mamedyarov Shakhriyar.
Playing white, Mamedyarov had an equal position against the speed chess superstar Nakamura but blundered with a Knight move on the 33rd and there was no coming back and he went on to lose.
"He refused to go for a draw and things simply started going my way. Things became smooth (from round five) after I won the game," Nakamura, who outwitted Ganguly and Nihal Sarin in the fifth and sixth rounds, said.
Playing each other for the first time on Indian soil, Anand and Pentala Harikrishna had an interesting draw that saw no player taking extra risks.
14-year-old Nihal Sarin had the spectators on their toes as he was on the verge of beating Mamedyarov who managed to hold on with some tricks and then ended in perpetual checks on the 60th move.
"I'm playing quite well here. It's a very good experience, it's my first super tournament and a nice exposure. But I'm not under any extra pressure," Sarin, who is the world number one in U-14 section, said.
Results (Round Six): Surya Shekhar Ganguly (1) lost to Levon Aronian (Arm, 4.5); Vidit Gujarati (2.5) beat Sergey Karjakin (Rus, 3); Pentala Harikrishna (3.5) drew with Wesley So (USA, 3); Shakhriyar Mamedyarov (Aze, 3) drew with Viswanathan Anand (3); Hikaru Nakamura (USA, 4.5) beat Nihal Sarin (2).