In gymnastics, Biles and Uchimura soared while China crashed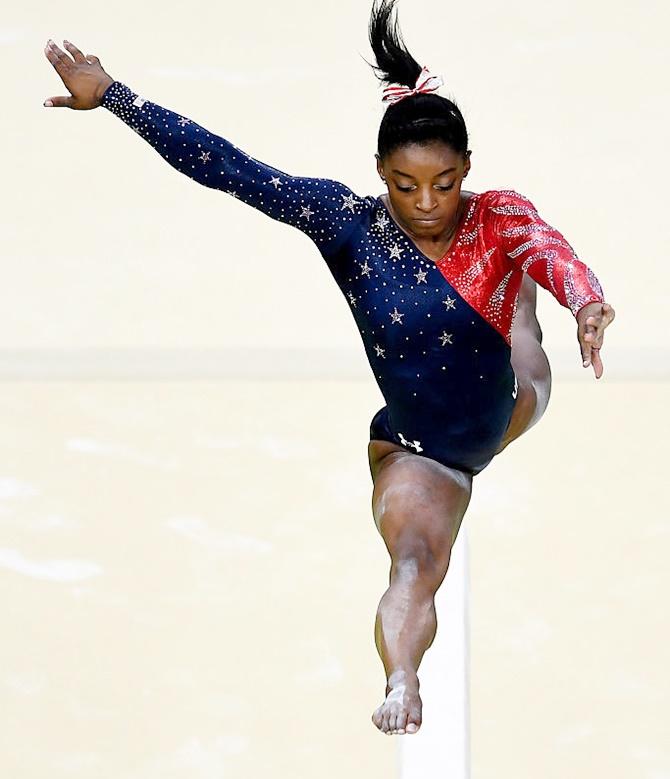 IMAGE: Simone Biles of the United States competes on the balance beam during Women's qualification for Artistic Gymnastics on Day 2 of the Rio 2016 Olympic Games at the Rio Olympic Arena. Photograph: Ezra Shaw/Getty Images..
There were tales of the expected - featuring Simone Biles and Kohei Uchimura - and tales of the unexpected in gymnastics as China lost the plot and departed the Rio Olympics without a gold medal.
Eight years after China obliterated the opposition to win nine of the 14 golds on offer in Beijing, including seven of the eight men's titles, rival nations rejoiced in Rio as they completed the Asian nation's fall from grace.
The first signs of their decline were evident at the London Games when China captured only four golds, but that still allowed them to top the 2012 gymnastics medals table.
In Rio that tally dwindled to just two bronzes - both in the team finals - with world champion You Hao's fall following his parallel bars dismount providing a candid snapshot of China's nightmare outing.
Teammate Deng Shudi summed up China's misery.
"I don't know what happened. My brain is empty," Deng said after his country failed to win a gymnastics gold for the first time since returning to the Olympics in 1984.
China's loss was the rest of the world's gain as nine nations shared gold-medal success, with the Americans topping the table thanks to the breathtaking tumbling skill of Biles.
Biles was undeniably the breakout star of Rio as she lived up to all the pre-Olympic hype by winning a record-equalling four golds - in team, all around, vault and floor exercise - for a female gymnast at a single Olympics.
Had it not been for a slipped foot in the beam final, that tally would been five golds, but instead she had to make do with bronze as Sanne Wevers claimed the most unexpected of victories to become the first female Dutch gymnast to grab an individual gold.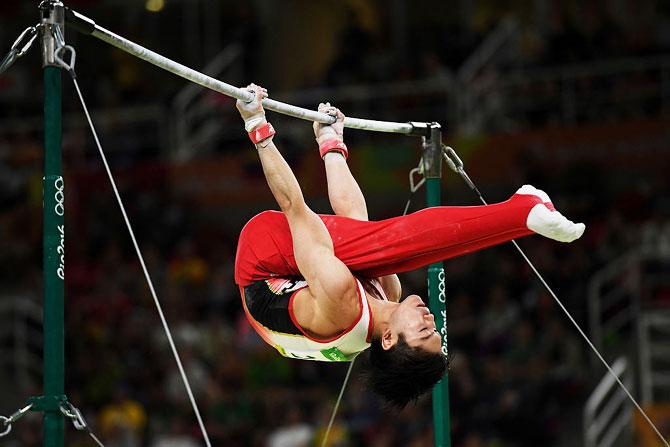 IMAGE: Kohei Uchimura of Japan competes on the horizontal bars during the men's Individual All-Around final on Day 5 of the 2016 Olympics at the Rio Olympic Arena on Wednesday. Photograph: Matthias Hangst/Getty Images.
Uchimura lived up to his 'Supermura' moniker by first guiding Japan to the team gold before becoming the first gymnast in 44 years to capture back-to back Olympic all around titles
Now unbeaten in the event since picking up a silver at the 2008 Olympics, with the 27-year-old also having won six successive world titles, he was hailed as "the greatest of all time" by Nadia Comaneci.
"Look what he's achieved for such a long time. Undefeated for eight years (at world championships and Olympic Games). That's his legacy," said the Romanian great.
With the next Olympics taking place in his homeland, Uchimura is not done yet and few would bet against him becoming the first gymnast to complete a hat trick of Olympic all around triumphs.
While Japan has a rich legacy in the sport, gold medals for Britain in Olympic gymnastics are like London buses: you wait 120 years for one and then two come along at once. Max Whitlock ended the long wait for a champion by claiming victory in the floor exercise and pommel horse finals.
There was also gold medal success for Germany's Fabian Hambuchen (horizontal bar), Ukraine's Oleg Verniaiev (parallel bars, North Korea's Ri Se-gwang (vault), Greece's Eleftherios Petrounias (rings) and Russia's Aliya Mustafina (asymmetric bars).