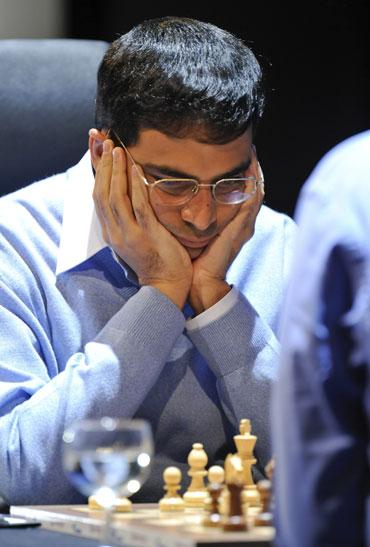 Five-time world champion Viswanathan Anand played out a draw with Li Chao of China to slip to the third position at the end of the third round of the 10th Tal Memorial Chess tournament, in Moscow.
Starting off with an easy draw as black against Anish Giri of Holland and following up with a brilliant win against Shakhriayar Mamedyarov of Azerbaijan in the second round, Anand did not give much away as black to Li Chao and it was usual work that added to his kitty.
Overnight joint leaders Giri and Ian Nepomniachtchi of Russia nosed ahead of Anand winning their respective third round game. While Giri was a class act against Russian Evgeny Tomashevsky, Nepomniachtchi outplayed top seed compatriot Vladimir Kramnik to remain ahead of the rest.
Giri and Nepomniachtchi share the lead with 2.5 points apiece while Anand, on two points, is sole third. Peter Svidler of Russia, Levon Aronian of Armenia, Mamedyarov and Li Chao share the fourth spot on 1.5 points apiece while Kramnik is now eighth in standings with just one point under his name.
Gelfand and Tomashevsky are both sharing the ninth spot with just a half point from their three games.
The day produced maximum decisive games in the event with Mamedyarov also joining the party against Gelfand. If he was upset at a bad loss against Anand in the previous round, it did not show as Mamedyarov outwitted Gelfand by launching a tricky attack in the middle game.
The other game of the 10-player round robin tournament was a draw between Svidler and Aronian who both have drawn all the three games thus far.
Anand had no troubles whatsoever in a topical Nimzo-Indian with black pieces once it led to the middle game after two minor pieces changed hands. Anand had an extra pawn, but Li Chao got a bit of an initiative. Playing it safe, the Indian ace decided to diffuse the tension it by giving his extra pawn back and reached an equal endgame.
Six rounds still remain to be played in the $ 20000 prize money tournament.
Results round 3: Li Chao (Chn, 1.5) drew with V Anand (Ind, 2); Shakhriyar Mamedyarov (Aze, 1.5) beat Boris Gelfand (Isr, 0.5); Peter Svidler (Rus, 1.5) drew with Levon Aronian (Arm, 1.5); Ian Nepomniachtchi (Rus, 2.5) beat Vladimir Kramnik (Rus, 1); Anish Giri (Ned, 2.5) beat Evgeny Tomashevsky (Rus, 0.5).