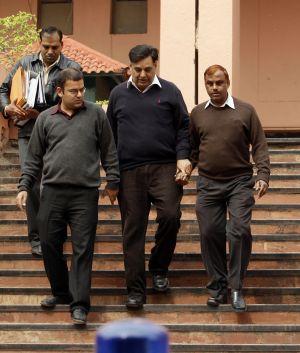 Former Indian Olympic Association secretary general Lalit Bhanot is set to contest for the post of vice-president of the Asian Athletics Association when the elections for the continental body are held in China next month.

It is learnt that Bhanot has been recommended by the Athletics Federation of India to contest the AAA elections to be held on June 1 prior to the Asian Athletics Championships at Wuhan in China from June 3 to 7.

Though Bhanot was not allowed to contest IOA elections last year by International Olympic Committee after being jailed for some months in connection with 2010 Commonwealth Games corruption scandal, there is no such bar on him to contest the AAA polls.

Former IOA and AAA chief Suresh Kalmadi, who was also jailed along with Bhanot in the same case, contested the continental body's presidential elections in 2013 though he lost the polls.

Kalmadi was recently made life president of the AAA for his contribution in Asian athletics as its head for 13 years from 2000 to 2013.

Bhanot is among 14 candidates from various countries for the five posts of vice-presidents and he will also be in the fray for elections to become individual members of the AAA Council.

Bhanot had served as secretary of AFI for more than a decade before 2010 and was the secretary general of the IOA when it served a 14-month suspension by the IOC. He is currently the chairman of AFI's Planning Committee.

Incumbent president Dahlan Al-Hamad of Qatar, who had defeated Kalmadi in 2013 in Pune to become the head of AAA, will be elected unopposed to the top job for his second term as he is the only candidate for the post.

The influential Qatari is also one of the vice-presidents of the world athletics governing body IAAF.

The fight for the lone post of senior vice-president of the AAA will be between Du Zhaocai of China and Tigor Tanjung of Indonesia.

"Candidatures for the election of the AAA Council for the term 2015-2019 has been finalised. AAA member federation's delegates will gather in the lake city, Wuhan in China on 1st June prior to the start of the 21st Asian Athletics Championship to choose 17-member Asian Athletics Council," the AAA said in a statement.

"Congress is convened biannually and this year it will be held at Wuhan Conference Centre in Wuhan (China)," it said.

The other Indians in the fray for membership of various committees include AFI Secretary C K Valson (Technical Committee), C Latha (Women's Committee), Arun Kumar Mendiratta (Medical Commission), Ravinder Chaudhury (Cross Country and Road Running Committee) and Tony Daniel (Race Walking Committee).
Image: Lalit Bhanot (centre) accompanied by officials leave the India's Central Bureau of Investigation (CBI) headquarters in New Delhi on February 24, 2011.
Photograph: Parivartan Sharma/Reuters