China's Ding Ning has claimed a second women's singles world title by battling through an ankle injury that left her in a heap to beat compatriot Liu Shiwen 4-3 in the final.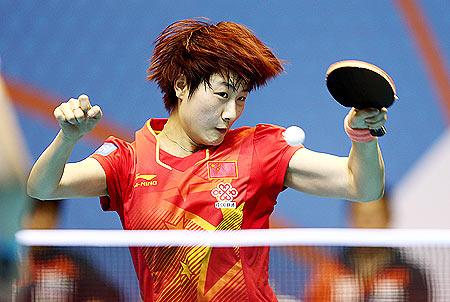 Trailing 1-0 in the seventh game in Suzhou on Saturday, the London Olympic silver medallist turned her right ankle trying to get into position to return and required a 10-minute medical time out.
The 24-year-old hobbled throughout the remainder of the contest but managed to battle back from 2-0 down to claim the decisive game 11-8 to add another world title to her 2011 triumph.
"I definitely didn't want to give up since I had come so far," said Ding, who extended China's grip on the women's singles title to 11 straight championships.
"I just wanted to give out all my strength in this match. Finally I won the match and it's just like a dream."
In Saturday's other final, China's Xu Xing and Zhang Jike beat compatriots Fan Zhendong and Zhou Yu 4-2 to win the mens' doubles crown.
It was a second title of the championships for Xu, who on Friday teamed up with Yang Ha-eun of South Korea to become the first cross-border partnership to win the mixed doubles title since 1954.
Photograph: Warren Little/Getty Images for Falcon