Indian swimmers Virdhawal Khade and Sandeep Sejwal created a splash at the seventh Singapore Open Championships, sharing four gold, a silver and three bronze medals among themselves.
While Khade bagged two gold and three bronze medals, Sandeep brought home two gold and silver.
Khade was in top form at the meet as he won the gold in the 50m and 100m Freestyle events with times of 23.21 and 51.08 seconds respectively.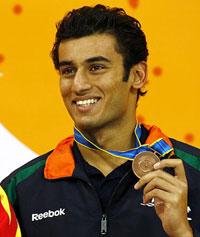 Khade also added three bronze medals to his tally while competing in the 200m Freestyle event (1:52.54), 100m Butterfly Event (55.37) and as a member of the 400m Freestyle Relay team.
Sandeep was as impressive in his performance securing podium finishes in all the events he participated in.
He won the gold in his favorite event, the 50m breaststroke, with a time of 29.10 seconds and the 100m breaststroke event, where he clocked a time of 1:03.72.
The 22-year-old Sandeep ended his winning streak at Singapore with a silver in the 200m Breastroke event with a time of 2:17.50.