Asian Games bronze medalist Virdhawal Khade and Richa Mishra shattered two meet records each as Maharashtra clinched three gold while Delhi bagged two in the swimming competition on day one of the 34th National Games in Ranchi on Sunday.
The swimming competition also saw a fifth record when Karnataka men's 100m freestyle team of Arjun J P, Gagan A P, Aditya Roshan and Ashwin Menon scripted their names in Games history.
It was also a memorable day for Delhi girl Richa, who shattered two meet records en route her double gold.
With shouts of 'Come on Viru, Come on Viru' at a packed Veer Budhu Bhagat Aquatic Stadium in the Mega Sports Complex, the Indian swimming sensation opened his account in the 200m freestyle with a Games record timing of 1.53:91s.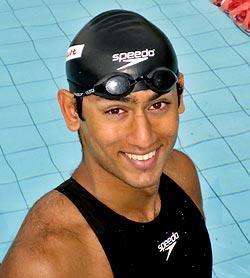 The Kolhapur lad had a comfortable two seconds lead over his nearest opponent Rohit Havaldar of Karnataka as he went on to better his previous Games best timing of 01.54:18s.
Havaldar (1.56:16s) and Gagan A P (1.56:93s) finished second and third respectively to give a silver-bronze finish for Karnataka.
In his second event of the day, Khade eclipsed the previous Games best timing of 00.57:38 by Akbar Ali Mir (2002) in the 100m butterfly for his second gold with a meet record of 55:56.
Khade had more than two seconds lead over Delhi's Tarun Tokas (58:21) who settled for silver, while Bengal opened their account with a bronze courtesy Sumanta Nath (59.62).
The 19-year-old then gave the Maharashtra relay team a much needed boost, as he powered them to a bronze medal finish in the 4x100m freestyle with a timing of 03.44:30.
Karnataka clinched the gold, while Services Sports Control Board (SSCB) claimed the silver with a timing of 03.42:91.
Richa, who was mired in a doping controversy ahead of the Commonwealth Games last year, bettered Shikha Tandon's record of 02.10:48 in the 200m women's freestyle for her first gold with a timing of 02.09:53.
Talasha Prabhu of Goa bagged the silver clocking 02.11:62, while Aarti Ghorpade of Maharashtra bagged the bronze with a timing of 02.12:12.
In the 100m freestyle women, Richa bettered her previous Games best timing of 01.05:22 for her second gold with a record timing of 01.04:41.
Pooja Alva of Karnataka (01.05:34) and Maharashtra's Rujuta Bhatt (01.06:42) clinched the silver and bronze respectively.