Bollywood actor Suniel Shetty has been appointed as the Brand Ambassador for the Rs 10-crore prize money World Series Hockey tournament, starting on February 29.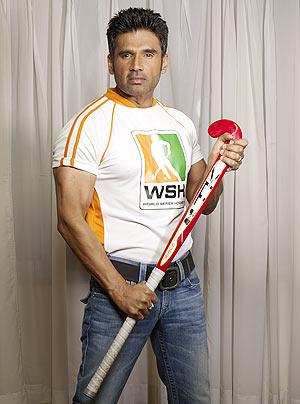 "World Series Hockey is an idea whose time has come. Hockey is the only sport that has brought glory to India on numerous occasions at the Olympics, and the time has come for us to recognize and support the sport through a world-class league featuring all the global champions," said sports lover Shetty about his role in the WSH, a joint initiative of Nimbus Sport and the Indian Hockey Federation.
"As a passionate hockey fan, it doesn't get better than becoming the brand ambassador and spreading awareness about the biggest hockey tournament in the world. WSH is truly a whole new ball game and I'm delighted to be a part of it," he added.
"We are thrilled to have Anna (Suniel Shetty) as the WSH Brand Ambassador. He is one of the few actor-celebrities committed to promoting sports and his fondness for hockey in particular is well known. We look forward to a win-win partnership and will launch an aggressive 360-degree consumer marketing campaign shortly," said Nimbus Sport COO Yannick Colaco.
The WSH involves 200 leading players -- Indian and international -- who will showcase their talent in 59 matches across eight venues.
The venues for the inaugural edition of the league are Bangalore, Bhopal, Chandigarh, Chennai, Delhi, Jalandhar, Mumbai and Pune.
Chandigarh Comets will face-off against Bhopal Badshahs in the first match of the tournament on their home ground. The tournament would conclude on April 2.