The Indian junior men's hockey team lost to Great Britain 3-4 in a nail-biting penalty shoot-out in the Sultan of Johor Cup final in Johor Bahru on Sunday.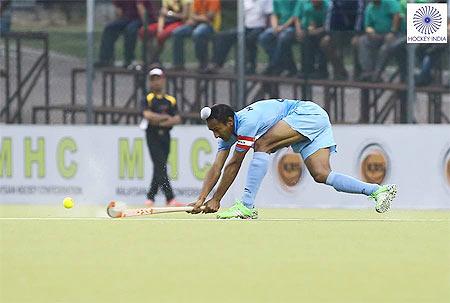 The teams were level 2-2 after full time but Great Britain drew first blood in the fifth minute through a penalty corner goal by Luke Taylor.
Britain were in control of their game until India were rewarded with a penalty corner in the 12th minute, which was beautifully converted into a goal by Harmanpreet Singh to draw parity.
The next 23 minutes in the first half saw a lot of attacks and counter attacks but neither of the teams could capitalise.
The second half began with India pressing hard to take the lead and they were soon rewarded in the 42nd minute with Gurjant Singh pulling off an absolute stunner, giving India the much needed lead in the game.
Great Britain however struck soon after in the 46th minute through Jack Turner to settle the score at 2-2.
The next 24 minutes saw numerous attempts to score from both the teams, but it was Great Britain who finally edged past the Indian colts in the penalty shootout to be crowned as the new champions of the 5th Sultan of Johor Cup.
"It's hard to miss out on the title from somewhere as close as this, but it's a game and this defeat today will only help us learn from our mistakes for the future. I am completely satisfied with the boys' performance and I couldn't have asked for more from them," said India coach Harendra Singh.
"Penalty shootouts are always unpredictable and it's unfortunate that we could not finish it on a winning note. I would like to congratulate Great Britain on being crowned the new champions."
India had earlier finished at the top of the table in the league encounter losing only one match, ironically to Great Britain.
Sumit Kumar and Harmanpreet Singh with three goals each finished as India's top-scorers in tournament.
Image: A junior India hockey player in action
Photograph: Hockey India/Facebook