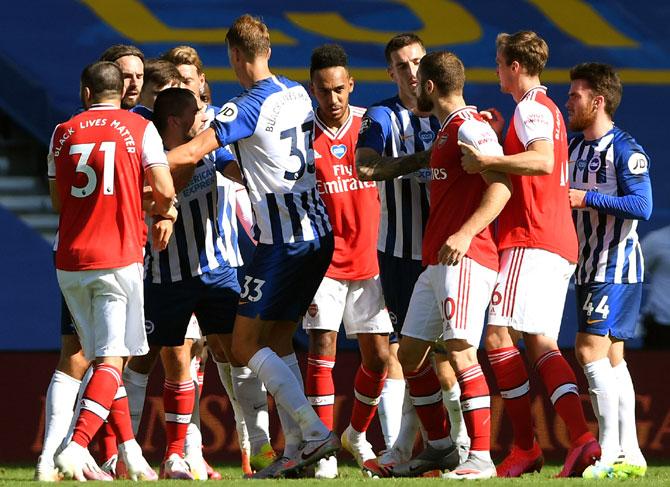 The Premier League has contacted all 20 clubs in England's top-flight regarding their players' failure to adhere to social distancing guidelines during water breaks and goal celebrations, the Telegraph newspaper reported on Friday.
Following informal conversations between the league and government officials, the Premier League has written to clubs reminding them of their responsibilities to encourage players to keep unnecessary contact to a minimum, the Telegraph said.
The drinks break was introduced along with a number of other guidelines as part of protocols for the Premier League to return following its three-month suspension due to the COVID-19 pandemic.
While the break was primarily designed for the Premier League to disinfect balls, goal posts and corner flags and for players to take in fluids, it has become more of a tactical time-out, with managers seen barking instructions at groups of players.
The report said that with lockdown measures in England easing and swimming pools and gyms set to re-open, there is a concern that the lack of social distancing in Premier League games will set a wrong example for the public.
FC Zurich finds several positive tests for COVID-19 among staff and players
Swiss top-flight club FC Zurich found a number of COVID-19 cases among their squad and staff after defender Mirlind Kryeziu tested positive, the club said on Saturday, raising questions about whether they will be able to complete the season.
The club had said on Friday that the 23-year-old defender had tested positive and that, after discussions with the local health authority, the squad had been quarantined until July 17. The team's next two games have been called off.
Kryeziu, who made a brief appearance as a substitute in last Tuesday's match at Neuchatel Xamax, has light symptoms.
The club said on Saturday that the entire first team squad and staff had now been tested and that there had been further positive results.
"FC Zurich is in constant communication with the Swiss Football League and will now analyse the next steps," it said. "No further information can be given at this time."
FC Zurich, who are fifth in the Swiss Super League, were due to host FC Sion on Saturday and visit FC Basel on Tuesday, but both games have been postponed and there are no spare dates before the end of the a season on Aug. 2 to reschedule them.
Their next game after that is at home to Young Boys Bern on July 18.
Neighbouring club Grasshoppers, who play in the second tier, said on Friday that one of their players had also tested positive.
The league was suspended on March 2 and restarted in mid-June.
Bulgaria postpones league season start amid increase of COVID-19 cases
The Bulgarian Football Union (BFU) postponed the start of next season's domestic top flight by two weeks after the Balkan country saw the biggest increase of COVID-19 cases in a week.
The BFU's Medical Commission submitted a proposal on Friday to the BFU's management to postpone the championship's kick-off "in view of the complicated epidemiological situation."[L8N2EH0YG]
"The BFU accepted the proposal in order to preserve the health of players, staffs and officials in a force majeure situation," the BFU said in a statement on Saturday.
The current league season is still under way, but on Thursday, the government ordered all games to be played behind closed doors.
The start of the new season, initially scheduled for July 24, will now take place on August 7, the BFU said.
More than half of Bulgarian top flight clubs as well as second-tier teams have been hit by the coronavirus, with Cherno More Varna reporting 16 cases while nine players from Cup winners Lokomotiv Plovdiv also tested positive this week.
Bulgaria reported a daily record of 330 coronavirus cases on Friday and another 292 cases on Saturday. It has so far documented nearly 7,000 confirmed cases and 267 deaths.