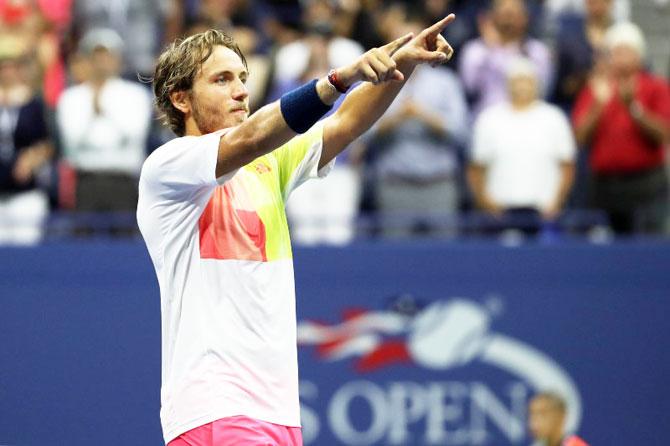 IMAGE: Lucas Pouille of France celebrates after winning his match against Rafael Nadal on Sunday Photograph: Geoff Burke-USA TODAY Sports
Lucas Pouille was not prepared to say his pulsating four hour, fourth-round upset of 14-time grand slam winner Rafael Nadal at the US Open on Sunday was a career changing moment.
But after prevailing in a fifth set tiebreak, the engaging Frenchman was also reluctant to say it was not the launch pad that would send him into another tennis orbit.
"It could maybe," pondered Pouille after registering the biggest upset thus far at the year's final grand slam.
"I will tell you in few months or in few years.
"Maybe it will change my career. We will see.
"It will give me a lot of confidence for the next round, for the rest of the season. We'll see after the tournament."
Over the years the US Open has had a habit of producing unexpected champions like Juan Martin del Potro in 2009, Marin Cilic in 2014 and on the women's side Flavia Pennetta last year.
They would tell Pouille that Flushing Meadows is a place where dreams come true and careers are made.
Nadal, however, while complimentary of Pouille's performance, would not go as far as to say the Frenchman is a grand slam winner-in-waiting.
"He's a player that has all the shots," said Nadal.
"He's a potential top 10 and could fight for the big things the next couple of years.
"If he's able to keep playing well, keep improving.
"If you are able to make that happen, then you're going to have success."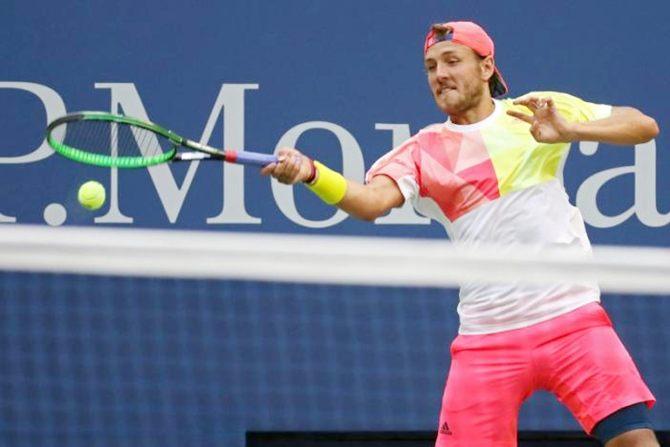 IMAGE: Lucas Pouille of France hits a forehand against Spain's Rafael Nadal of Spain. Photograph: Geoff Burke-USA TODAY Sports/Reuters
Despite being ranked a very respectable number 25, Pouille arrived in Flushing Meadows very much under the radar of the average tennis fan.
Certainly there was nothing to mark him out as a US Open threat. His resume still does not include an ATP Tour title, he did not make the cut for the French Rio Olympic team and last year failed to make it past the first round of the US Open.
In his brief career, however he has amassed nearly $2 million in prize money and is very much considered a part of the new wave of young talent ready to challenge the old guard.
His fellow Frenchmen Jo-Wilfried Tsonga and Gael Monfils are well known commodities who also won on Sunday but as the sun set on Manhattan Pouille was the toast of French tennis.
Described as someone who plays an attractive brand of tennis, the 22-year-old has all the skills to go along with the determination of a French bulldog, three of his four matches going the distance and the other needing four sets to be decided.
Pouille possesses all the necessary weapons to do battle at the elite level, including a big serve, powerful forehand and backhand, an attacking mentality and steely nerves.
What he craves now is experience.
"I'm stronger than before," said Pouille explaining his success.
"I think because mentally I'm stronger, physically I'm stronger. It gives me a lot of confident before the match.
"The way I'm going on court is not the same as last year."