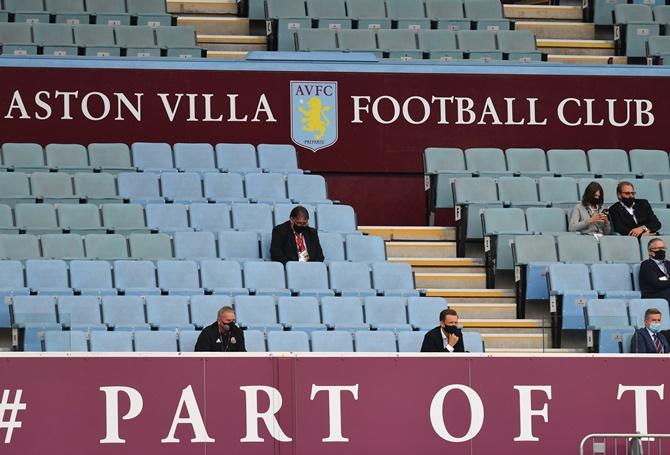 Aston Villa and Sheffield United re-started the Premier League on Wednesday after a 100-day hiatus caused by the COVID-19 health crisis with a strong statement of support for the worldwide protests against racism.
All the players' names on the back of their shirts were replaced with the words 'Black Lives Matter' as the Premier League formally joined the international protest campaign sparked by the death of George Floyd in America.
The players, and referee Michael Oliver, also took a knee as the opening whistle was blown, following a moment's silence before kick off in memory of those who died in the pandemic.
It was an unusual step from the governing body which usually insists players refrain from overtly political statements but which has supported previous efforts to rid the game of racism.
The match at a rainy Villa Park was also the first in Premier League history to be played without fans, and with strict health protocols in place.
Only 300 personnel were allowed into a stadium divided into three different security zones to try and restrict any possible spread of the novel coronavirus, which has claimed close to 42,000 lives in the United Kingdom.
There was none of the traditional routine at the start of a match, with teams emerging from their changing rooms separately, players lining up two metres apart and handshakes banned. The game also started without any ballboys.
Both teams will be allowed to make five substitutions, in another first for the game in England and following on from the allowances made by soccer's world governing body FIFA for the leagues having to cram in matches after the lockdown.
The match was the first of 92 to be played inside the next six weeks to finish the Premier League season.
UEFA praises players for taking political stance
UEFA president Aleksander Ceferin on Wednesday praised footballers for taking a political stance and said the European soccer governing body's own attempts to tackle racism in the game were "not enough."
Ceferin singled out Manchester City's England forward Raheem Sterling, Real Madrid's Brazilian full back Marcelo and Bayern Munich's German defender Jerome Boateng for speaking out on racism.
"I am proud of the fact that footballers are leading some of today's most important international debates," Ceferin told a video news conference after a UEFA meeting.
"Football really can be an important vehicle for good and these examples demonstrate that."
He also praised Manchester United's Marcus Rashford after the England forward's successful campaign for school food vouchers to be provided over the summer holidays in Britain.
After originally saying school food vouchers would not be available over the long summer holiday, British ministers bowed to pressure after 22-year-old Rashford took up the cause and revealed how he had relied on such support as a boy.
"We know the power of football is huge so we should use that for good messages," said Ceferin, who also reflected on UEFA's attempts to tackle racism.
"Probably those campaigns we had were not enough, we tried hard but I think we should go to the next level," he said. "We know the situation is serious and it gets more serious every day."