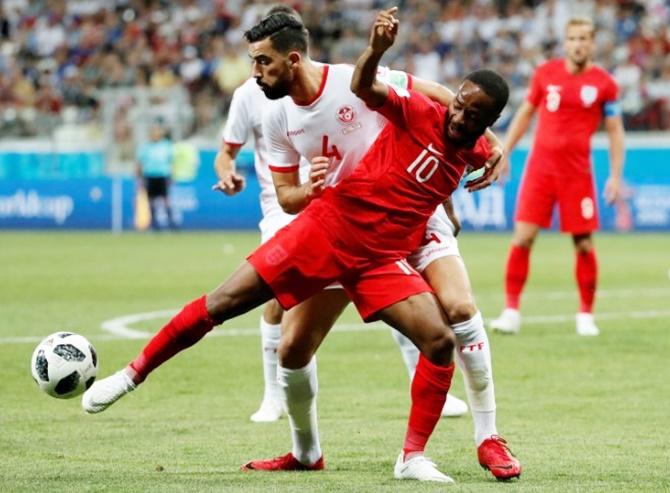 England manager Gareth Southgate may be recovering from a dislocated shoulder suffered while jogging, but he may run into more discomfort when deciding whether to drop Raheem Sterling for Marcus Rashford in Sunday's World Cup game against Panama.
Manchester City forward Sterling did not impress playing in a central role in support of Harry Kane in England's opening Group G win against Tunisia on Monday.
Sterling has not scored in 21 games for England dating back to an October 2015 strike against Estonia. His record for his country is a meagre two goals in 39 games.
Rashford came off the bench against Tunisia and helped in England's late push for a second goal which resulted in Kane's stoppage time winner.
The Manchester United forward also hugely impressed in England's final warm-up match for the tournament in Russia, scoring a sublime goal against Costa Rica at Elland Road and looking full of confidence.
In terms of current form, the balance looks to be in favour of Rashford and a leaked note, photographed in the hand of Southgate's assistant Steve Holland, suggested that Sterling may miss out.
There is also a view, expressed by former England defender Jamie Carragher https://www.telegraph.co.uk/world-cup/2018/06/19/englands-system-does-not-suit-raheem-sterling-marcus-rashford, that Sterling does not fit easily into Southgate's new system and that he is more effective for City when playing as a right winger.
"England's system does not suit Sterling – or certainly not in the position he is currently occupying," said Carragher in his newspaper column.
"At the moment, England are effectively playing with three number 10s, even though none of them are what you would describe as the classic versions of this position. All rely on their movement and pace rather than ability to open up defences with a cute pass. It makes Sterling's inclusion slightly illogical."
Certainly, Sterling has been much more prolific at club level, scoring 23 goals in 46 games in all competitions for Pep Guardiola's side last season.
But, as defender Trent Alexander-Arnold told reporters on Thursday, England's players are not under the impression that a team has been selected and it would be unusual for the manager to make a definitive decision so early before the next game.
After the furore over Sterling's gun tattoo and then his late arrival at England's St George's Park training camp before leaving for Russia, Southgate was very supportive of the player in public.
After all that, is he now really ready to drop Sterling after just one game?
Panama should be beatable opponents and it is a game that could offer Sterling the chance to get back to scoring ways and boost his confidence for the rest of the tournament.
As for Rashford, at his club Manchester United he appeared to make more of an impact off the bench last season than when he started.
The 20-year-old also looks more effective when cutting in from the flanks rather than playing in the central support striker role that the manager is looking to fill.
There is another option -- if England are looking for someone to play alongside Kane and share the goalscoring burden with the captain, Southgate does have Jamie Vardy in the squad.
Vardy has 57 goals in his last three Premier League campaigns and his seven goals for England are more than Sterling and Rashford combined.
The Leicester City forward will probably have to wait for his chance, though, as Southgate will be reluctant to juggle his formation too much at this stage.