The 24-year-old, younger brother of Australia fast bowler Mitchell Starc, achieved a personal best of 2.32m to win the high jump gold medal at the 2018 Commonwealth Games.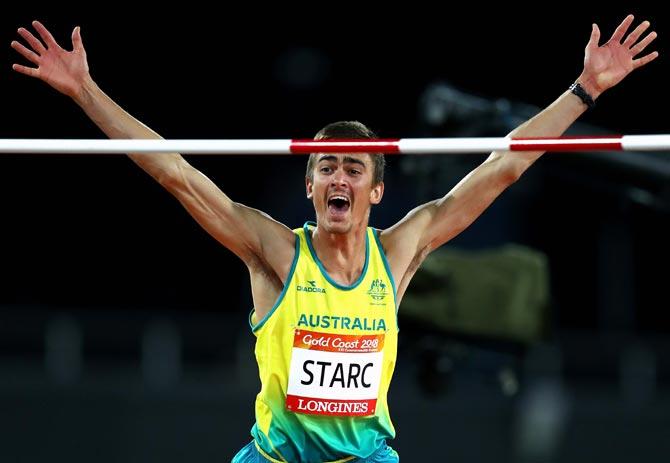 Mitchell Starc's younger brother, Alyssa Healy's brother-in-law -- Commonwealth Games champion Australian high jumper Brandon Starc has quite a cricket connection but ask him about it and he says "Naah, not my sport."

Starc achieved a personal best of 2.32m to clinch the biggest medal of his career after the silver at the 2010 Youth Olympic Games. He was the only one to touch the mark in the field.

The lanky, baby-faced 24-year-old had the crowd on its feet at the Carrara stadium during the high jump finals, actively seeking its vocal support before almost every attempt he made.
All smiles and quite literally bouncing with energy, he mostly laughed at questions on his cricket connection.

And not surprisingly the Mitchell Starc question was an inevitable one.

As a question on cricket popped up, Starc was quick to brush it aside. It was his moment and he wasn't going to let anything else take it away from him .

"No, I don't follow cricket. That's my brother's sport. I played when I was younger but naah that wasn't mine. We played when we were younger in the backyard, that's it," he said.

The older of the Starc brothers, Mitchell is currently nursing a leg injury and has been ruled out of the Indian Premier League, where he would have turned up for the Kolkata Knight Riders.

Brandon's sister-in-law Alyssa recently toured India with the Southern Stars (Australian women's team) and scored a hundred in one of the matches against India.

Starc Junior, on the other hand, enjoyed the biggest moment of his career in front of adoring fans, soaking it all in with a national flag draped around his shoulders.

Asked about his initiation into high jump, response was quite simple.

"I used to try this as a kid and then you just keep going. As you get older, you just train and then you win a gold medal," he said.

He thanked the capacity crowd for egging him on during the competition.

"The home crowd is awesome, you've got to take it. I love getting the crowd involved," he said when asked whether feeding off the crowd was a strategic move.

The beaming youngster was also asked about any sacrifices he might have made to get get here, but he would rather call those choices, not wanting to elaborate though.

"I made a choice to do what I do. I chose to do the right things to lead me here. I chose right," he stressed.

The beaming smile on his face aside, Starc conceded that emotions are running a bit high inside and it might just all release on the podium when he collects the gold.

"I'm going to be in tears for sure. I'm going to love every moment," he said.