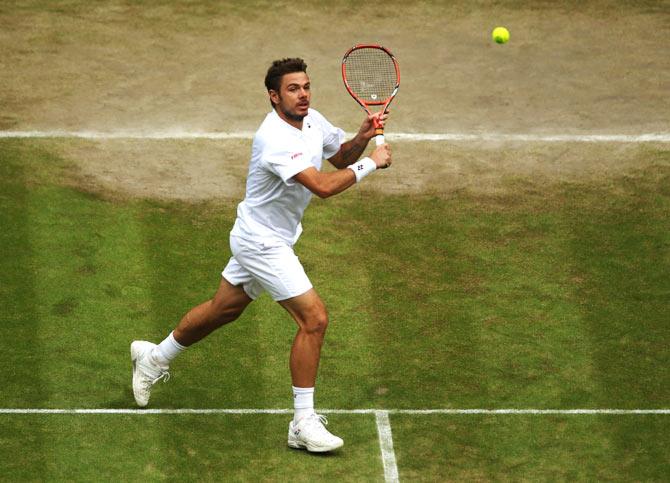 Stan Wawrinka of Switzerland. Photograph: Matthew Stockman/Getty Images
Being a member of tennis' Big Four might be the burning ambition of many players but Stan Wawrinka is in no rush to join the ranks and redefine that club as the Fab Five.

The man who belted down backhand bullets to crush Novak Djokovic's French Open dream, thus denying the Serb a chance to complete his collection of Grand Slam titles, now owns two majors thanks to his success at Roland Garros earlier this month.

That is the same number of Slams won by Andy Murray, one of the bona fide members of the Big Four, but Wawrinka cares little about being held in the same esteem as the Scot, Djokovic, Roger Federer or Rafa Nadal.

"Honestly I don't try to compare myself to them or try to be part of a group. I just want to do the best I can in my career," Wawrinka told Reuters in an interview on the players' lawn at the All England Club as he looked forward to launching his Wimbledon campaign on Monday.

"I'm really happy with what I have done especially in the last two years because that is when it all started, with the two Grand Slams, the Davis Cup (title in 2014) and everything.

"I'm really happy with my career," added the Swiss, who had to wait almost until 29th birthday to get his Grand Slam breakthrough at the 2014 Australian Open before doubling his haul in Paris.

"For me it doesn't matter if it's the Big Four or Big Five or whatever, I don't need that and I am not looking for that. I'm just trying to beat them when I play them, that's it."

"Beat them" he certainly did because just as he toppled the top two seeds to capture the Melbourne Park title 18 months ago, he again proved to be the dark destroyer in Paris.

With much of the focus on whether Djokovic could win the one title he yearns for more than any other or whether nine-times champion Nadal could stretch his victories into double figures, barely anyone paid attention to what Wawrinka was doing with his wondrous backhand.

In fact his bizarre red and white checked shorts -- compared to everything from pyjamas to out-of-fashion 1970s wallpaper -- got more column inches than the damage he was wielding with his racket.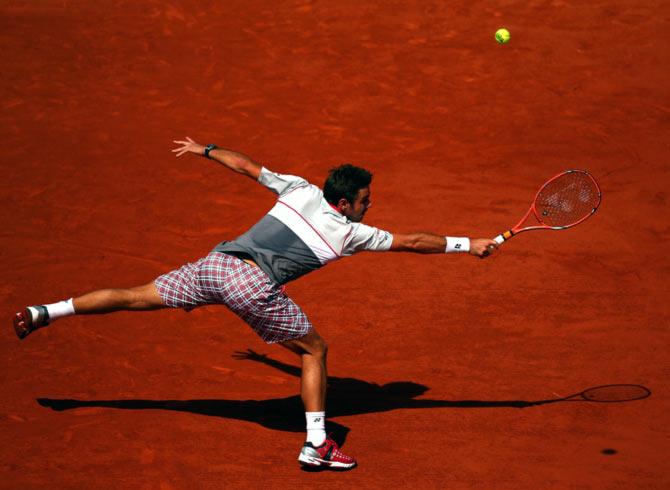 Stan Wawrinka in action during the 2015 French Open. Photograph: Dan Istitene/Getty Images
Celebrated rivals, however, had no choice but to take notice as first world number two Federer fell under his spell in the quarter-finals before top ranked Djokovic was also left dumbfounded in the final.

"I'm feeling great for sure. I'm really proud and happy the way I am doing it," said Wawrinka, who became the first man outside the Big Four to win two Slams since the quartet began their era of dominance a decade ago.

"For me it's been amazing to think that I won the Australian Open and the French Open by beating the number one and two players in the world. Playing my best match ever on clay this year in the final, that has given me a lot of confidence."

His success in Paris means Wimbledon remains the one major where he has not reached at least the semi-finals.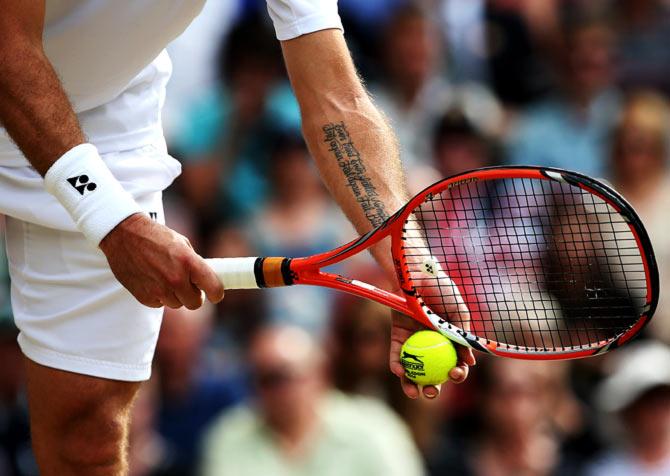 A close-up of the tattoos on the arm of Stan Wawrinka. Photograph: Jan Kruger/Getty Images
It is a blip that does not concern a man who has long lived by a Samuel Beckett mantra that is inked in italics on his left forearm: 'Ever tried. Ever failed. No matter. Try Again. Fail again. Fail better.'

"French Open was also a Slam where I didn't reach the semi-finals before this year," Wawrinka, whose tattoo was visible for all to see on his bare, tanned arm, said with a smile.

"So, just like that I am trying to improve every year, trying to play better every year.

"Last year I played a really good tournament, losing in the quarter-finals to Roger playing a really great match. So this year I can still play my best tennis."

Unfortunately for Wimbledon fans, Wawrinka's famed shorts will not be on show when he plays 'his best tennis' due to the tournament's strict all-white dress code.

Alarmingly, he also hinted that those much-derided shorts may have had their last outing.

"I don't know yet what I am going to do with my (French Open) shorts. We'll see after Wimbledon," he laughed.

"I'm going to take some time off tennis and then try to have a clear out. I have many (pairs) of those shorts.

"It was great that I won the French Open because at least it's a positive story for my shorts."