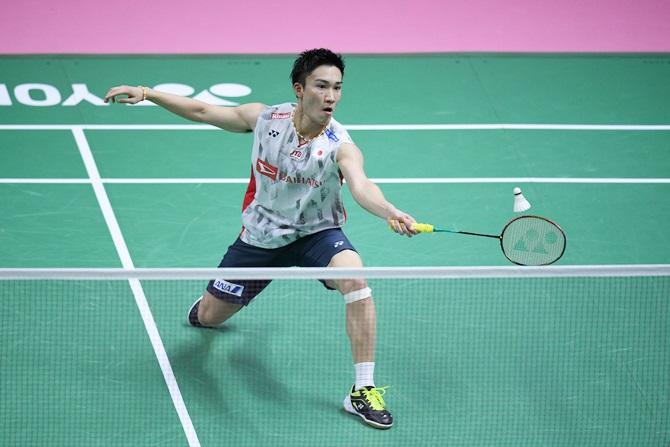 India's top shuttlers P V Sindhu and Kidambi Srikanth experienced contrasting defeats in the semi-finals of the US $700,000 Malaysia Open Super World Tour 750 tournament, in Kuala Lumpur, on Saturday.
Srikanth, who was world No. 1 briefly in April, was just unable to match the overall superiority of Momota and beaten 13-21, 13-21 in 42 minutes.
Sindhu, though, went down fighting to defending champion and world No 1 Tai Tzu Ying of Chinese Taipei 15-21, 21-19, 11-21 in 55 minutes.
It was Srikanth's sixth defeat to Momota in nine meetings, while Sindhu has now lost nine times to Tai Tzu, this being her fifth successive reverse.
The No 11-ranked Momota, who is in sensational form since making a comeback after serving a year's ban for illegal gambling, was quick on his feet and produced some excellent shots mixed with deception to dominate the rallies as he registered his 21st consecutive victory.
His smashes had power and precision, which made life difficult for Srikanth.
The players were neck-and-neck from 3-3 to 5-5 before the Japanese rode on his deception and better court coverage to open up a 10-7 lead.
Srikanth won a good rally but the Japanese had his nose ahead at the break after Srikanth was bamboozled by a tight net shot.
The left-handed Momota then came up with some superb shots from the back of the court to establish leads of 13-8 and 17-12.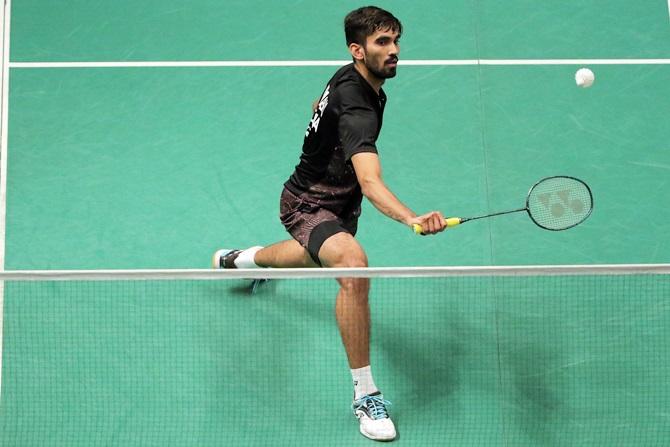 Srikanth misjudged a shot at the rear line to hand over game-points and Momota sealed it with another precise net shot.
With Momota in full flow, the margin for error was miniscule. The Japanese pounced on every opportunity to lead 5-1 after the change of ends.
Srikanth set up the rallies well but erred with his length and miscued strokes as Momota moved into the breather at 11-5.
The Japanese continued to rule the roost and quickly moved to seven match-points when Srikanth found the net.
Another net error and it was over for the Indian.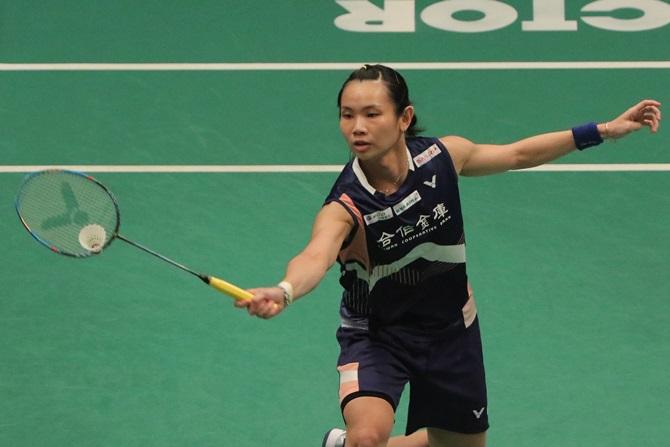 The women's singles semi-final between Sindhu and Tai Tzu was nail-biting. The Chinese Taipei lass moved swiftly on court, switched from attack to defence and played some creative strokes to eventually outwit Sindhu.
Tai Tzu led 9-6 and 11-9 before running away to to game point at 20-15. An error from Sindhu sealed the opening game for the Chinese.
After the change of sides, Sindhu raced to a 5-0 lead. However, Tai Tzu drew abreast at 9 before going into the break 11-10.
Sindhu kept breathing down her opponent's neck and led 18-16 with four straight points. However, Tai Tzu erased the deficit and moved to 19-18 when Sindhu went long. But the Indian grabbed a game point when Tai Tzu went wide. A similar error and Sindhu had bounced back into the contest.
In the decider, the duo split the first eight points, but Tai Tzu again marched ahead to 10-6 before a lucky net chord handed the lead to the Chinese Taipei shuttler.
After the final change in ends, Tai Tzu played some perfectly timed shots at the backline to race to 16-8. She simply toyed with Sindhu as the Indian made judgment errors and missed the lines, sandwiched with some brilliant returns.
Two weak returns from Sindhu ensured Tai Tzu reached her fourth final at the Malaysia Open.