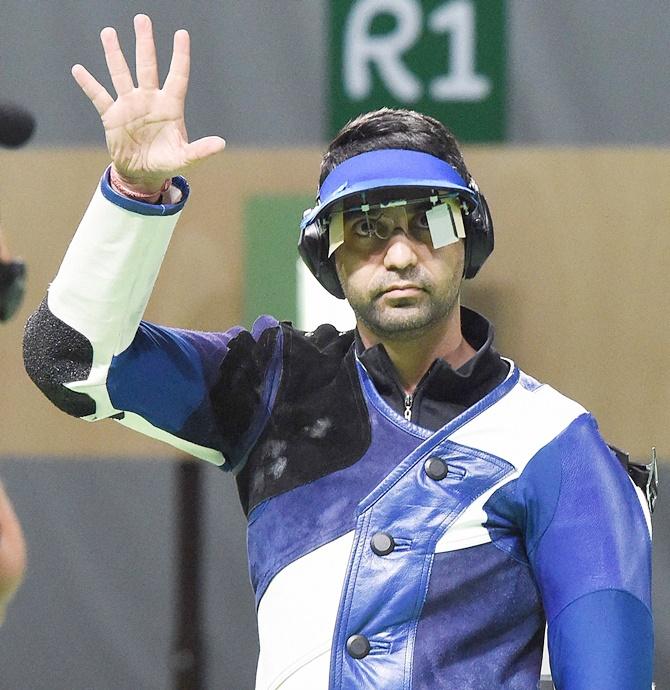 During his time as an active athlete, training at home was always Plan B for Abhinav Bindra, but India's lone Olympic individual gold medallist is trying to make the facilities at home match global standards.
"Training in India was always a Plan B for me, but to progress we need to make the facilities at home the Plan A for our athletes," Bindra was quoted as saying by 'olympic.org'.
Shooter Bindra created history when he claimed the gold medal in 10m air rifle event of the 2008 Beijing Olympics.
For long frustrated by the lack of access to high-quality training facilities in his homeland, the champion shooter has been dedicating a lot of his time to developing sport across India, building new facilities in underprivileged communities and bringing elite sports centres to major cities through the Abhinav Bindra Foundation.
"These communities lack access to many of the basic things in life," he said.
"So we funded the construction of playing fields, and provided them with basic equipment.
"We really wanted to make sure we give access to sport to all the young kids in these areas – so they can learn valuable life lessons, do physical activities to keep them healthy – and also educate both children and parents about the benefits of sport."
The Abhinav Bindra Targeting Performance centre of excellence is equipped with some revolutionary equipment which combines assessment with training giving athletes and clients real-time feedback while they go through their training.
"It's really in the last couple of years that we've created some cutting-edge infrastructure," Bindra said.
"One of our facilities is in the heart of a city, and it's working closely with a hospital. So if injury management is required, it's right there and accessible so the athletes don't need to travel."
Anand loses to Karjakin in Shamkir chess
Having done the hard work, Viswanathan Anand fumbled and lost to Sergey Karjakin of Russia in the sixth round of Shamkir chess tournament in Shamkir.
Playing the black side of a queen's gambit declined, Anand came up with some spectacular preparation that should have been good enough for a draw but Karjakin pressed hard where it mattered and went on to secure a rare victory against Anand.
Karjakin joined Magnus Carlsen of Norway in lead on four points out of a possible six following an unexpected victory.
In other games of the day in the super tournament, Veselin Topalov of Bulgaria beat Shakhriyar Mamedyarov of Azerbaijan, Dutchman Anish Giri played out a customary draw with David Navara of Czech Republic, reigning World champion Magnus Carlsen got no leeway and had to split the point with Ding Liren of China and Russian Alexander Grischuk got nothing against the ever solid Teimour Radjabov of Azerbaijan.
Carlsen and Karjakin share the lead on four points each from six games and they are now followed by a long list of players having three points apiece in this ten player nine-rounds event. Anand shares the third spot with Ding Liren, Topalov, Radjabov, Grischuk and Topalov all having three points each while Mamedyarov and Giri are struggling on two points from six matches.
It was not a game for Anand to lose, a long opening variation where in the Indian had done the hard work led to an absolutely equal endgame with a knight and a double rook. Karjakin however pressed on for a long time in an equal position and Anand could not find the right way out.
As it happened in the game Anand lost a pawn on the king side and called it a day.
Carlsen had little difficulty holding his lead as Ding Liren could not post any real challenge to pressurize the world champion. The game was drawn without much ado, giving Carlsen now to tackle Karjakin in what would be the decisive game of the tournament.
Results round 6: Sergey Karjakin (Rus, 4) beat V Anand (Ind, 3); Veselin Topalov (Bul, 3) beat Shakhriyar Mamedyarov (Aze, 2); Ding Liren (Chn, 3) drew with Magnus Carlsen (Nor, 4; Anish Giri (Ned, 2) drew with David Navara (Cze, 3); Alexander Grischuk (Rus, 3) drew with Teimour Radjabov (Aze, 3).
Keys tops Stephens to reach semis in Charleston
Madison Keys overcame some uncharacteristically poor serving and elevated her game late on to edge fellow American Sloane Stephens 7-6(6), 4-6, 6-2 and advance to the semi-finals of the Charleston Open on Friday.
Both players struggled with their serves in a match that included 13 breaks but it was Keys who was able to cut down on the errors and step up the intensity in the third set, which she won when Stephens sent a backhand long.
The match on the green clay also featured a seesaw first set tie-breaker in which Keys jumped out to a 4-0 lead before Stephens stormed back with six straight points.
Stephens failed to convert either of the two set points she had on her serve and Keys unleashed a blistering cross court forehand winner to capture the hour-long first set.
"It's always tough to play a friend and it kind of shows at times like that," Keys said of the wild first set tie-breaker.
"It was up and it was down and it was just kind of crazy."
The win was a first for Keys over Stephens, who came out on top in their semi-final match up at last year's French Open and in the 2017 US Open final.
Next up for Keys is Puerto Rican Monica Puig, who crushed 29 winners to topple American Danielle Collins in their quarter-final to end the day.
The 25-year-old Olympic gold medalist from San Juan fired down six aces to book her first semi-final trip since the Connecticut Open in August.
Former world number one Caroline Wozniacki looked like she had fully recovered from the illness that sidelined her for two months earlier this year, playing nearly perfect tennis to down Maria Sakkari 6-2, 6-2.
Wozniacki, the 2011 champion in Charleston, smacked 15 winners to just eight unforced errors and looked particularly sharp returning serve, where she moved briskly and attacked Sakkari's second serves.
The only hiccup came in the match's 16-minute final game, where Wozniacki needed five match points before she was able to break the young Greek's service again to win the tie.
The fifth-seeded Dane will be a heavy favourite in her semi-final showdown on Saturday against Petra Martic, who upset Belinda Bencic 6-3, 6-4 in the morning match.
Wozniacki has never dropped a set to the Croatian in five career meetings.