Summary of sports events and persons who made news on Tuesday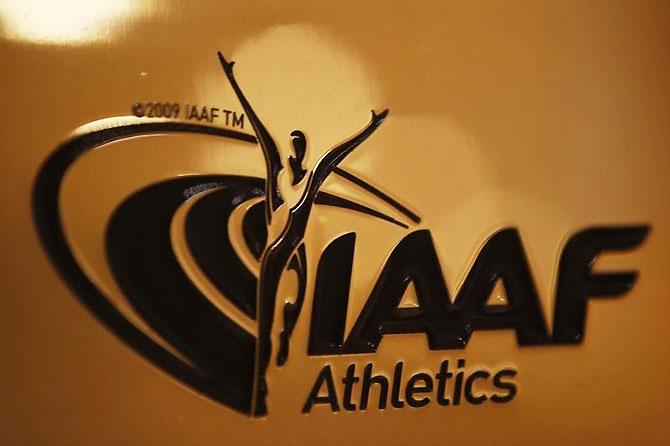 World athletics body IAAF on Tuesday upheld a ban against Russia's athletics federation over doping in the country, pending full access to doping data stored in Moscow and financial compensation.
Russia's athletics federation (RUSAF) has been suspended since 2015 over a report commissioned by the World Anti-Doping Agency (WADA) that found evidence of widespread, state-sponsored doping in the sport.
The IAAF said Russia's anti-doping agency (RUSADA) still needed to meet two criteria -- access to data on Russian athletes in a Moscow lab and full financial compensation for investigation and legal costs -- before the ban is lifted.
"If the Russians can and will release the (drugs) samples is up to them. I hope they will deliver the data by the end of this year," said Rune Andersen, head of the IAAF's task force on Russia, sitting next to IAAF President Sebastian Coe.
"We have received no assurances it will be delivered to us directly."
To be reinstated, the IAAF has said Russia must acknowledge the findings of the WADA-commissioned McLaren report that doping in the country was state-sponsored and must also provide access to the data from testing of samples at the RUSADA Moscow laboratory from 2011-2015.
"I am not surprised, but we had hopes because the federation has done lots of work," Dmitry Shlyakhtin, president of Russia's athletics federation, told TASS.
Russia, whose athletics team was banned from the 2016 Rio de Janeiro Olympics, has accepted there was extensive doping in the country, but its authorities have continued to deny any of it was state sponsored and access to the Moscow lab data has not happened.
The International Olympic Committee (IOC) and WADA have both reinstated Russia.
WADA's controversial reinstatement in September this year was on the condition that Russia recognise the findings of its report and allow access to RUSADA's stored samples.
Failure to provide access to the full data from the Moscow lab by Dec. 31 could lead to another suspension, WADA has warned.
Canada gets first Olympic weighlifting gold medallist at last!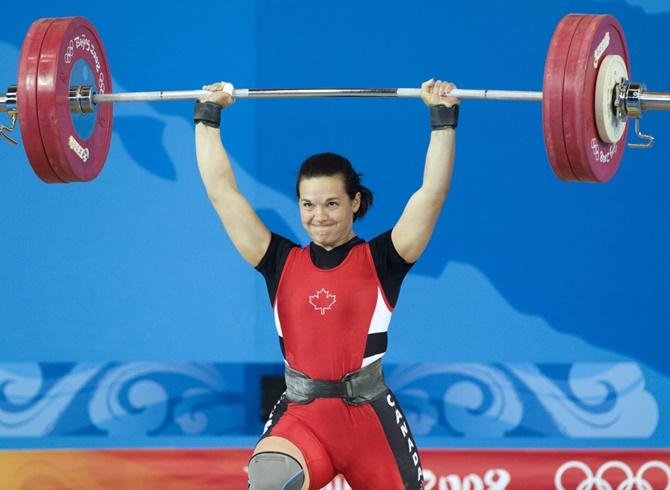 It took more than six years hut Christine Girard was finally awarded her 2012 London Games weightlifting gold medal on Monday to become Canada's first Olympic champion in the sport.
At a ceremony held at the National Arts Centre in Ottawa, Girard, who has now retired but competed in the 63kg class, also received a bronze from the 2008 Beijing Games, making her the first Canadian to win two Olympic medals in weightlifting.
Girard was initially awarded bronze at the 2012 Olympics but, after the retesting of more than 1,500 urine samples from the Beijing and London Games the samples from two athletes who placed ahead of her, Maiya Maneza of Kazakhstan and Svetlana Tsarukaeva of Russia, were found positive for doping.
They were disqualified and Girard, now 33, was confirmed as the London 2012 Olympic champion in April 2018.
In late 2016, Girard was awarded the Beijing Olympic bronze after Irina Nekrassova of Kazakhstan was stripped of her silver for testing positive for banned substances.
"I want to celebrate this moment with all Canadians as it is a victory of our values," Girard said in a statement.
"I want people to understand that regardless of your gender or sport, with hard work, determination and a little bit of patience, your dreams are within reach."
Girard joins Dylan Armstrong (athletics, Beijing 2008) and Beckie Scott (cross-country skiing, Salt Lake City 2002) as Canadian Olympians to receive medal reallocations due to doping violations by other competitors.
"We are thrilled that the day has now arrived where Christine will be properly recognised and celebrated for her historic achievements at the Beijing 2008 and London 2012 Olympic Games," said Canadian Olympic Committee president Tricia Smith.
"Christine has shown incredible strength and perseverance throughout her long career, always competing with integrity and grace. We are so pleased to see her receive the Olympic medals which she has so rightfully earned."
Bhupathi awed by India's tennis talent pool
Davis Cup non-playing captain Mahesh Bhupathi on Tuesday said Indian tennis has an unprecedented depth in its talent pool and it's headed in the right direction.
"The depth we have today we have never had. Prajnesh, Yuki, Ram and many more right behind them are doing well. India hasn't had this kind of talent pool before in the men's team," Bhupathi said at a KIA Motors event where 10 young tennis fans of the country were selected as ball kids for the Australian Open in January.
For the first time India has three men in the top-150 in the world rankings. Prajnesh Gunneswaran is the highest ranked Indian just outside the top-100 at 104, followed by Ramkumar Ramanathan at 133 and Yuki Bhambri at 137.
"In the women's team, Harman and Ankita have made a nice run in towards the last part of the season. The results are very positive," Bhupathi added.
Ankita Raina, ranked 213 in the world, and World No 218 Karman Thandi won two back-to-back titles recently. They first clinched their career's maiden WTA doubles title in Taipei before uniting to win the Pune Open.
Bhupathi also said investment from the corporate sector was required in Indian tennis.
"For any sport, creating a culture in India comes from corporate support and we have seen that with all the medallist who have been supported by an OGQ or a JSW," he said.
Five kids from Delhi and one each from Mumbai, Chandigarh, Haryana, Hyderabad and Lucknow, including four girls, have been selected to represent India as the Official Kia Ball Kids for the Australian Open 2019.
The kids selected are: Ankit Pillania (St ThomasSchool, Bahadurgarh), Jennika Jaison (St JosephSchool, Mumbai), Sarthak Gandhi (StrawberryFieldsHigh School, Chandigarh), M Varshith Kumar Reddy (St. John'sHigh School, Hyderabad), Naman Mehta (LA Martiniere Boys, Lucknow).
Athletics: Budapest to host 2023 world championships
Budapest will host the 2023 athletics world championships, the governing IAAF announced on Tuesday.
The Hungarian capital is the first host city to be named under a new bidding process announced in February last year by the International Association of Athletics Federations (IAAF).
IAAF president Sebastian Coe said after a meeting of the IAAF Council in Monaco that Hungary boasted both athletic tradition and experience in organising world-class sports events.
"It has been the scene of some of our greatest moments as a sport. We are excited about their plans for a new stadium that will become a great legacy for athletics," he said.
The new stadium will be built on the eastern bank of the River Danube with a capacity of 40,000 for the championships, reduced to 15,000 for future events.
Budapest has twice hosted the IAAF world indoor championships and the European athletics championships.
The 2019 world championships will be held in Doha, Qatar, and the 2021 edition in Eugene, Oregon.
NBA Global Academy's Princepal Singh selected in Indian team
The NBAGlobalAcademy's Princepal Singh has been selected to play in the Indian men's team for the Super Kung Sheung Cup International Basketball Invitation Championship in Hong Kong from December 11 to 16.
The 17-year old, based at The NBA Global Academy in Canberra, Australia, was previously a prospect at The NBA Academy India.
Princepal has been a part of multiple camps organised by the NBA, including Basketball Without Borders Global Camp during NBA All-Star 2018.
"The 6'10'' player from Punjab is one of the most exciting prospects from India, following an impressive run during U16 FIBA Asian Championships in April where he averaged 22.7 points per game and 13 rebounds per game," a press release from NBA India stated.
Princepal is among 12 promising players at the NBAGlobalAcademy, a training center at Basketball Australia's (BA) Centre of Excellence at the Australian Institute of Sport (AIS) in Canberra.
"I had a great experience at The NBA Academy India and I'm excited for the next stage of my development here at The NBA Global Academy. I look forward to applying everything that I've learned and represent the country with pride," said Princepal.
"We are committed to elite player development, and we are thrilled with Princepal's continued progression as both an athlete and as a person," added Yannick Colaco, MD, NBA India.
Canadian boxer Stevenson in stable condition after getting KOed
Canadian boxer Adonis Stevenson is in a stable condition under controlled sedation in hospital after being knocked out in a WBC light heavyweight title bout in Quebec City on Saturday.
The University of Quebec Hospital also said in a statement on Monday that Stevenson was still in the intensive care unit,
The 41-year-old was knocked down at the start of the third round, although the referee ruled it a slip, and again in the 11th when Ukrainian Oleksandr Gvozdyk delivered a combination to break the Canadian's unbeaten streak of 17 bouts.
Haiti-born Stevenson was taken to hospital and placed in a medically-induced coma in a critical condition, his promoter Yvon Michel wrote on Twitter, but added later on Sunday that his condition had been updgraded to stable.
Stevenson won the WBC title in 2013 when he beat Chad Dawson and was defending his title for the 10th time on Saturday.
Samsung extends Olympics sponsorship to 2028
South Korea's Samsung has extended its sponsorship contract with the International Olympic Committee by eight years and will remain a top sponsor until the 2028 Los Angeles Games, the world governing body said on Tuesday.
Samsung, who first signed up as a top sponsor with the IOC in 1998 and was a local sponsor at the 1988 Seoul Olympics as well, will support all Games up until and including the Los Angeles summer Olympics.
"I am delighted that we will be building on two decades of partnership with Samsung for another 10 years," said IOC President Thomas Bach at the signing ceremony in Seoul.
"Together, we are able to connect with and inspire Olympic athletes and fans around the world, and we look forward to working with Samsung to build the digital future of the Olympic Games."
Samsung is one of 14 top sponsors of the Olympics that also includes Coca-Cola, Intel and Panasonic.
Many of them have signed on till 2028 or beyond. In September, German insurer Allianz became the latest addition to the group, signing up to 2028.
No financial details of the deal were released but media reports have said the IOC has been seeking around $50 million per year for similar deals.
The 2022 winter Olympics will be held in Beijing, while the 2024 summer Games will be staged in Paris. The hosts of the 2026 winter Games will be announced next year.