A summary of sports events and sports persons, who made news on Friday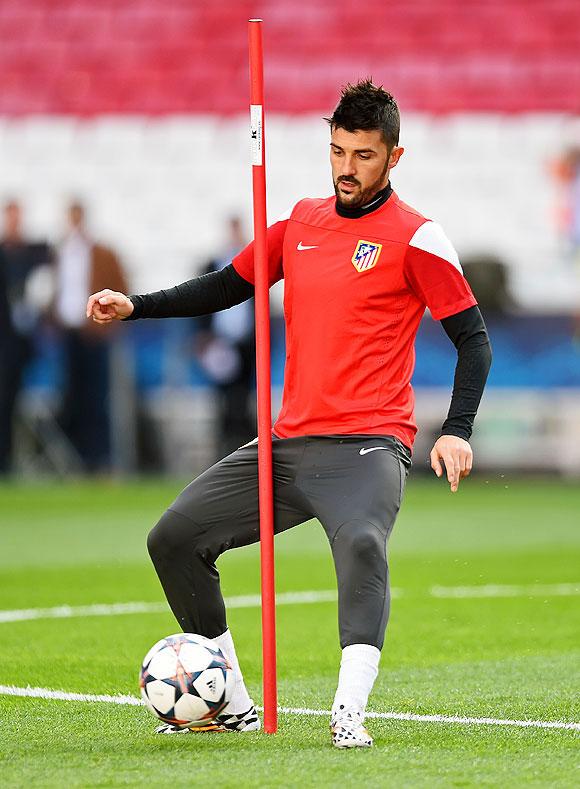 IMAGE: David Villa. Photograph: Laurence Griffiths/Getty Images
Spain's all-time top scorer David Villa has come out of international retirement after being named in the squad for World Cup qualifiers against Italy and Liechtenstein, national team coach Julen Lopetegui said on Friday.
New York City FC striker Villa, who hit a record 59 goals with Spain, announced his retirement from the national team after the 2014 World Cup, having scored in his final game against Australia as the then world champions were knocked out in the group stages in Brazil.
He joined the newly formed MLS outfit New York City in their inaugural season in 2015 and has scored 19 goals in 23 starts this season.
Villa takes the place of Diego Costa, who has not linked up with Chelsea for the new season due to a dispute with coach Antonio Conte, while AC Milan midfielder Suso has earned a first call up.
Chelsea defender Marcos Alonso was left out of the squad despite Lopetegui going to watch him in action against Tottenham Hotspur last week.
"We believe that calling up Villa is necessary and appropriate," Lopetegui told a news conference.
"He'll give us extra mobility up front and above all he'll contribute his enthusiasm. We hope and believe he will help us."
Watford handed $5.5m fine over forged funding letter
Watford have been fined 4.3 million pounds ($5.51 million) by the English Football League, the governing body for competitions below the Premier League, for the provision of a forged funding letter during owner Gino Pozzo's takeover in 2014.
Watford, who gained promotion to the Premier League from the Championship in 2015, pleaded guilty to the charge, which was presented in June, with the sanction being reduced from 5.7 million pounds due to the club's cooperation.
"As soon as this matter was brought to the club's attention, it reacted swiftly and openly in co-operating with the EFL's investigation," Watford said on their website. (www.watfordfc.com)
Concerning matters on the pitch, Watford have announced the signing of Peru international winger Andre Carrillo on a season-long loan deal from Portugal's Benfica, with an option for a permanent transfer at the end of the season.
McEnroe calls for ATP schedule review as injuries mount
John McEnroe says the ATP Tour must consider reviewing its schedule in a bid to cut down on injuries after Canadian Milos Raonic joined the list of top players sitting out the U.S. Open.
While Raonic (wrist) is expected to rejoin the Tour later in the year, the three other high-profile absentees from Flushing Meadows -- Novak Djokovic (elbow), Kei Nishikori (wrist) and Stan Wawrinka (knee) -- have been ruled out for the rest of the season.
Seven-time grand slam winner McEnroe said players had become more prone to injuries as the game evolved over the years and said officials should take another look at the schedule to see if they can lighten the load.
"They have worked over the years to get it down to nine or 10 months," McEnroe told ESPN. "I think perhaps they would be better served to continue to look at that.
"Sometimes it's unpredictable. But certainly the wear and tear is there, because the ball is being hit harder so you have to react quicker. So things happen more often than they did in the past. That's part of why you're seeing a lot of injuries.
"But let's face it, there have been injuries for a long time. This is nothing new. They are going to continue to look at it ... we should continue to try to figure out ways to get the maximum out of all the players."
Swiss ace Roger Federer and world number one Rafael Nadal were sidelined for the latter stages of last season as they sought to recover from long-term problems.
Federer withdrew from the Cincinnati Masters earlier this month due to a back injury while world number two Andy Murray has struggled with a hip problem since the French Open but both have said that they would play in New York.
The US Open, the final grand slam of the season, is being held from August 28 to September 10.
ITF fines Hong Kong for refusing to play in Pakistan
The International Tennis Federation (ITF) has fined Hong Kong US$10,000 dollars for refusing to travel to Pakistan to play the Asia-Oceania Zone group-11 tie in April.
A top official of the Pakistan Tennis Federation (PTF) said on Friday that the ITF had decided to not only fine Hong Kong but also demote them to Asia Oceania Zone Group-3 in 2018.
"We are very happy with the ITF decision because Hong Kong was supposed to play the Davis Cup Group-11 semi-final against us in Islamabad in April. We had assured them of all security arrangements and the ITF also backed us," the official said.
"There was no reason for Hong Kong not to send its team to Islamabad because in February this year despite earlier reservations, we hosted Iran successfully in a Davis Cup tie," he said. He said that after the hosting of the Davis Cup tie with Iran, the ITF had told Hong Kong that they would have to play in Pakistan but they backed out at the last moment.
"We are now preparing to host Thailand in September in the Group-11 final in Islamabad and we have made all security arrangements for the event," the official said.
Pakistan's top tennis player Aisam-ul-Haq Qureshi will be reaching Pakistan later this month to represent the country in the Davis Cup tie against Thailand.
Olympic silver medallist Bobridge arrested for drug dealing
Australian cyclist Jack Bobridge, who won silver medals in the team pursuit at the last two Olympics, was arrested in Perth this week on charges of dealing in ecstasy, local media reported on Friday.
Bobridge, who was forced into retirement last year because of the effects of rheumatoid arthritis, was arrested after police raided his home in the western Australian capital on Wednesday, the ABC reported.
"The investigation led detectives to charge the 28-year-old man with two counts of sell and supply a trafficable quantity of MDMA and three counts of sell and supply MDMA," Perth police said in a statement to the national broadcaster.
Bobridge was bailed to appear at a Perth magistrates court to face the charges next month, ABC added.
In a highly successful career, Bobridge rode in four versions of the Giro d'Italia and won the Australian road race national title for the second time in Ballarat in January 2016.
On the track, he competed in three Olympics, won three world championship gold medals, four Commonwealth Games titles and still holds the world record for the 4km individual pursuit with the time he set in Sydney in 2011.