A summary of sports events and sports persons, who made news on Monday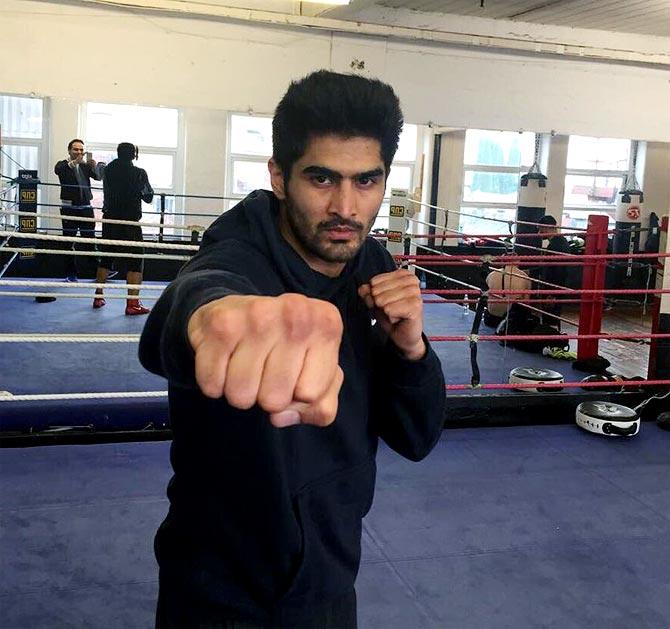 IMAGE: Vijender Singh during a training session. Photograph courtesy: Vijender Singh/Twitter
Indian boxing star Vijender Singh is set to defend his WBO Oriental and Asia Pacific Super middleweight titles against Ghana's Ernest Amuzu in Jaipur on December 23.
Unbeaten in nine fights so far Vijender was last seen in action in August when he defeated China's No.1 boxer Zulpikar Maimaitiali to claim the WBO Oriental title.
"I am really excited on having my 10th fight in India in the Pink City of Jaipur. I am training hard in the ring for the last two months and still have three weeks to go for my next fight, so looking forward to winning the third title fight in a row," the Olympic bronze medallist said.
Announcing the launch of his new promotional company -- Vijender Singh Promotions, he said, "the company will encourage the new talents and provide them a chance to be a part of a big show.
Ghana's Ernest Amuzu will also be looking to win the 26th pro fight of his career. He has won 23 fights, 21 of them Konckouts, and lost only two in his pro career.
"So far Vijender has not faced any tough and experienced opponent like me, I am sure that after facing me in the ring he will realise how tough pro boxing is," the 34-year-old boxer said.
"I am ready and fully prepared to defeat Vijender Singh in the early 3-4 rounds Knockout win," he added.
It will be a change of venue for the boxer given that his previous bouts have took place in the metro cities of Mumbai and Delhi.
"I do not want to fight in the metros, I want to take the sport to small towns, so middle-class families can to also see the matches," he said.

India finishes seventh in world team squash
India finished seventh overall in the WSF-world men's team squash championship in Marseille, France.
India defeated Scotland 2-1 in the 7th-8th place match, on Sunday.
It was the good work of Harinder Pal Sandhu and Mahesh Mangaonkar that did the trick, said a SRFI press release in Chennai.
After losing to New Zealand for the sixth place earlier, the Indians geared up to perform better against Scotland.
The team was without Saurav Ghosal but that did not lessen India's chance.
Harinder and Mahesh proved that after Vikram Malhotra had lost the first match.
Result: for 7th-8th positions: India beat Scotland 2-1 (Vikram Malhotra lost to Alan Clyne 5-11, 14-16, 7-11; Harinder Pal Sandhu bt Greg Lobban 11-9, 12-10, 11-9; Mahesh Mangaonkar bt Dougie Kempsell 11-8, 11-7, 5-11, 11-1).