A summary of sports events and sports persons, who made news on Thursday
Larry Nassar, the former USA Gymnastics team doctor, pleaded guilty in a Michigan court on Wednesday to additional counts of criminal sexual conduct for assaulting girls under the guise of medical treatment, Michigan Attorney General Bill Schuette said.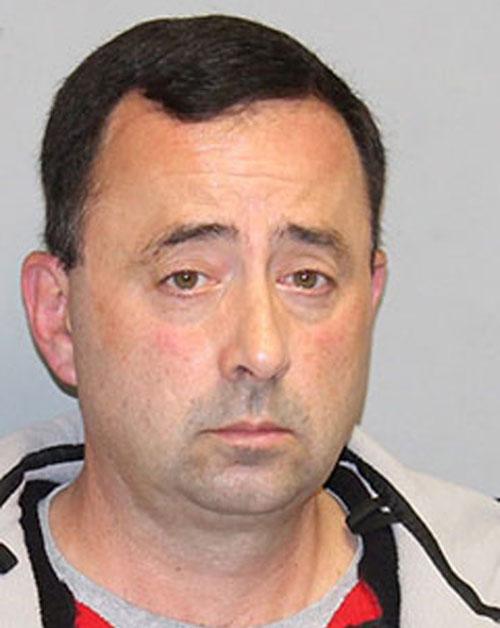 Nassar, 54, appeared in Michigan's Eaton County Circuit Court and pleaded guilty to three felony counts of first degree criminal sexual conduct.
He did not make a statement beyond briefly answering the judge's questions, according to The Detroit News. Nassar's attorneys did not immediately respond to a request for comment.
Nassar was the team physician for the MichiganStateUniversity gymnastics and women's crew teams, as well as an associate professor at MSU's College of Osteopathic Medicine. He served as the USA Gymnastics physician through four Olympic Games.
Last week, Nassar pleaded guilty in nearby InghamCounty to seven felony counts of first-degree criminal sexual conduct despite his earlier denials of wrongdoing.
Wednesday's guilty pleas put an end to criminal sexual conduct charges brought by the Michigan Attorney General's office against Nassar in Eaton and Ingham counties.
The EatonCounty sentencing hearing will be held on January 31.
The Ingham County sentencing hearing will be held on Jan. 12 when all of the 125 reported victims or their parents will be allowed to give victim impact statements.
Last week's plea deal with prosecutors calls for a minimum prison sentence of 25 years but the judge could set the minimum as high as 40 years.
Nassar's plea deal follows claims by two of the United States' most decorated gymnasts, Aly Raisman and Gabby Douglas, that they had been sexually abused by the former USA Gymnastics team doctor.
Three-time Olympic gold medalist Douglas earlier this month said she was sexually abused by Nassar while Raisman, also a three-times gold medalist, made similar allegations in an interview with CBS News program "60 Minutes."
During the Nov. 22 hearing, Nassar apologized and said it was time for his victims to begin healing, The Detroit News reported.
Kipchoge to make London Marathon return in 2018
Olympic champion Eliud Kipchoge will return to the London Marathon in 2018 after a year's absence, resuming his quest for a third victory in the event, organisers said on Thursday.
The 33-year-old Kenyan won the 2015 race and finished eight seconds outside Dennis Kimetto's world record time of 2:02:57 to triumph again 12 months later, but he did not defend his title this year after focusing on the Nike Breaking2 project.
The former 5,000 metres world champion's official best marathon time of 2:03:05 set in London in 2016 is the fourth-fastest in history. He came close to the world record again in Berlin this year, clocking 2:03:32 in damp conditions.
"I feel like I'm in good form," Kipchoge said in a statement.
"Berlin was difficult because the weather was not good but my time showed I was in the right shape. As ever with marathon running, everything needs to come right on the day.
"The competition is always tough in London so I must wait and see how well I train and what the weather will be. I know that I have the world record in me so we will have to wait and see what happens."
Kipchoge ran the quickest recorded marathon at the Nike event in Monza in May, finishing in 2:00:25, though that time is not an official world record due to aspects of the event not satisfying IAAF criteria.
The Kenyan joins fellow Olympic champion Mo Farah of Britain in confirming his intention to run the London Marathon on April 22.
"I came so close to breaking the world record in 2016 and it is natural for anyone in that situation to think of what might have been," Kipchoge added.
"But that race gave me the confidence to go on and win the Olympic title in Rio and run so well throughout 2017."
Players debate NFL's proposed $100 million donation
The NFL proposed joining with its players in a bid to spur social justice change, although not all players are on board with the proposal.
The league submitted the final draft of the proposal to players on Monday that would contribute nearly $100 million to causes considered important to African-American communities.
The NFL is seeking an agreement that players will stand for the anthem in return and put an end to the controversial movement that former San Francisco 49ers quarterback Colin Kaepernick began last season.
Players are expected to discuss the proposal during a scheduled conference call Wednesday night. If they accept the league's proposal, then the owners would vote to complete the deal at the annual league meetings in March, according to ESPN.
National funding as part of the league's current plan would offer 25 percent to the United Negro College Fund and another 25 percent to Dream Corps. The Players Coalition, which has filed for paperwork for nonprofit status, would get the remaining 50 percent.
Two players already have expressed displeasure with the NFL's proposal and plan to part from the Players Coalition, a group of approximately 40 players. Philadelphia Eagles safety Malcolm Jenkins and former NFL wide receiver Anquan Boldin are viewed as the leaders of the Players Coalition.
San Francisco safety Eric Reid and Miami Dolphins safety Michael Thomas said they are withdrawing by releasing the same statement on Wednesday.
"With much thought and consideration, I've decided to officially withdraw my involvement in The Players Coalition founded by Malcolm Jenkins and Anquan Boldin," the statement read.
"The Players Coalition was supposed to be formed as a group that represents NFL athletes who have been silently protesting social injustices and racism. However, Malcolm and Anquan can no longer speak on our behalf as we don't believe the coalition's beliefs are in our best interests as a whole.
"We will continue to have dialogue with the league to find equitable solutions but without Malcolm and Anquan as our representative."
Reid was the first player to kneel beside Kaepernick last season during the latter's demonstration to shine a light on police brutality and social injustice.
Kaepernick opted out of his deal with the 49ers in the spring and has remained unsigned with some believing he is being blackballed from the league. Kaepernick filed a grievance against the NFL in October accusing teams of collusion.
Image: Former USA Gymnastics' team physician Larry Nassar poses in this handout photo
Photograph: Department of Attorney General/Handout via Reuters