A summary of sports events and sports persons, who made news on Wednesday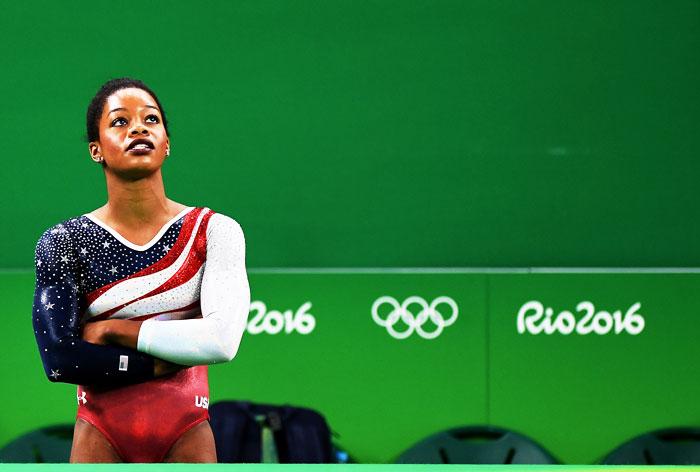 IMAGE: US gymnast Gabrielle Douglas. Photograph: Laurence Griffiths/Getty Images
Three-time Olympic gold medalilst Gabby Douglas said on Tuesday she was sexually abused by former USA Gymnastics team physician Larry Nassar, the latest in a list of female athletes to accuse the doctor of misconduct.
Douglas, who last week was criticised for placing some of the onus on women to avoid sexual harassment, apologized again for her remarks while adding that she too was abused by Nassar, who is in jail awaiting sentencing after pleading guilty to federal child pornography charges.
In an Instagram post on Tuesday addressing last week's comments that were viewed by some as victim shaming, Douglas wrote: "It would be like saying that because of the leotards we wore, it was our fault that we were abused by Larry Nassar.
"I didn't publicly share my experiences as well as many other things because for years we were conditioned to stay silent and honestly some things were extremely painful."
Jeff Raymond, a publicist for Douglas, confirmed in an email that the gymnast was in fact "confirming that she too was a victim of Larry Nassar."
Nassar's attorney, Matt Newburg, was not immediately available for comment but has previously said that due to a gag order imposed he had no comment.
Douglas is the third member of the 'Fierce Five' gymnastics team who won a team gold at the 2012 London Olympics to allege abuse by Nassar, joining Aly Raisman and McKayla Maroney.
It was after Raisman's allegations last week that Douglas wrote in a since-deleted post on Twitter that "it is our responsibility as women to dress modestly and be classy. Dressing in a provocative/sexual way entices the wrong crowd."
7 medals confirmed for India at women's Youth World Boxing
Indian boxers remained on course for their best ever performance at the AIBA Women's Youth World Championships, adding five more medals to the already assured two on the day of quarter-finals in Guwahati.
Jyoti Gulia (51kg), Shashi Chopra (57kg), Ankushita Boro (64kg), Nitu (48kg) and Sakshi Choudhary (54kg) entered the semi-finals after winning their respective quarter-final bouts on Wednesday.
They joined Neha Yadav (+81kg) and Anupama (81kg), who found themselves in the last-four stage due to the small size of the draws of their respective weight categories.
However, Niharika Gonella (75kg) and Astha Pahwa (69kg) bowed out of medal contention after going down to England's Georgia O'Connor and Turkey's Canser Oltu in their respective quarter-final bouts.
Bhambri advances but Ramkumar ousted from Bengaluru Open
Last week's winner Yuki Bhambri and young Sumit Nagal scored contrasting wins to progress to the quarter-finals of the Bengaluru Open but Ramkumar Ramanathan bowed out of the ATP Challenger event, in Mumbai.
Third seed Bhambri pipped Spain's Pedro Martinez 6-2, 7-6(0) while Nagal battled past Great Britain's Brydan Klein 6-4, 4-6, 7-5 in a marathon quarter-final clash.
In another match, Prajnesh defeated Australian Marc Polmans 6-2, 6-7 (1), 6-1.
However, last week's runner-up and fifth Ramkumar was ousted following a 7-6(3), 2-6, 4-6 defeat at the hands of Briton Jay Clarke.
Before taking on Polmans, Prajnesh had stunned British sixth seed Evan King 6-4, 6-4 in straight sets, avenging his loss to him at KPIT-MSLTA Challenger in Pune.
Prajnesh, pairing with Ramkumar Ramanathan, had also made a winning start in men's doubles event by defeating compatriots Suraj Prabodh and Nitin Kumar Sinha 6-2, 6-2 on day one of the tournament.
Grand Slams to reduce seeds to 16 from 32
In a major decision from the tennis chiefs, from 2019, the Grand Slam tournaments will be seeding only 16 players, instead of 32.
The decision taken in order to widen the sport's appeal, both the men's and women's draws will be featuring only 16 seeded players in Wimbledon and the Australian, French and US Opens, reports Sport24.
The four Grand Slams doubled the number of seeded players to 32 in June 2001, when the US Open, motivated by demands from television networks, asked for 32 in the hope that stars would still be in contention in the closing rounds.
With introduction of the 16 seeded players format again, the possibility of higher-ranked players facing off the last seeded players will increase.
Earlier, with 32 seeds, no player was forced to play someone ranked higher than No. 33 before the third round.
The Grand Slam Board meeting in London also decided to pay 50 percent of the first-round prize money to the injured who pulls out on site before their opening match.
The board also approved the Australian Open's request to implement a 25-second serve clock system in line with the scheme trialled at the 2017 US Open to speed up play.
A player who is unable to finish the first-round match or "performs below professional standards" (if they are not believed to be injured) will be scrutinized and fined as high as the entire prize money due a loser in that round.
Players who violate the pre-match timing will also be fined up to $20,000. The pre-match timing gives a player one minute to meet at the net after walking on the court followed by a five minute warm-up, then one minute to be ready to begin.
Tiger Woods 'pain free' and ready for return, says Day
Tiger Woods is waking up "pain free" for the first time in three years ahead of his return to golf at next week's Hero World Challenge, his fellow former world number one Jason Day said on Wednesday.
Woods, who has not played competitive golf for 10 months as he recovers from a fourth operation on his back in three years, will be making his comeback next week at his own tournament in Albany, Bahamas.
"I did talk to him and he did say it's the best he's ever felt in three years, he doesn't wake up with pain anymore, which is great," Day said on Wednesday ahead of the Australian Open.
"I totally understand where he's coming from because sometimes I wake up and it takes me about 10 minutes to get out of bed. For him to be in pain for three years is very frustrating."
The winner of five tournaments in 2013, 41-year-old Woods has played just 19 events since.
The 14-times major champion made a previous comeback at the Hero World Challenge last year after nearly 16 months on the sidelines, finishing 15th in a final field of 17.
He showed flashes of brilliance but struggled with accuracy.
Woods returned to the PGA Tour in January but missed the cut at the Farmers Insurance Open before shooting an opening-round 77 a week later at the European Tour's Dubai Desert Classic and withdrawing.
In April, he said he had undergone a fourth operation on his back in three years.