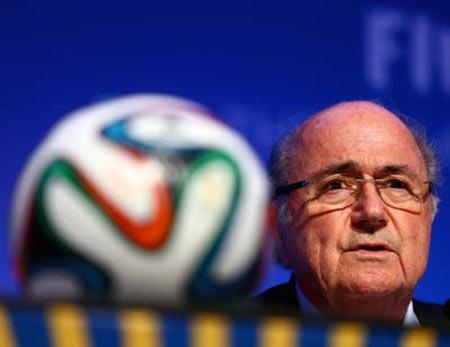 FIFA chief, Sepp Blatter. Photograph: Clive Mason/Getty Images
Opponents of FIFA President Sepp Blatter should run against him instead of merely criticising his decision to go for another term at the helm of world soccer's governing body, Borussia Dortmund CEO Hans-Joachim Watzke said on Friday.
Watzke also told Reuters in an interview it would be best not to hold the 2022 World Cup in the desert state of Qatar.
The 78-year-old Blatter, who heads FIFA since 1998, announced this week he would run for a fifth term despite mounting criticism over alleged corruption and FIFA's decision to award the 2022 World Cup to Qatar.
Blatter, who will be 79 when the votes are cast next June, confirmed his candidature for another term as president in a recorded interview at the Soccerex Global Convention in Manchester this week.
"We have to be a bit careful with criticism here," said Dortmund's Watzke.
"If there are people out there who consider a fifth term as too long or that he is too old for this position then they should run against Blatter."
European soccer boss Michel Platini was seen as a potential rival to Blatter but he opted not to run against him next year.
The only other declared candidate is the former FIFA deputy secretary general Jerome Champagne but might be cancelled now Blatter has declared his interest.
"Otherwise I would be a bit more reserved with criticism," said Watzke, who has not hidden his opposition to FIFA's decision to award the World Cup to Qatar.
FIFA is now considering staging the tournament in the winter due to the soaring summer temperatures in the Middle East with European clubs not relishing the prospect of a disrupted league competition that year.
"That (date) needs to be discussed internally but it is a problem," said the 55-year-old Watzke of the World Cup in Qatar.
"My opinion is that it would be best for all if the World Cup would not take place in Qatar."
US ease past Lithuania into basketball World Cup final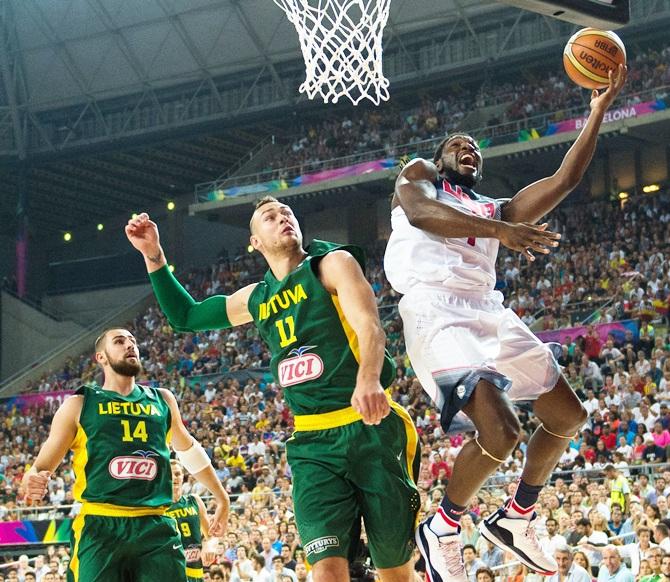 Kenneth Faried of the USA BasketballMen's National Team shoots against Lithuania's Donatas Motiejunas. Photograph: David Ramos/Getty Images
Holders United States showed no sign of missing their top players as they breezed into the basketball World Cup final with a commanding 96-68 win over Lithuania on Thursday.
The Americans, competing in Spain with a second-string team, will head confidently into Sunday's showdown against either European champions France or upstarts Serbia who clash in the other semi-final on Friday.
The champions had steamrollered into the last four and their athletic outfit, even without top NBA players such as LeBron James and Kevin Durant, enjoyed another largely effortless evening.
Portugal coach Bento pays the price of failure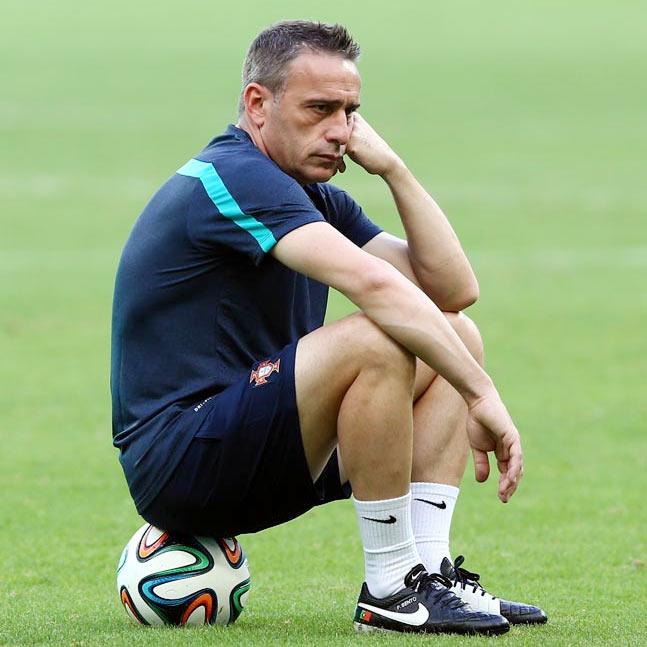 Portugal coach Paulo Bento. Photograph: Martin Rose/Getty Images
Paulo Bento paid for Portugal's disappointing World Cup and calamitous start to the Euro 2016 qualifying campaign on Thursday when his contract was terminated by the FPF.
A statement on the Portuguese football association's website confirmed the news most had been waiting for since Portugal suffered an embarrassing home defeat by Albania on Sunday.
Portugal fans booed the team after the 1-0 defeat by Albania, heaping pressure on the 45-year-old Bento.
The former Benfica player took over the national team in 2010, leading Portugal to the World Cup via playoff win against Sweden.
They began with a 4-0 hammering by Germany and although they drew with the United States and beat Ghana they failed to reach the knockout stages.