A summary of sports events and sports persons, who made news on Monday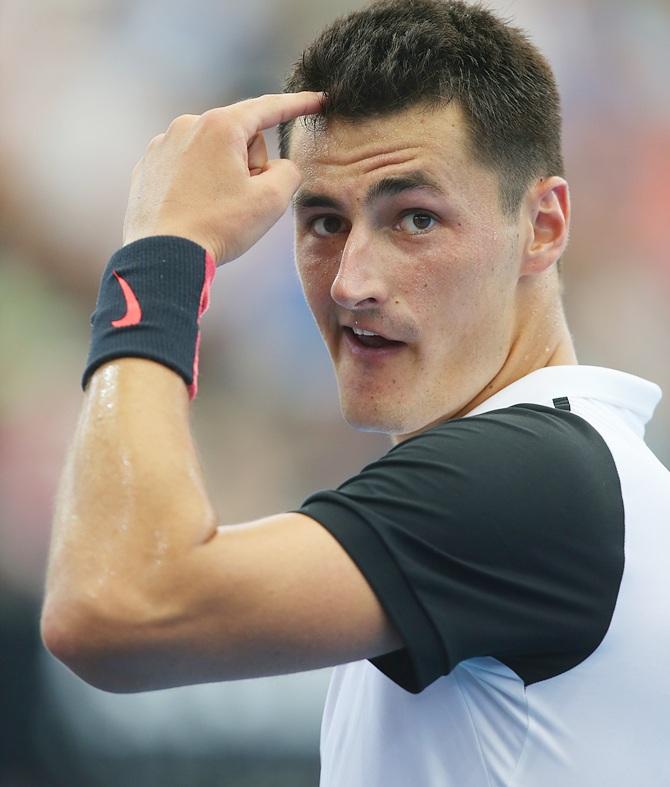 IMAGE: Bernard Tomic said he felt 'trapped' in the sport and had no regrets about his Wimbledon admission of being 'bored'. Photograph: Chris Hyde/Getty Images.
Under-fire Australian tennis player Bernard Tomic has boasted of his 'amazing' achievements in the sport and winning millions of dollars in prize money despite not really trying hard throughout his career.
In a candid interview with Australian broadcaster The Seven Network, the 24-year-old also said he felt 'trapped' in the sport and had no regrets about his Wimbledon admission of being 'bored' during his first round defeat, a comment which cost him a steep fine and his sponsorship with racket manufacturer Head.
"Throughout my career I've given 100 per cent. I've given also 30 per cent," Tomic said in the television interview from Miami.
"But if you balance it out, I think all my career's been around 50 percent and I haven't really tried and I've achieved all this," Tomic said.
"So it's just amazing what I've done.
"I never loved tennis. I am just going to go about it as a job.
"Wouldn't anyone want to take a job in a professional sport in one of the biggest sports in the world and only give 50, 60 per cent and earn millions of dollars? I think everybody would take that."
Once touted as a potential grand slam champion and a top 10 player, Tomic's ranking has slid to 73 from a career-high of 17 at the start of 2016.
After a listless 6-3, 6-4, 6-3 defeat by Germany's Mischa Zverev at Wimbledon, Tomic said he felt a "little bored" on the court and had suffered from a lack of motivation for two years.
The comments drew condemnation from former players and pundits across the globe.
"I don't regret what I said," he said.
"At the end of the day, it might sort of look bad ... and we Australians don't like that.
"I'm an honest person and say what I feel. Expressing how I feel, and showing emotion in a different way ... they don't like it," he said of his detractors.
Tomic has won over $5 million in prize money on the ATP circuit and owns properties around the world but said he felt 'confused' and a prisoner of the sport.
He said he would tell his 14-year-old self not to make a career of tennis, had he the choice.
"My position, I am trapped. I have to do it," he said.
"Not many things can make me super happy," Tomic added.
"If I ever get the chance to win a Grand Slam, I think only then will I feel the feeling of being really, really happy."
The interview sparked a predictable storm of criticism on social and mainstream media in Australia on Monday.
Tennis Australia's high performance chief Wally Masur said both Tomic and his tempestuous compatriot Nick Kyrgios needed to decide whether they wanted to play and then commit to being their best.
"He's battling. Bernie has been ultra-professional since he was 14 and it's almost like he's suffering some sort of burn-out at the moment," Masur told local media in Sydney on Monday.
"It's out of our jurisdiction to a large degree, but we have reached out ... He's just got to start to enjoy the sport again."
Steely Spieth banishes Masters demons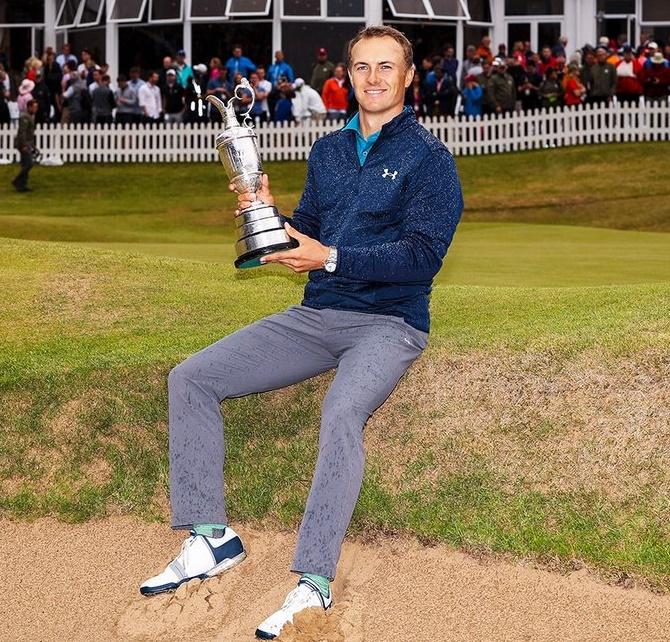 IMAGE: Jordan Spieth celebrates. Photograph: Twitter.
British Open champion Jordan Spieth was haunted by bad memories on Sunday as he faced up to the possibility of throwing away another big lead in the final round of a major.
The 23-year-old American frittered away a three-shot advantage and after he drove his ball into an unplayable lie at the 13th hole his playing partner Matt Kuchar edged ahead.
Spieth led last year's US Masters by five shots going into the back nine of the fourth round but found water twice in a quadruple-bogey at the 12th hole and lost the title to Danny Willett.
"Today took as much out of me as any day that I've ever played golf," Spieth told reporters. "I knew that another major win would be the one thing that would prove I'm capable of closing these majors out.
"I didn't really do much wrong, just hit a couple of bad swings. And all of a sudden it was in my own head 'How could I not close out a five-stroke lead with nine to play?'"
After lengthy discussions with rules officials, Spieth struck his next shot at the 13th from a practice area but, unlike in his Masters meltdown, the incident seemed to inspire him.
He went birdie, eagle, birdie, birdie to move two shots ahead and a solid par at the last sealed a three-stroke victory and his third major title.
"You just don't know really what your mind is going to do to you," Spieth said.
"You can control it to an extent but certain situations are going to bring more tension and you have to kind of channel that the right way."
Spieth became the second player after 18-times major champion Jack Nicklaus to win three legs of the career grand slam before the age of 24 and he is the youngest British Open champion since Spain's Seve Ballesteros in 1979.
"It's incredible," Spieth said. "This is as much of a high as I've ever experienced in my golfing life. And I'm going to enjoy it more than I've enjoyed anything that I've accomplished in the past."
He won the US Masters and US Open in 2015 and if he lifts the U.S. PGA Championship trophy will become the sixth man to claim all four majors, joining an illustrious group of Gene Sarazen, Ben Hogan, Nicklaus, Gary Player and Tiger Woods.
China's Sun, American Ledecky light up world championships
China's Sun Yang destroyed the field to win a hat-trick of men's 400 metres freestyle titles while American Katie Ledecky reached more milestones in her glittering career as the swimming got underway at the world aquatics championships on Sunday.
Sun posted a world-leading time of three minutes 41.38 seconds as he eased to victory by more than a body length over bitter Australian rival Mack Horton.
Horton beat Sun to the Olympic title last year in Rio de Janeiro, with the Australian calling the Chinese a "drug cheat" before the Games in reference to Sun having served a three-month ban in 2014 after testing positive for a banned stimulant.
Sun said at the time that the stimulant was in medication to treat a heart issue and did not enhance his performance.
In a race billed as 'War on the Water, Part 11', the rivalry in the pool failed to materialise on Sunday as Sun become only the second swimmer to win a third 400 freestyle world title after Ian Thorpe of Australia 14 years ago.
The 25-year-old Sun, wearing a distinctive pink swimsuit, looked in ominous form after taking the lead at the 150m mark and, after garnering his eighth world title, he glared at Horton who was racing in lane two after a sluggish morning heat.
The Australian had to settle for silver, 2.47 seconds behind, with Gabrielle Detti of Italy taking bronze.
"I don't really have a goal in mind for the week," Sun told reporters on the prospect of reaching 10 golds at these championships.
"I'm just going take it race by race and do my best."
"I'm in a lot of pain, training a lot for the last year. I'm getting old, a couple of injuries now and then and always wrapped up in tape after a competition. I'll focus on what is coming this week and get some rest."
Sun's time was all the remarkable given his ageing body.
Horton, who refused to be drawn fully into another post-race controversy, said: "I think my time stings a little bit more."
Thirty minutes later, Ledecky duly bagged the 400m freestyle in another one-woman show of speed and agility.
The 20-year-old college swimmer's championship record time of 3:58.34 secured a trio of world titles as she became the first woman to do so in any discipline.
Harikrishna finishes second in Rapid Chess
Indian Grandmaster Pentala Harikrishna finished runner-up in the Rapid Chess Championship at the Biel International Chess Festival in Switzerland.
The eight-player closed tournament saw the likes of former World Champion Anatoly Karpov, Women's World Champion Hou Yifan, top seed David Navara, Alexander Morozevich, Yannick Pelletier, Rafael Vaganian and Vlastimil Hort, besides Harikrishna competing for top honours at the prestigious event.
Harikrishna, seeded second, got the better off Vlastimil Hort in the first round before tactfully drawing the second to breeze into the semifinals.
The 31-year-old from Guntur was up against a local lad Pelletier in the semi-finals.
The Indian comfortably defeated the Swiss in both the games to set up a summit clash with top seeded Czech Grandmaster Navara.
Harikrishna had a great chance to go the distance, but he could not sustain the momentum with Navara clinching the opener in 37 moves.
The Indian was looking for redemption in the second encounter and take the tie to the third and final Armageddon game. However, the Czech Grandmaster did well to hold on to his fort to gradually lead the game towards neutral territory after 46 moves and eventually take the crown.
The World No. 20 Indian, will now start his campaign in the Grandmaster Tournament, which will be played at Classic time control and will have a playing field of 10 very competitive Grandmasters.
He will take on Rafael Vaganian from Armenia later tonight for his first-round encounter in the single round-robin tournament.
India finish 7th in Youth CWG with 11 medals
India finished a creditable seventh in the 6th Commonwealth Youth Games here after winning 11 medals, including four gold at Nassau.
India won four gold, one silver and six bronze medals in the six-day multi-sporting event which concluded on Sunday.
On the opening day on July 18, India got off to a flying start with the judokas grabbing four medals. Soni picked up India's first gold medal by winning the 73kg category event, beating Australia's Uros Nikolic.
Ashish followed with a bronze medal in the 60kg category, with a win over England's Harry Zane-Prosser.
Among the girls, Antim Yadav and Rebina Devi Chanam won two more bronze medals in the 48kg and 57kg categories respectively.
In boxing, India bagged four medals with World Youth champion Sachin Siwach clinching the gold in lightflyweight (49kg) category after defeating James Nathan Probert of Wales. Muhammed Etash Khan then added a bronze in boys bantamweight (56kg) category.
Among the girl boxers, Jony clinched a silver medal in lightweight (60kg) category after losing 2-3 to Australian Ella Jade Boot in the finals.
Ekta took a bronze medal in the flyweight (51kg) after losing to Chloe Louise Watson 1-4.
In tennis, Zeel Desai and Siddhant Banthia claimed three medals across all three categories in singles and mixed doubles.
Desai won her girls singles final against Eliza Omirou of Cyprus 6-3, 7-6, while Banthia clinched the bronze with a win over Cypriot Eleftherios Neos 6-2, 6-0.
The duo of Banthia and Desai took India to a 6-4, 6-3 victory in the mixed doubles finals against Neos and Omirou of Cyprus.
The Indian contingent had comprised 28 participants across six disciplines -- athletics, cycling, swimming, judo, boxing and tennis.
Indian cadet wrestling team wins 23 medals
Indian wrestlers finished their campaign at the recently-concluded Cadet Asian Wrestling Championship in Bangkok on a high after clinching 23 medals, including five gold.
The championship, which took place from July 20 to 23, saw Indian wrestlers -- two from men's freestyle, two from greco-roman and one from women's wrestling -- bagging yellow
metals in their respective weight categories.
Apart from the five gold medals, the Indians won two silver and 16 bronze during the competition.
Results:
Gold: Akash Dahiya (58kg/FS), Praveen Malik (76kg/FS), Arshad (42kg/GR), Mohit (85kg/GR), Tina (65kg/WW).
Silver: Naveen (54kg/FS), Simran (40kg/WW).
Bronze: Praveen (46kg/FS), Rohit (63kg/FS), Vishal (69kg/FS), Sandeep (85kg/FS), Srikant (50kg/GR), Bapu Kohlekar (54kg/GR), Ashu (69kg/GR), Sanjit (76kg/GR), Deepanshu (100kg/GR), Neha (38kg/WW), Sanju (43kg/WW), Nisha (46kg/WW), Anju (49kg/WW), Sonam (56kg/WW), Anshu (60kg/WW), Karuna (70kg/WW).
Aditi registers her best LPGA finish at Tied-eighth
India's Aditi Ashok registered her first top-10 place on the LPGA Tour as she finished a fine tied eighth at the Marathon Classic, in Sylvania, USA.
The 19-year-old Aditi, playing her rookie season, bettered her previous best of tied 25th achieved at NW Arkansas Championships last month.
Aditi, who began the third day at tied third and was in contention for her maiden LPGA title was unable to find as many fairways as she did on the first three days.
Finding only 50 per cent of the fairways, she also needed 30 putts, the most for her during the entire week.
After rounds of 65-68-68 she finished the week with an even par 71 and a total of 12-under 272. Her tied eighth place fetched her a cheque of US$33,745 her biggest earning on LPGA this season.
Aditi birdied third and ninth holes and bogeyed the first and 12th.
The two-time winner on Ladies European Tour with successes at Hero Women's Indian Open and Qatar Ladies, Aditi is now 69th on the LPGA rankings and no 93 in the world.
Joshi, Dabke win titles at Dutch junior open squash
India's Neel Joshi and Ananya Dabke won the under-15 boys and girls titles in the recently-concluded Dutch Junior Open squash tournament at Amsterdam.
Joshi, the top-seed in his event, defeated England's Alhassana Khalil 9-11, 11-4, 11-5, 11-6 in the final, a Squash Rackets Federation of India (SRFI) press release stated.
Dabke got the better of second seeded Serena Daniel of USA 11-7, 11-4, 12-10 to clinch the title.
The Mumbai girl had earlier beaten the top seed Chukwu Chinyere of Hungary in her semi-final match.
Vikas Mehra (Under-19) and Arnaav Sareen (U-15) secured third place finishes, while Rutva Samant (U-13), Kanhav Nanavati (U-15) were placed fourth in their respective categories.
Konsam wins gold in Asian Youth & Junior Weightlifting c'ship
Indian weightlifter Konsam Ormila Devi has bagged a gold medal at the Asian Youth and Junior Weightlifting Championships in Kathmandu, Nepal.
The weightlifter from Manipur lifted 56kg in snatch and 70kg in clean & jerk for a total effort of 126kg in the 44kg weight category to finish on the top of the podium.
Image: Pentala Harikrishna
Photograph courtesy: FIDE Grand Prix 2017 Geneva