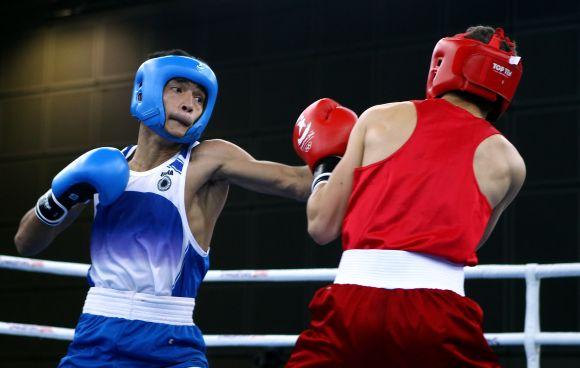 Shiva Thapa inched closer to adding a record fourth medal by entering the 60kg pre-quarter-finals while six others Indians advanced to the last-eight at the Asian Boxing Championships in Bangkok on Saturday.
Thapa secured a thrilling 4-1 win over Korea's Kim Wonho and is now a couple of wins away from a medal to add to the gold, bronze and silver he won in 2013, 2015 and 2017 editions respectively.
The Assam pugilist will next take on Kyrgyzstan's Seitbek Uulu for a place in the quarter-finals on Sunday.
2018 World Championships bronze winner Lovlina Borgohain began her medal quest in an impressive fashion, outpunching Vietnam's Tran Thi Linh 5-0 to advance to the quarter-finals.
Up next on Monday for the 2019 Strandja Cup bronze medallist is a stiff challenge in the form of Chinese Taipei's Chen Nien-Chin, to whom the Indian lost to in the semi-finals of the World Championships in New Delhi last year.
National champion and Makran Cup gold medallist Deepak continued his good form at this elite event with yet another commanding 5-0 win over Sri Lanka's Mutunaka Pedi Gedara.
Winner of two King's Cup medals in Thailand, Rohit Tokas (64kg) displayed his speed and alertness in his 5-0 thrashing of Afghanistan's Nooristani Mohammad Khaibar to enter the last-eight.
Kavinder Singh Bisht (56kg) brought his gold medal-winning form from the GeeBee boxing tournament to open with a commanding 5-0 victory over Japan's Subaru Murata.
In contrast, Ashish Kumar (75kg) had to dig deep to beat China's Tanglatihan Tuohetaerbieke in a 3-2 split verdict in an absorbing pre-quarter-final contest.
21-year-old Manisha Moun (54kg) of Haryana made a promising start to her campaign with a unanimous 5-0 win over Vietnam's Do Nha Uyen to enter the quarterfinals.
The only loss of the day for the Indian contingent was in the women's 48kg where debutant Nitu succumbed to a 1-4 defeat to Taipei's Pin Meng-Chieh.
On Sunday, all eyes will be on Asian Games gold medallist Amit Panghal (52kg) as he begins his challenge against Taipei's Tu Po-Wei.
Amit, likely to face reigning Olympic champion Hasanboy Dusmatov of Uzbekistan in the quarter-finals, has been oozing confidence as he began the 2019 season with a gold medal at the Strandja Cup boxing tournament.
Ashish (69 kg) and Brijesh Yadav (81kg) too will be in action on Sunday.
In the women's event, four-time Asian Championships gold medallist Sarita Devi (60kg) will start her hunt for a sixth medal from this tournament when she enters the ring against Korea's Gwon Sujin.
Former world junior champion Nikhat Zareen (51kg) will also seek her second international medal of the year after a gold at the Strandja Cup as she takes on Srey Pov Nao of Cambodia.
Indian archers forced to skip World Cup after flight delay
In a major embarrassment for Indian archery, the senior recurve and compound teams could not board the flight to Medellin in Colombia and were forced to pull out of the season-opening stage one of the World Cup beginning on Monday.
The 23-member contingent was slated to board Royal Dutch Airlines KLM 872 from Delhi to Amsterdam early Saturday morning but due to "operational issues" the flight was delayed by two hours 53 minutes, shattering their onward journey plan to Medellin.
According to well-placed sources, there was delay in the sanction for the trip from the Sports Authority of India as the flight booking was done late and close to the event schedule.
"Pakistan has opened up airspace but all the west-bound flights are still taking longer. They (ministry) could have planned accordingly and made the bookings well in advance," the source said on condition of anonymity.
As per the itinerary accessed by PTI, the contingent had a one hour and 25 minutes lay-off at the Amsterdam airport for their onward journey to Bogota and then finally to Medellin where they were slated to reach at 8pm local time on Saturday.
According to the WhatsApp Customer Care of KLM Royal Dutch Airlines, the delay was caused due to "operation issues". The Indian team had no alternate plans except to skip the event.
"There were no alternate flights available for such a big contingent. We tried different options but it was not possible to reach before Monday. Now we have to return to our camp in Pune," a dejected women's coach Purnima Mahato told PTI.
The miss means Deepika Kumari will not be able to defend her individual title that she had won at the stage one of the World Cup in 2018 which was held in Salt Lake City.
The newly-elected Archery Association of India had done the selection well in advance, announcing the A and B teams in March on the sidelines of the senior Nationals in Cuttack.
SAI's executive director (Teams) Radhica Sreeman, who was the in-charge of the travel plan and logistics, did not respond when contacted.
The president of the Archery Association of India BVP Rao also could not be reached.
Former Olympic champion Kiprop gets four-year doping ban
Kenya's former Olympic 1500 metres champion Asbel Kiprop has been handed a four-year ban for doping, the Athletics Integrity Unit (AIU) said on Saturday.
The 29-year-old, who also won three world championship golds, tested positive for the banned blood booster erythropoietin (EPO) in November 2017.
Kiprop had argued his urine sample, which was taken out of competition, could have been tampered with by his testers, who had tipped him off about their visit and taken a payment from him.
But the AIU, an independent body managing all doping-related matters for athletics, said they were satisfied that there had been no interference and an IAAF Disciplinary Tribunal on Saturday suspended him for four years effective February 2018.
He had been tentatively suspended by the AIU in May last year.
"The (AIU) panel is aware that its order will interrupt, and may even terminate, the athlete's sporting career and cast a shadow over his impressive competitive record," it said in a statement.
"But in its opinion the laboratory results viewed in the context of the evidential record and the regulatory framework unit admit of no other conclusion than the case against the athlete is convincingly made out."
Kiprop can appeal his case to the Court of Arbitration for Sport (CAS). He continues to maintain his innocence.
"There is no justice in the world. Not every prisoner in jail is guilty," he told Kenyan media on Saturday. "I will consult my lawyer to see if I will appeal at CAS but no matter the outcome I will be back stronger."
Kiprop was awarded the 1500m gold medal from the 2008 Summer Olympics in Beijing after original winner Rashid Ramzi tested positive for doping. Kiprop won his three world titles in 2011, 2013 and 2015.