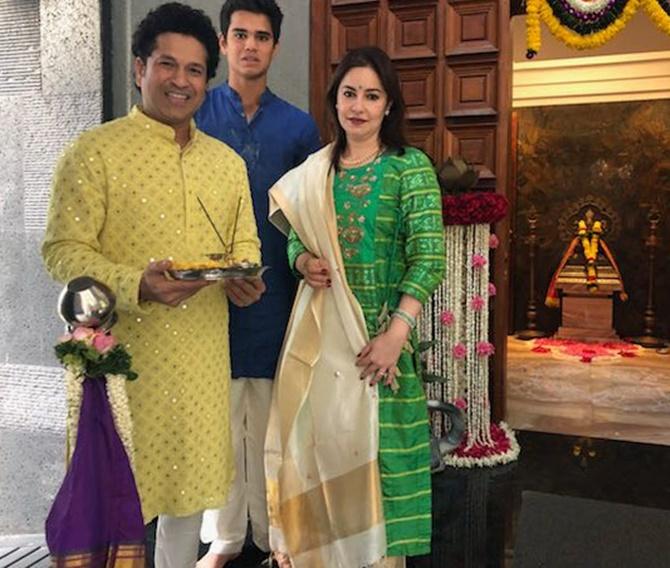 IMAGE: Sachin Tendulkar urges transport minister Nitin Gadkari to act against fake helmet makers. Photograph: Sachin Tendulkar/Twitter
Cricket icon and Rajya Sabha MP Sachin Tendulkar has sought action against manufacturers of low-quality helmets, continuing his campaign for safe two-wheeler riding.
In a letter to transport minister Nitin Gadkari, Tendulkar said given the high rate of accidents involving two-wheeler drivers, it is important that safety equipment for them is of highest quality.
"I am writing to you to request your ministry to consider action against helmet manufacturers using low grade material and selling it with a fake ISI mark. As sportspersons, we understand the importance of using original high-quality safety equipment when we go to play on the field," Tendulkar stated in his letter.
"The same original high-quality standards need to be maintained when it comes to helmets that will be used by two-wheeler riders in India," he added.
An active campaigner of road safety, Tendulkar has been routinely seen urging people to use helmets, during traffic signal halts, in social media posts.
Citing media reports, Tendulkar said that over 70 per cent of bike riders in India end up buying fake helmets.
"This is an absolutely alarming situation considering two-wheelers accounted for over 30 per cent of road accidents, the highest among all kind of accidents in 2016. The availability of fake helmets is a danger to two-wheeler riders considering that wearing an appropriate helmet improves chances of survival of bikers by 42 per cent," Tendulkar said.
Reportedly, the government is contemplating penalising non-ISI or fake ISI marked helmet manufacturers but nothing concrete has been done till now.
"I understand that the ministry has been actively working on public safety measures. I would strongly urge your ministry to take strong action against manufacturers of helmets that are putting lives of people at risk by using fake ISI marks on low grade, low quality helmets that will not protect head injuries in an accident," the legendary batsman said.
Tendulkar also called for lowering prices of good quality helmets so that riders do not seek cheaper options. The 44-year-old said large-scale awareness drives should be launched to educate people about the importance of using quality safety gear.
"I look forward to your prompt action and extend my full support to your office to promote safe two-wheeler riding among our citizens," he said.
Advani continues winning streak on Day 2 of Asian Billiards C'ship
Multiple-time world champion Pankaj Advani won his second round robin match 4-1 against Myanmar's Pauk Sa at the 17th Asian Billiards Championship in Yangon.
After scoring a 102 break in the first frame, Advani's local opponent drew parity with the help of an 84 break. The Indian was kept under pressure by his unseeded rival and had to dig deep to close out the match with breaks of 98 and 80.
In the women's Asian snooker championship, Vidya Pillai won her second match in identical fashion to the first with a 2-1 scoreline versus Iranian Akram Mohammadi.
Amee Kamani also won defeating Iran's Parisa Darvishvand 2-0. Varshaa Sanjeev won her first match of the tournament 2-0 against Indonesian Riny Astuty Nasution.
In the under-21 category, Shoaib Khan of India beat Ching Chiu Poon of Hong Kong 4-2 in the snooker league match.
Delhi boy Prithu earns his 1st GM norm at 13
Thirteen-year-old Delhi schoolboy Prithu Gupta has bagged his maiden GM norm recently during the Gibraltar Masters tournament, where he also became the International Master.
Prithu achieved his norm with two rounds to spare, which took his ELO Rating above 2400 oints (2450) necessary for the IM title. Earlier, Prithu had logged first IM norm in June, 2017 at the Silverlake Open in Serbia and second norm at the Golden Prague chess festival in July.
Having started playing chess only four years back, Prithu has had a good record, having drawn with world No 23, GM Le QuangLiem (rated 2737 from Vietnam) and GM ItturizagaBonelli Eduardo (rated 2650 from Venezuela). His victims also include French GM Fabien Libiszewski, and a hat-trick of draws against GMs Anna Muzychuk (Ukraine), Svane Rasmus (Germany) and Perez Ponsa Federico (Argentina).
Prithu is an eighth standard student of Modern School (Vasant Vihar) and the Delhi Chess Association felicitated him for his recent achievements. All India Chess Federation president Bharat Singh Chouhan said that the Delhi lad has it in him to make it big at the international level.