A summary of sports events and persons who made news on Friday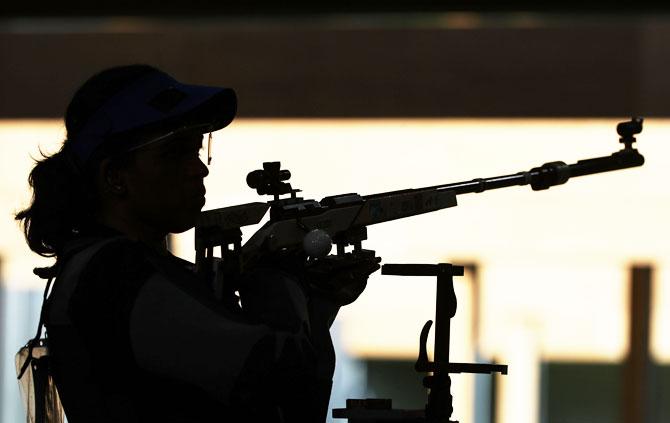 Seasoned Indian shooter Tejaswini Sawant missed out on qualifying for the women's 50m rifle 3 positions final by a point as China and Russia continued their dominance in the ISSF World Cup in Changwon, Korea, on Friday.
A reigning Commonwealth Games champion, Tejaswini finished 12th, after shooting 1167 in qualification.
Anna Ilana of Ukraine, who grabbed the eighth and final qualifying spot with a score of 1168, had 57 inner 10s against her name to Tejaswini's 61.
China won the gold in the event to go top of the medals tally with a total of four yellow metals.
China and Russia continued to dominate the competition, accounting for seven of the 13 gold medals won so far with the remaining six being distributed equally among hosts Korea, Australia, Italy, Slovakia, Finland and Belarus.
Of the 39 total medals, Russia and China have won a total of 12 among them and will look to increase that tally with two finals left to play over the two remaining days of competition.
India remains in 10th place with Shahzar Rizvi winning a silver in the men's 10m air pistol earlier in the competition.
Sumit Sangwan, 11 other Indians in Belgrade boxing semis
Asian silver-winner Sumit Sangwan (91kg) was one among 12 Indian boxers who were assured of medals at the 56th Belgrade International Tournament in Serbia after getting contrasting entries into the semi-finals.
Sumit, who is making a comeback after recovering from a wrist injury, brushed aside local favourite Kosta Bozovic in his quarterfinal bout last night. He will be up against Greece's Vagka Nanitzanian in the semi-final.
Sumit is an Olympian and a bronze-medallist from the India Open in January, where he had to pull out of the semi-final owing to his injured wrist.
Also advancing to the semi-final was former junior world champion Nikhat Zareen (51kg). Zareen, a two-time national medallist, made the semifinals after beating Russia's Liliya Aetbaeva.
The small size of the draws in the tournament that most of the Indians in fray either had to win just one bout or get a bye to make the semifinal stage.
Among those who won their quarterfinal bouts were Manipur's Laldinmawia, who defeated German's Hamza Touba 2-1.
Pawan Kumar (69kg) made the semis after sailing past Greece's Athanasios Glynos 3-0.
In the light heavyweight (81kg) category, Neelkamal Singh defeated Turkey's Bayram Malkan 3-0.
In the super heavyweight (+91kg) category, Naender got the better of Turkey's Eren Uzun in in the quarterfinals. Narendre had recently claimed an impressive win during Indias World Series of Boxing clash against Russia.
Among the women, Priyanka Thakur (60kg) got a walkover from local hope Bojana Ranic, paving her way into the semis.
Nearly 1,600 doping rules violations in 2016: WADA
There were nearly 1,600 anti-doping rules violations (ADRV) in 2016 involving athletes and support staff from 117 nationalities across 112 sports with athletics top of the list, the World Anti-Doping Agency (WADA) said in a report released on Thursday.
WADA said a total of 229,514 samples were collected in 2016 and analysed by WADA-accredited laboratories resulting in 1,595 ADRVs.
Of those, 1,326 were derived from adverse analytical findings and the remainder were from investigations and evidence-based intelligence into 248 violations committed by athletes and 21 by support staff.
"The 2016 ADRVs report makes for particularly interesting reading in combination with WADA's 2016 Anti-Doping testing figures report that was published last year," WADA President Craig Reedie said in a statement.
"We are continuing to see the impact of intelligence-based testing, an area of increasing focus for the agency as we strengthen our investigations and intelligence-gathering capacity."
The vast major of adverse analytical findings (79 percent) were produced by male athletes (1,046) and were the results of results collected during in competition testing (78 percent).
Athletics topped the list of sports with the highest number of ADRVs on 205 followed by bodybuilding (183), cycling (165), weightlifting (116) and soccer (79).
Rounding out the top nine were powerlifting (70), wrestling (64), rugby union (56), aquatics (35) and boxing 35).
Italy topped the list of countries with the most ADRVs on 147 followed by France (86), the United States (76) and Australia (75).
Russia, whose participation at the 2016 Rio Olympics and 2018 Pyeongchang Winter Games was restricted following an investigation which uncovered evidence of widespread state-sponsored doping, was tied for sixth with India on 69 ADRVs.