A summary of sports events and persons who made news on Wednesday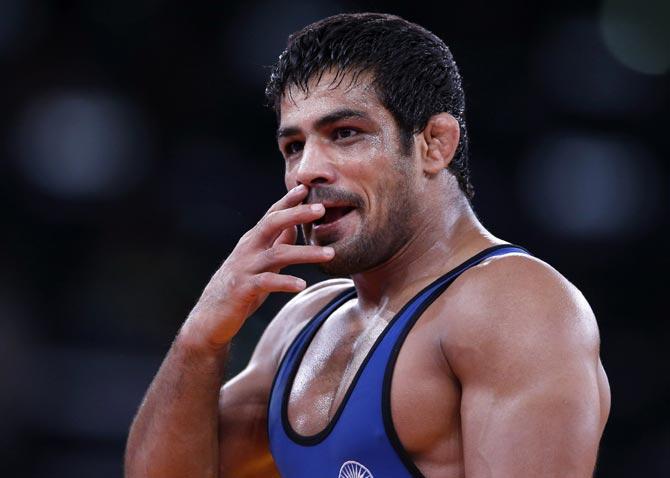 Celebrated Indian wrestler Sushil Kumar lost his first bout in more than four years while competing at Tbilisi Grand Prix in Georgia even as his compatriot Bajrang Punia progressed to the semifinals.
Sushil lost 4-8 to Polish grappler Andrzej Piotr Sokalski in the 74 kg category. It's not an ideal result for Sushil in the build up to the Asian Games. The WFI had exempted him from trials, held last month.
The 35-year-old was handed an exemption, give his past result and form as he had won his third CWG gold in Gold Coast.
Before Wednesday defeat, Sushil had lost a bout way back in May 2014 in Sassari (Italy) where he lost to Luca Lampis of France.
Sushil was re-admitted to the Target Olympic Podium Scheme (TOPS) after a gap of two years last month.
In the 65kg freestyle, Bajrang beat Iran's Yones Aliakbar Emamichoghaei 3-1 to enter the semifinals. He earlier defeated Ukraine's Gor Ogannesyan to enter the quarter-finals.
Deepak Punia outwitted Georgy Rubaev of Moldova in the round of 1/8 but lost 4-6 to local hope Saba Chikhradze in the 86kg quarterfinals.
Meanwhile, in the cadet World Championships at Zagreb, Croatia, Gaurav Baliyan assured himself of a silver medal in the 71lg category after setting up the summit clash with Bagrati Gagnidze of Georgia
Aman (51kg) defeated Adem Burak of Turkey to won bronze medal. He had earlier beaten Ibrat Khabibullaev of Uzbekistan 8-6 in the repechage.
Ravinder (60kg) defeated Albania's Emanuel Cekrezi 10-0 in repechage to set up a clash with Sabir Jafarov of Azerbaijan for bronze medal.
Among other Indians, Sukhdev (45kg) lost 4-6 to Shakhbos Komilov of Uzbekistan, Vipul Suresh Thorat (48kg) suffered a 0-10 thrashing from Mahdi Mehrdad Veisi of Iran, Vishal Sahani (55kg) went down 4-6 to Norik Harutyunyan of Armenia.
Shot putter Inderjeet Singh gets 4-year ban for dope violation
The anti-doping disciplinary panel of NADA today handed a four-year suspension to shot putter Inderjeet Singh for failing a dope test prior to the 2016 Rio Olympic Games.
The panel though admitted that NADA and NDTL did not follow the standard WADA norms while collecting the sample, as claimed by Inderjeet, but concluded that the athlete could not prove that he didn't violate anti-doping norms.
Inderjeet, who was one of the first athletes to qualify for the Rio Games, was provisionally suspended on July 26, 2016 after both his urine samples showed 'Adverse Analytical Finding' (AAF) for banned performance-enhancing substances -- androsterone and etiocholanolone.
The three-member panel concluded that he has violated article 2.1 of anti-doping code. A copy of the verdict is in possession of PTI.
"We uphold the violation of article 2.1, resulting in ineligibility of the athlete for a period of four years, commencing from the date of his provisional suspension," the panel ruled.
The panel in their verdict observed: "Article 2.1 states 'It is the athlete's responsibility that no prohibited substance enters his body. The fact that athlete has earlier tested negative for banned substances is not a valid consideration for evaluating any AAF in current list. His intent, negligence or otherwise is secondary as it is for the athletes to disprove the findings is an AAF."
"In the present case AAF has been confirmed in both 1st and 2nd sample in each of Sample 'A' and Sample 'B'. If the sample analysis is conducted by a WADA Accreditated Laboratory (National Dope Testing Laboratory (NDTL) in this case), unless the athlete disproves the findings, the presumption is against the athlete. The athlete (Inderjeet) has endeavoured to contest the AAF by highlighting departures from established international standard of testing," the panel wrote in its report.
They however admitted that NADA and NDTL did a shoddy job in sample collection.
"We unfortunately conclude that there were departures in the analysis and collection of samples. We note neither NADA nor NDTL have owned up to the departures and forcefully contested these allegations. Without going into specifics of each deviation, we do not agree with submission of NADA. The procedure clearly deviated from WADA guidelines," the panel stated urging NADA to relook and upgrade their sample collection and analysis process.
However NADA and NDTL's lacklustre approach cannot absolve Inderjeet from his wrongdoing, they said.
"The issue remains whether the deviations had vitiated the entire testing procedure and should culminate into annulling the test results. We are not in agreement with this proposition. Despite their best efforts, the athlete's experts have not been able to prove that these evident departures from International Standards have actually resulted in AAF," it concluded.
Sports Authority of India will now be Sports India: Rathore
More than 34 years after coming into existence, the Sports Authority of India (SAI) is set to be renamed as Sports India, Union Sports Minister Rajyavardhan Singh Rathore announced on Wednesday after the sports body's governing body meeting in New Delhi.
"Sports Authority of India is being renamed. The word authority is being removed. It will be known as Sports India now," Rathore said after the meeting even as the press release issued by SAI had no mention of the change in name being approved.
The sports body, established in 1984, organised its 50th GB meeting, where it was also decided that coaches will be given a say in decision making and the food expenses of athletes will also be increased.
The governing body also advised SAI to bring in reputed companies in the hospitality sector to manage the residential and food facilities under the SAI Residential Scheme.
"It was emphasised that the highest quality of food and nutrition which is appropriate to the development of athletes at various levels should be ensured and there should be zero compromise on this issue," said the release.
Recently, the Indian men's hockey coach Harendra Singh had highlighted the shockingly low level of hygiene at SAI's Bengaluru centre, where the quality of food and standard of living came under the scanner.
SAI will explore options for entering into public private partnership with appropriate agencies, including global agencies to develop the stadia, utilize the extra land which is currently not being used by the athletes, so that new facilities are created for sports which are accessible to the general public.
In order to develop infrastructure of global standards at the best possible price, SAI will develop its procurement system keeping in mind the rules of the GFR, so that higher standards of infrastructure are developed and maintained.
The governing body decided that the engineering wing in SAI would be strengthened to undertake this activity.
The governing body also advised the SAI to encourage entry of professionals at various levels to manage critical activities for better accountability and efficient functioning.
The Secretariat for the Target Olympic Podium Scheme (TOPS) was also approved to provide support to the Mission Olympic Cell.