A summary of sports events and sports persons, who made news on Wednesday.
Close on the heels of star boxer MC Mary Kom's resignation, double Olympic medallist Sushil Kumar has also quit his role as a National Sports Observer for wrestling.
The 34-year-old wrestler was among 12 national observers appointed by the then Sports Minister Vijay Goel in March.
"Wrestler Shri Sushil Kumar and Boxer Ms Mary C Kom have submitted their resignation as National Sports Observers," the sports ministry said in a release on Wednesday.
"As both the top athletes are still active in their respective fields, wrestling (Men) and boxing (Women), they felt that this could be seen as conflict of interest."
"Keeping in mind the best of the sporting traditions the athletes submitted their resignation. Ministry of Youth Affairs and Sports has accepted their resignations as National Sports observers."
Sports Minister Rajyavardhan Rathore thanked Sushil and Mary Kom for their services and said the government will continue to benefit from their rich insights and expertise.

Jamshedpur beat Dynamos 1-0 for maiden win in ISL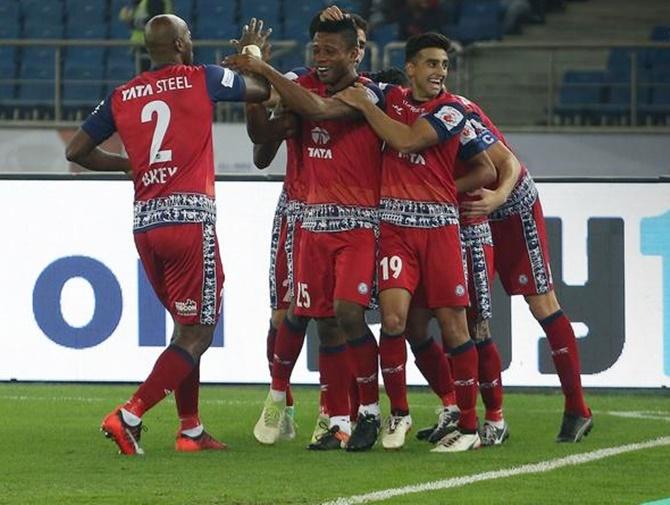 IMAGE: Izu Azuka, centre, celebrates with teammates. Photograph: ISL Media
Jamshedpur FC notched up their maiden win of the Indian Super League with a solitary goal victory over struggling Delhi Dynamos in New Delhi.
Nigerian forward Izu Azuka struck in the 60th minute to score ISL newcomers Jamshedpur's first goal and hand his side the first win after three goal-less draws on the trot.
For the Dynamos, it was their third loss on the trot after beginning the season with a 3-2 win over FC Pune City in an away match. This was their second consecutive loss at home after their 0-2 defeat at the hands of NorthEast United on December 2.
Despite concerns of poor quality of air in the national capital prior to Wednesday's match, it was one of the better days in terms of pollution and the focus was on football. But the 8000-odd crowd who turned up at the Jawaharlal Nehru Stadium must have returned disappointed at the show of the home side.

Aditi opens with 1-under 71, lies 29th in Dubai
Aditi Ashok began her quest for a Desert Double as she opened with a modest one-under 71 in the opening round of the Omega Dubai Ladies Classic at Emirates Golf Club.
Aditi, who won the Fatima Bint Mubarak Golf in Abu Dhabi earlier this year, had three birdies against one bogey in the round and is placed T-29th.
Meanwhile, Thai Supamas Sangchan rode on her short game as she fired a bogey-free five-under-par 67 to seize the early lead.
Starting from the 10th tee, the 21-year-old Bangkok native came to life on the front nine after making the turn at one-under. She reeled off four birdies in six holes to leave a strong field trailing in her wake.

HIL to make grand return in Nov-Dec 2019: Hockey India CEO
Hockey India League (HIL) will make a grand return in 2019 and will serve as the season-ending event to a busy international calendar, Hockey India CEO Elena Norman confirmed.
There had been doubts over the league's future after the organisers scrapped the 2018 edition.
While postponing, the organisers had claimed that the move was needed to review the five seasons of the league.
Putting to rest doubts over its future, the HI CEO said HIL will come back stronger in November-December 2019. Exact dates of the event were yet to be finalised.