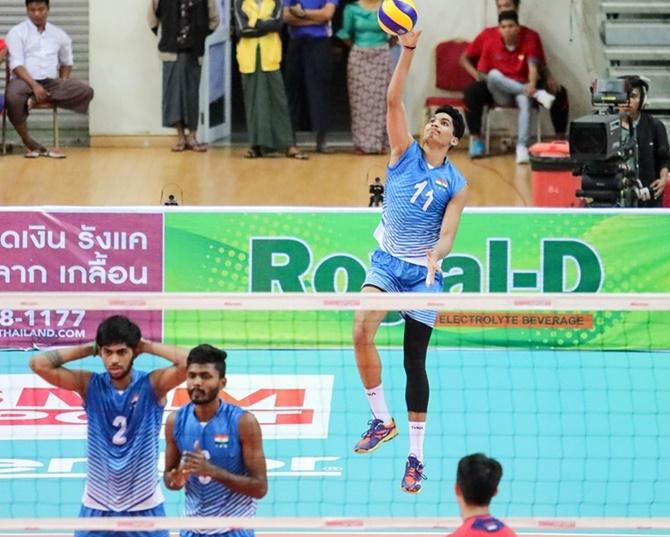 India, on Sunday, settled for a silver medal after suffering a 1-3 loss against Chinese Taipei in the final of the men's Asian U-23 Volleyball Championships, in Nay Pyi Taw, Myanmar.
India put up a brave fight after losing the first two sets to secure the third set. However, blocking and reception errors in a hard-fought fourth set allowed Chinese Taipei to seal a comfortable 25-21, 25-20, 19-25, 25-23 win in the end.
India was slow to get off the blocks and allowed the opposition to steer the first set in their direction, especially after the 10 point mark.
The team did threaten to mount a comeback in the later part but the deficit proved too big to overturn eventually and Gulia's boys ended up conceding the set 25-21.
In the second set, powered by the combination of Muthusamy and Shon John, India took a lead early on and held on to the slim lead for most part. However, owing to some ordinary reception in ensuing minutes, they conceded the lead close to the 20 point mark after which Chinese Taipei never looked back. This resulted in an almost similar scoreline for the second set.
The third set saw some improved blocking by the Indian blockers Shikhar Singh and Prince but service errors at crucial points allowed a Chinese Taipei recovery midway through the set.
With survival at stake, the Indian spikers upped their game in the closing moments of the set and made the most of errors by the opposition to take the set 21-19.
In the decisive fourth set, Chinese Taipei maintained pressure from the first minute as Chang YS and Sung PT's spikes got the better of Indian blockers early on in the set.
But Shon John's quality spikes and some impressive blocking kept bringing India back into the match. Despite trailing by 7 points at one stage, they brought the difference to a single point to make the scoreline read 24-23.
But Chinese Taipei didn't take long to wrap up matters and a powerful spike once again proved too good for the Indians, giving Chinese Taipei the set as well as the game.
"It wasn't our best day in the office. But I am still extremely proud of the result," Indian coach Pritam Singh Chauhan said.
"Yes, we would have loved to return home with a gold but a silver is special for me as well as the young boys who worked extremely hard to reach this position. It's been an extremely special journey."
Sourabh wins Hyderabad Open, Ashwini-Sikki finishes runners-up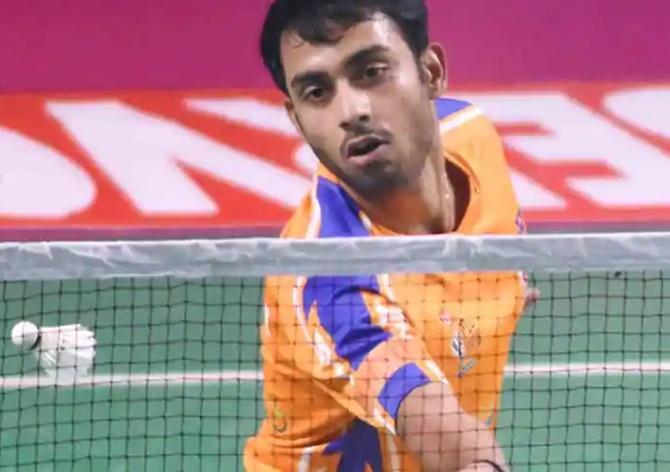 Reigning National champion Sourabh Verma capped an impressive week at the Hyderabad Open with a thrilling win over Singapore's Loh Kean Yew in the summit clash to claim the men's singles title, in Hyderabad, on Sunday.
The 26-year-old from Madhya Pradesh, who had won the Slovenian International in May this year, showed great composure as he outwitted World No. 44 Kean Yew 21-13 14-21 21-16 in a 52-minute final clash at the Gachibowli Indoor Stadium.
"I am extremely pleased with my performance this week. I pulled out some crucial matches in the previous rounds and in the final as well I played well," Sourabh said.
"I was leading in the second game after winning the first but I lost focus a bit and tried to quickly complete the match. My opponent also changed his game and it was difficult to come back. In the third game, I changed my strategy and it worked. Overall I am happy with the way I performed this week."
Top seeds Ashwini Ponnappa and N Sikki Reddy, however, squandered an opportunity to register a maiden women's doubles title, losing 17-21, 17-21 to Korean combination of Baek Ha Na and Jung Kyung Eun in the summit clash.
Sourabh made a good start as he jumped to a 6-2 lead in the opening game, before grabbing a 11-4 advantage. The Indian kept moving ahead to comfortably pocket the first game to earn the bragging rights.
In the second game, Sourabh once again jumped to a 5-0 lead but Kean Yew clawed back at 10-10. The Indian held a slender 11-10 lead at the break but the Singaporean reeled off five straight points from 14-13 to eventually roar back into the contest.
The decider was a close affair as Sourabh and Kean Yew started on an even knell before the Indian grabbed a 11-10 lead at the interval. Sourabh then kept extending his distance from the Singaporean to comfortably shut the door on his rival.
Sourabh, who had won two Super 100 titles last year at the Dutch Open and Russian Open, doesn't have any financial support and has been playing tournaments on his own.
He reached the semifinals at US Open and quarterfinals at Canada Open, besides winning the Slovenia Open earlier this year.
"I still don't have any sponsor or any help from anybody. Nothing has changed since the Nationals, I still pay for the tournaments. But I don't want to think about things which I can't control. I want to stay fit and focus on my game," said Sourabh, who had an ankle issue at Azerbaijan International in June.
Asked about his future events, Sourabh said: "I will play Chinese Taipei Open (Super 300) and Vietnam Open (Super 100) next in September."
Canadians set two records, US wins four golds in athletics
Canadians Marco Arop and Genevieve Lalonde shattered Pan Am Games records and the United States won four gold medals as the track and field competition at the 17-day sporting gathering neared a close on Saturday.
Sudan-born Arop charged home in one minute, 44.25 seconds to win the 800 metres ahead of Puerto Rico's Wesley Vazquez (1:44.48) with both dropping under Cuban Yeimer Lopez's 10-year-old Games record of 1:44.58.
"I'm on top of the world right now," 20-year-old Arop told reporters.
"I was just hoping to win a medal for Canada and to have a personal record and Pan American record is just a bonus."
Lalonde blitzed the women's 3,000 metres steeplechase record by almost seven seconds, the bronze medallist at the 2015 Games stepping up to gold in 9:41:45.
"I definitely had to work for it at the end, dropping all my energy into that last barrier and sprinting home," Lalonde said.
"To bring that Pan American Games record home to Canada is special."
The United States' Marisa Howard (9:43.78) and Argentina's Belen Casetta (9:44.46) also were faster than the previous record of 9:48.12 that Ashley Higginson of the United States set in 2015.
Another record fell in the men's javelin when Grenada's Anderson Peters threw 87.31 metres to overwhelm Jamaican 2012 Olympic champion Keshorn Walcott (83.55) and better Cuban Guillermo Martinez's 2011 mark of 87.20.
The United States also had a banner day in the field.