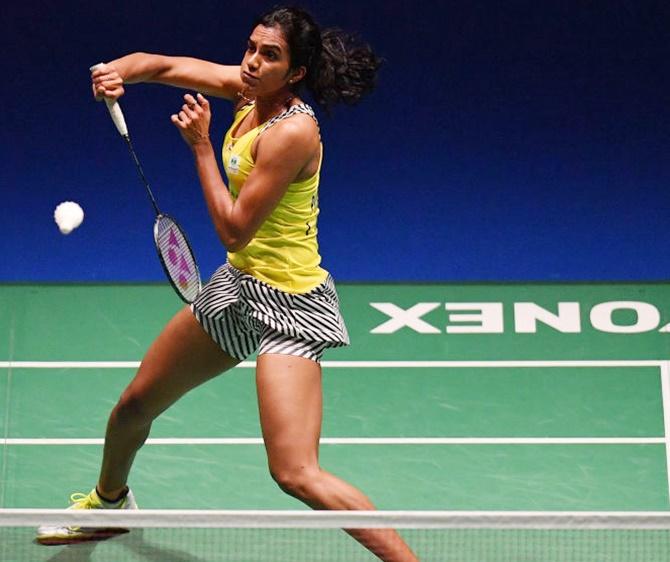 Ace Indian women shuttlers Saina Nehwal and P V Sindhu registered straight-game victories to sail into the quarter-finals of the Asia Badminton Championships, in Wuhan, on Thursday.
London Olympic bronze medallist Saina, who was the last Indian to take the court on Thursday, needed just 38 minutes to get the better of Kim Ga Eun of Korea to enter the last eight in the women's singles.
Saina, seeded seventh, has a tough next encounter as she is up against third seed Akane Yamaguchi of Japan.
Sindhu, seeded fourth, took just 33 minutes to get the better of Indonesia's Choirunnisa 21-15, 21-19.
The world number six will next play unseeded Cai Yanyan of China in the quarter-finals.
In the men's singles, Sameer Verma brushed aside Hong Kong's Ng Ka Long Angus 21-12, 21-19. He will face either Thai shuttler Sitthikom Thammasin or second seeded Shi Yuqi of China.
India's mixed doubles pair of Utkarsh Arora and Karishma Wadkar crashed out in the second round after losing 21-10, 21-15 to Hafiz Faizal and Gloria Emanuelle Widjaja of Indonesia.
Later on Thursday, world No. 9 Saina Nehwal will take on Kim Ga Eun of South Korea in a women's singles second round match.
Tiger to return to Japan at Zozo Championship in October
Tiger Woods will return to Japan for the first time since 2006 to compete in the inaugural Zozo Championship in October, the Masters champion said on Wednesday.
Woods called Japan "one of my favorites countries" in a tweet announcing his decision to play the PGA Tour's first official event in the Asian country.
"It's going to be a fun fall."
The 43-year-old American won his 15th major title when he came from behind to earn his fifth green jacket in Augusta earlier this month, ending an 11-year major title drought.
He last teed up in Japan 13 years ago at the Dunlop Phoenix, where he lost to Padraig Harrington in a playoff.
The Zozo Championship will be held at the Accordia Golf Narashino Country Club from Oct. 24-Oct. 27.
Farah in dispute with Gebrselassie over theft at Ethiopian's hotel
Britain's Mo Farah, who will be running in the London Marathon on Sunday, is in dispute with fellow distance-running great Haile Gebrselassie for failing to help him after he was robbed at a hotel in Addis Ababa owned by the Ethiopian.
Farah, third last year and facing a monumental challenge to overcome Kenya's world record holder and defending champion Eliud Kipchoge in Sunday's race, said around 2500 pounds ($3,230) - in four currencies - two mobile phones and a valuable watch presented to him by his wife were stolen from a locked suitcase in his room while he was out on a training run on his 36 birthday on March 23.
Farah said he got little help from hotel staff in dealing with the issue and even less from Gebrselassie, a national icon in Ethiopia after a stunning track career that earned him two Olympic golds and four world titles over 10,000m and several world records.
"He didn't respond even though that's his hotel," four-times Olympic champion Farah told reporters at the London Marathon launch on Wednesday.
Farah was so furious that Gebrselassie ignored his repeated texts and calls that he shared the last he sent, that threatened to publicly shame the Ethiopian.
"I want to inform you that I'm disappointed you have not made any effort to find my stolen money, and especially my watch," he wrote.
"I have tried to contact you by telephone several times. Know that I am not responsible for what I say during the press conference in London and what influence it will have on your personality and your business." He signed off: "Sir Mo."
Later on Wednesday Gebrselassie fired back at Farah in a press release, calling his claim of robbery "unproven".
Gebrselassie said Farah declined to use a safe box offered to him or give the money to a hotel official for safekeeping.
Formula One gives up on race in downtown Miami
Formula One and local organisers have given up on plans to hold a race in downtown Miami because of the disruption for businesses and residents, the Miami Herald reported on Wednesday.
It said they were now looking into an alternative race location on land next to the Hard Rock Stadium, home of the Miami Dolphins NFL team, to the north of the Florida city.
"We want to do something great for Miami," the paper quoted Tom Garfinkel, vice chairman and CEO of the Miami Dolphins and Hard Rock Stadium, as saying.
"Unfortunately when we finally received the detailed report of what it would take to build out a street circuit each year, the multiple weeks of traffic and construction disruption to the port, Bayfront Park and the residents and businesses on Biscayne Boulevard would have been significant."
Formula One had hoped to add the street race to the calendar for this year but that was pushed back last July until at least 2020 as a result of emerging local opposition to the proposed harbourside layout.
The sport's owners Liberty Media say they want to make sure Miami, which has been offered a 10-year contract, has long-term viability with maximum local support.
The race would be a second grand prix in the United States after the one in Austin, Texas.
Miami Dolphins franchise owner Stephen Ross is supporting the project, with a company owned by the U.S. entrepreneur lined up as the potential promoter.
WADA applauds unprecedented CAS ruling on Ukrainian sprinters
The World Anti-Doping Agency (WADA) on Wednesday welcomed a recent Court of Arbitration for Sport (CAS) decision on two Ukrainian sprinters that it said sets a new precedent for catching athletes who choose to cheat.
Olympic bronze medal winner Olesia Povh and Olha Zemliak were both convicted of using a prohibited substance based on the detection of non-physiological levels of testosterone in their blood serum samples.
According to WADA, the measurement of testosterone levels in blood serum constitutes a further tool for Anti-Doping Organisations (ADOs) to detect and prosecute doping, even where urine samples might be reported as negative.
WADA Director General Olivier Niggli said the "unprecedented" decision could have a long-term positive impact on clean sport and sets an important precedent as it gives ADOs another way to secure violations against those who cheat.
"It is a significant victory for clean sport and for athletes around the world," Niggli said in a statement.
"Significantly, CAS ruled that there could be no doubt on the evidence that the method used in measuring testosterone in blood serum was scientifically valid, paving the way for further examples of this method being used in the future."Povh, who won bronze as part of Ukraine's 4x100 metres team at the 2012 London Olympics, was sanctioned with a four-year ban while Zemliak received an eight-year suspension as it was her second violation.
The bans were originally announced by the Ukrainian Athletic Federation in February 2018, with Aug. 3 of the previous year given as the start date for both suspensions as this was when the failures were announced.