A summary of sports events and persons who made news on Sunday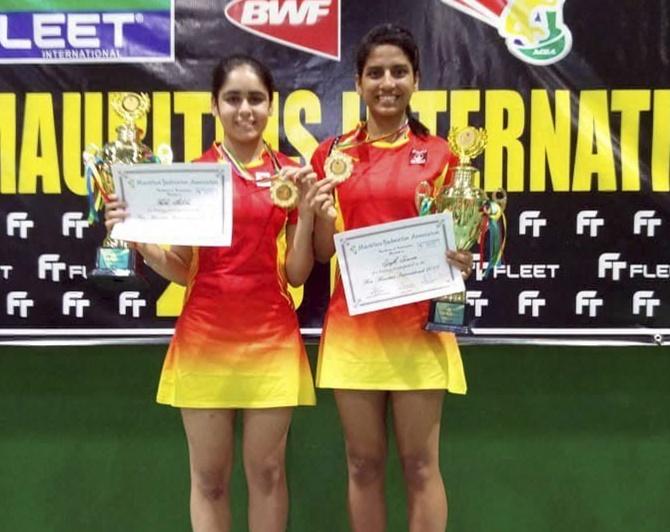 Young Indian women's doubles pair of Simran Singhi and Ritika Thaker clinched their second international title by beating Aminath Nabeeha Abdul Razzaq and Fathimath Nabeeha Abdul Razzaq of Maldives in the Mauritius Senior International badminton tournament in Mauritius.
The India pair was seeded second in the tournament and were at their dominating best as they brushed aside the number one seeds 21-17, 21-12 with consummate ease.
"We are very happy with the win and it gives us great confidence going ahead in our career. We hope to carry the momentum forward in the upcoming Asian Badminton Championship (U-19) and give our best shot at the elite Asian Continental tournament and return with medal," an elated Ritika said after the match.
Simran and Ritika, who are number one ranked U-19 pair of India, will be spearheading the Indian girls' double challenge at the U-19 Asian Badminton Championship and lot will be expected of them after their recent success.
India bag four medals, including two gold, to finish third at Asian Junior Athletics
India clinched four medals, including two golds, on the last day of competitions at the Junior Asian Athletics Championships to finish third in the medal standings, in Gifu, Japan.
Kamalraj Kanagaraj and Ajit Kumar won gold medals in the men's triple jump and 5000m respectively while the women's 4x400m relay team claimed a silver. Jisna Mathew took home her second individual medal and third overall of the championships with a bronze in women's 200m race.
India bagged 17 medals -- five gold, two silver and 10 bronze -- in the four-day championships to finish third behind Japan (14 gold, 15 silver, 13 bronze) and China (11 gold, 8 silver, 4 bronze).
With a personal best of 16.41m, and coming off a gold medal winning effort of 16.05m at the Junior South Asian Championships last month, 19-year-old Kamalraj was expected to perform well at the Asian Junior Championships.
Those hopes nearly faded after he suffered an injury scare and walked away from the competition due to an ankle pain developed after his third attempt at the Gifu Nagaragawa Stadium.
However, his first jump of 15.75m turned out to be more than enough to seal victory. Korea's Gyumin Yu and Japan's Syunsuke Izumiya took the silver and bronze respectively with efforts of 15.56m and 15.47m.
While Kamalraj's gold came despite less than optimum showing, compatriot Ajit Kumar produced a personal best to win the men's 5000m race. The Allahabad-based athlete clocked 14:15.24s to grab the gold while also improving on his previous best time of 14:38.10s recorded at the Federation Cup in Patiala in March.
The 19-year-old athlete nearly set a new national junior record but eventually fell short of the 22-year-old mark of 14:14.48s set by Gojen Singh in 1996. Japan's Ren Tazawa and Iranian Seyedamir Zamanpur got the silver and bronze in 14:17.26s and 14:25.25s respectively.
India had entered into the women's 4x400m relay with history on their side. However, Indian hopes for a third straight gold medal in the event were dashed as they were beaten by the Japanese team.
The Indian quartet of Jisna Mathew, Subha Venkatesan, Nidhi Yogendra Singh and Rachna clocked 3:41.11s to finish nearly three seconds behind the Japanese, who set a new championship record of 3:38.20s.
Sri Lanka took the bronze in 3:45.16s.
P T Usha Athletics School trainee Jisna Mathew, who had won a gold in women's 400m earlier in the championships, found herself on the podium in the women's 200m as well.
Mathew fell short of her personal best of 23.97s as she clocked 24.48s today to finish behind China's Yanan Tao (24.01s) and Sri Lanka's Amasha De Silva (24.47s).