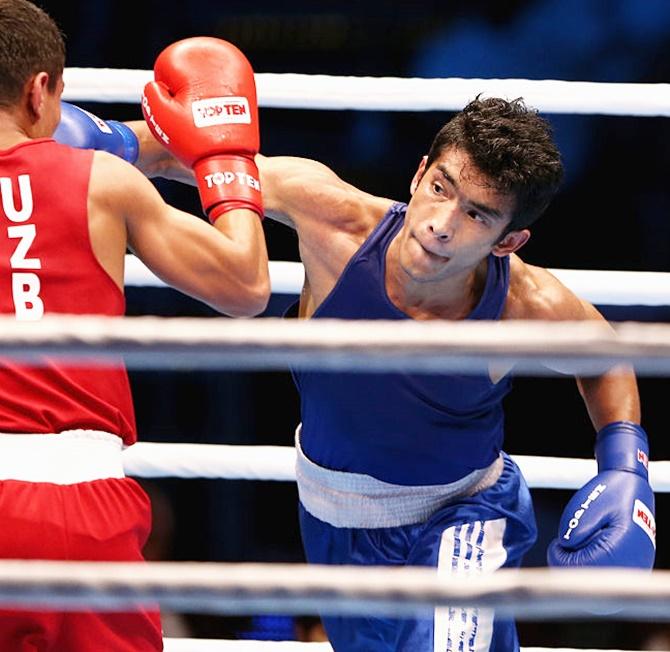 Four-time Asian medallist Shiva Thapa (63kg) secured a medal at the Olympic Test event for boxing by winning his quarterfinal bout on Tuesday while six other Indians made the last-four stage without even stepping inside the ring in Tokyo.
Thapa overpowered local favourite Yuki Hirakawa in a 5-0 verdict to fight his way into the medal rounds. The seasoned boxer from Assam claimed his third national title earlier this month.
He will be up against another Japanese, Daisuke Narimatsu, in the semifinals on Wednesday. Narimatsu got a bye in the opening round.
However, for his six other compatriots, including former junior world champion Nikhat Zareen (51kg), a medal was guaranteed without a fight as they either got byes or were helped by the small size of their respective draws.
Apart from Zareen, Asian silver-medallist Sumit Sangwan (91kg), Ashish (69kg), Vanhlimpuia (75kg), Simranjeet Kaur (60kg) and Pooja Rani (75kg) have made the semifinals.
Sangwan, who was crowned national champion earlier this month, will square off against Kazakhstan's Aibek Oralbay.
Zareen, who hit the headlines recently for a bitter row over selection for next year's Olympic qualifiers where six-time world champion M C Mary Kom has been preferred over her without a trial, will face Japan's Sana Kawano on Wednesday.
Former Asian Games bronze-medallist Rani will be up against Brazil's Beatriz Soares. Rani had won a silver medal at the Asian Championships earlier this year.
Opponents for the other Indian boxers will be known later after the quarterfinal bouts conclude on Tuesday evening.
The only disappointment for the country's contingent was the quarterfinal exit of Anant Choapde, who went down 2-3 in a hard-fought contest against local hope Tosho Kashiwasaki.
Joshna crashes out of World Championship
India's leading squash player Joshna Chinappa crashed out in the pre-quarterfinals of the CIB PSA Women's World Championship after a straight game defeat to top seed Nour El Sherbini in Cairo.
Joshna, ranked 12th in the world, went down 5-11 3-11 6-11 in the round of 16 match on Monday night.
The three-time world champion El Sherbini produced a dominant performance to comfortably take the opening two games. Chinappa put up more of a fight in the third but the Egyptian sealed the match.
It was Joshna's second consecutive loss to the Egyptian. She had gone down 1-3 at the JP Morgan China Squash Open in 2017.
"Joshna has been on form from the start of this season. I'm really happy that I managed to win 3-0. I think I felt sharper tonight," El Sherbini was quoted as saying by psaworldtour.com.
Veer Dev Gulia seeks bronze, Naveen reaches repechage at U-23 Worlds
Veer Dev Gulia secured his place in the bronze medal contest in 79kg at the UWW U-23 World Championships while Naveen (70kg) reached the repechage round in Budapest.
Gulia was in top form as he defeated Hungary's Botond Lukacs 3-1. With a strong 7-2 win over China's Ligan Chai, he made it to the quarter-finals, where he was highly impressive in his 12-1 demolition of Mongolia's Batzul Damjin on Monday night.
In the semi-finals, the 22-year-old's brilliant run came to an end at the hands of Azerbaijan's Abubakr Abakarov, who emerged an 8-1 winner. Gulia will now aim for the bronze on Tuesday and his opponent is yet to be decided.
In 70kg, Naveen lost his qualifying bout to Russia's 16th seed Chermen Valiev 0-11. But with the Russian making it to the final, Naveen got another chance to fight for a medal as he reached repechage against Mongolia's Temuulen Enkhtuya with the match being scheduled at 3pm IST today.
On the first day of the championships, three Indians had made it to the quarter-finals with the others being Sharvan (65kg) and Akash Antil (97kg), besides Gulia.
2017 Junior Asian Championship gold medallist Sharvan, who was seeded second in his category, showed his attacking intent against the top seed Rifat Saibotalov of Kazakhstan to secure a tight 8-6 victory.
In the quarters, however, he was defeated 6-10 by France's Ilman Mukhtarov but with the Frenchman failing to make it to the final, the Indian could not make it to repechage.
In 97kg, ninth seed Akash Antil dismantled China's Li Xu 10-0 to start his campaign. In the last-eight, Ukraine's Danylo Stasiuk inflicted a 9-5 defeat on him to dash his medal hopes.
In 57kg, Naveen crashed out in the qualifying round with an 0-11 loss to Turkey's Ahmet Duman.
Ravinder will begin his challenge in 61kg as the third seed against the fourth-seeded Budai Kovacs of Hungary for a place in the quarters. In 74kg, Gaurav Baliyan takes on Vyshniak of Ukraine in the qualifiers while Sanjeet (86kg) will be in action against Zakuev of Russia in qualifiers.
In 92kg, Viky has a tough opener against the top seed Scherrer of Switzerland in the Round of 16. Similarly, in 125kg, second-seeded Aryan Pratap finds himself up against the top seed Maghakyan of Armenia in the last-16.