Summary of sports events and persons who made news on Thursday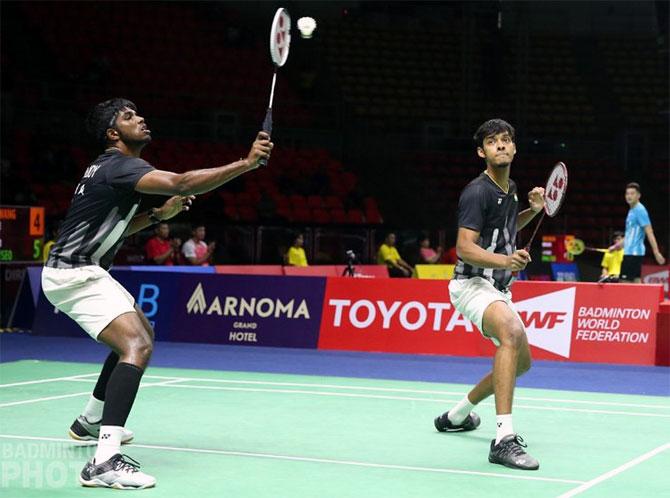 India's new doubles sensation Chirag Shetty and Satwiksairaj Rankireddy on Thursday pulled out of the upcoming Badminton World Championship owing to injuries.
The Indian duo became the first men's doubles pair from the country to win a BWF Super 500 title last Sunday, helping them break into the top 10 ranking.
However, injuries dashed their hopes of a good performance at the upcoming prestigious tournament, scheduled to begin from August 19 in Basel, Switzerland.
"Satwik's shoulder injury which he suffered at Thailand Open didn't heal as quickly as we expected, and I also had pulled up my abs during the semifinals, so we decided to skip the World Championship," Chirag told PTI.
"We spoke to the coaches and physio and they said if we play then it can aggravate and we might miss out a month or two. So being the pre-olympic year, we decided not to take any risk.
"We will be playing the China Open and Korea Open in September."
In the Thailand Open, Chirag and Satwik emerged victorious from a draw that saw the participation of nine of the top-10 world ranked pairs.
The Indian pair defeated reigning Asian Games silver medallists Fazar Alfian and Muhammad Rian Ardianto in the second round, before beating former world champions Ko Sung Hyun and Shin Baek Cheol in the semi-finals.
They came up trumps against reigning world champions Li Jun Hui and Liu Yu Chen in the summit clash.
Tondaiman best placed Indian in Shotgun WC
India's Prithviraj Tondaiman shot a 47 on the first day qualifiers of the men's trap event in the ISSF Shotgun World Cup in Lahiti, Finland on Thursday.
He was the best placed Indian at sixth, as the fourth and final stage of the International Shooting Sport Federation World Cup got underway.
The competition schedule has five finals over the next one week, which will see the distribution of eight Tokyo 2020 Olympic quota places.
Prithviraj had rounds of 22 and 25 to grab the sixth and final qualifying spot with three more qualifying rounds to go before the finals slated for Saturday.
Kynan Chenai shot 45 to lie 43rd while Manavjit Singh Sandhu did not finish the competition. Malta's William Chetcuti was leading the field with a score of 48.
In the women's trap, Shagun Chowdhary shot 44 over two rounds to lie 11th, while Seema Tomar shot 40 to be in 35th spot. Manisha Keer was down in 54th with a score of 36. The women's trap final is slated for Friday.
Anshu bites dust in fight for bronze at Junior World Wrestling Championship
On a disappointing day for India at the Junior World Championship, the country's female wrestlers endured a medal-less outing with the talented Anshu Malik getting outclassed in the fight for bronze by Ukraine's Kateryna Zelenykh, in Tallinn, Estonia, on Thursday.
Considered India's next big hope, Anshu lost the 59kg bout by technical superiority, unable to find a way to handle Kateryna's superb counter-attacking moves.
It was Anshu who opened up a two-point lead with a takedown but after that it was a one-way traffic in favour of the Ukrainian.
The Ukrainian levelled the score with a right leg attack that led to a two-point move. She remained strong throughout with Anshu hardly getting time to employ her moves as she was kept busy in defending.
In the second period, it was complete dominance by Kateryna, who rattled the Indian with a four-point move and then finished the contest with back-to-back gut wrenches.
With more than 90 seconds left, Anshu was outplayed.
In the 57kg, Bharti Bhagel won her first two bouts by technical superiority to make it to the semifinals, beating Canada's Jolie Donna Elizabeth Brisco (12-2) and Belarus' Viktoryia Volk (11-0).
But she lost her semi-final by fall to Japan's Akie Hana.
She will now fight for bronze against the winner of the bout between Nuraida Anarkulova and Tanya Dobromirova Teneva.
In the 50kg repechage round, India's Neelam fought hard against Ukraine's Mariia Vynnyk, but eventually lost 9-13.
In the 53kg, Pooja could not go beyond the qualification round, losing by technical superiority to Haruna Okuno from Japan. To be in contention for bronze, she now have to overcome Uzbekistan's Shokhida Akhmedova in the repechage round.
Anju lost her 55kg quarter-final 1-9 to Japan's Saki Igarashi while Radhika (62kg) and Tina (65kg) also lost at the same stage.
In the 68kg repechage round, Priyanaka was outplayed 0-11 by Mongloia's Delgermaa Enkhsaikhan. Another wrestler to make exit from the repechage round was Karuna, who lost 0-6 to Japan's Yasuha Matsuyuki.
In the 72kg, Anshu Gujjar also failed to go beyond the Qualification round, losing 2-2 to China's Shuiyan Cheng.
Former Indy 500 winner Franchitti to race for first time since 2013
Three times Indianapolis 500 winner Dario Franchitti will be getting back behind the wheel at next month's Goodwood Revival meeting for his first race since injury-enforced retirement in 2013.
The Scot suffered spinal fractures, concussion and a broken ankle in a career-ending crash at the Houston Grand Prix that October.
Now 46, the four times IndyCar champion will drive a classic 1960s Ferrari 250GT in the Kinrara Trophy, billed as the world's most valuable race with a field of cars valued at more than 200 million pounds ($242.42 million).
He will also drive an ex-Le Mans AC Cobra in a Tourist Trophy race against the likes of Denmark's retired nine times Le Mans 24 Hours winner Tom Kristensen and Italian ex-F1 racer Emmanuele Pirro.
"I really thought my racing days were behind me but it is tough to give up something that has been a part of my life for so long and that I love so much," said Franchitti in a statement.
"Of course this won't mean a return to front line competition -- so no Indy 500 -- simply enjoying the sport I love as an amateur."
Badminton champ serves 'wheelchair challenge' to mayor
It's not easy getting around Lima, Peru's traffic-choked capital of 10 million people. But it's even harder in a wheelchair.
On Tuesday, Lima's Mayor Jorge Munoz got a taste of life on two wheels in the city he governs, where sidewalks, buses and government offices across the city are not wheelchair-accessible.
Munoz spent the day in a wheelchair after accepting a challenge from Pilar Jauregui, Peru's three-time champion of badminton for handicapped women.
Jauregui is seeking another gold medal at the Parapan American Games, which Peru will host next week, for physically disabled athletes, part of a regional multisport competition that precedes the Olympics. But she has already seized on excitement ahead of the event to pursue a larger goal.
"Put yourself in my chair," Juaregui told Munoz in a video she shared on Twitter on Monday, inviting him to spend an entire day as a wheelchair user.
"Day to day I face difficult challenges, but my biggest challenge, and the biggest challenge for all wheelchair users, is getting around the city," Juaregui said.
The video went viral, and by Tuesday morning Munoz, a 57-year-old former lawyer best known for his stint as mayor of one of Lima's wealthiest districts, was wheeling around the city with Juaregui and groups of reporters.
Munoz nearly fell out of his chair as he tried to climb up a sidewalk, and complained he could not use a public bathroom because it was not wide enough.
"I accepted her challenge," Munoz said on the outing.
"Let's see how we can improve the city's problems."
According to disability rights activists in Peru, there is a lot of work to be done.
The city's scant public bus and railway offerings are not wheelchair-accessible, much less the swarms of private buses spewing black fumes that get most people in the city to work every day.
Just last week, a woman fell out of her chair due to deficient installations at a city metro station, said Pamela Smith, the director of local advocacy group Society and Disability - SODIS.
"Most of the city is completely inaccessible for people in wheelchairs," said Smith. "This is something that affects people's rights."
Jauregui, who was born with bilateral hip dislocation, said the dearth of wheelchair-accessible infrastructure has forced some of the city's most vulnerable people to pay extra for hired services, imposing an unfair financial burden on them and rendering large swaths of the city off-limits.
"You should just be able to move around, have the freedom to go where you want. But there are all these little obstacles you have to overcome," Jauregui said. "And you learn to overcome them. But there are people who may not be athletes, and it's a lot harder for them."
Munoz challenged district mayors in Lima to spend a day in a wheelchair as well, raising the prospect of dozens of mayors in a major global metropolis taking part in the so-called "wheelchair challenge," in what could become one of the most prominent campaigns for disabled rights in the world.
"That's what we like to do, break barriers," said Jauregui.